True Value Savings Review: Retail orientated e-commerce

True Value Savings operate in the e-commerce MLM niche and are based out of Florida in the US.
Heading up True Value Savings are owners Teresa Mongar and Debbie Miles.
We have each participated in multiple network marketing companies in the past. We are well versed in what "doesn't work".

At the same time, our previous experiences have helped us put together a company that we truly feel will change the way MLM network marketing companies are doing business.
On the MLM history side of things, in 2011 Teresa Mongar was heavily promoting That Free Thing on Twitter.

The URL she used would suggest that That Free Thing was "better than" Groupon. That Free Thing as it was known in 2011 does not exist today.
That same year Mongar was also promoting AutoXTen:
Dependent on the recruitment of new affiliates to pay commissions, AutoXTen collapsed shortly after launch.
Mongar was also an affiliate of Zeek Rewards, an $850 million dollar Ponzi scheme. Her name appears on a list of net-winners published by the Zeek Rewards Receiver:

All those on the list stole at least $1000 from Zeek Rewards victims. The total amount Mongar made in Zeek is unclear.
Debbie Miles' past MLM adventures include affiliate membership with LifeVantage (dietary supplements), Scent-Sations (candles) and Amega Global (magic wands).
Read on for a full review of the True Value Savings MLM business opportunity.
 The True Value Savings Product Line
True Value Savings has no retailable products or services of their own. Instead the company maintains an e-commerce portal, stocked with third-party products and services.
These are presumably supplied through affiliate agreements between True Value Savings and the respective companies' the products and services belong to.
Examples of products and services offered through the True Value Savings platform include:
beauty and skin care
weight loss
fitness
water filtration systems
health and wellness
coffee
pet products
mobile
electronics
travel
miscellaneous (more)
As for the e-commerce platform itself, True Value Savings use PageDown Technology's PDShop: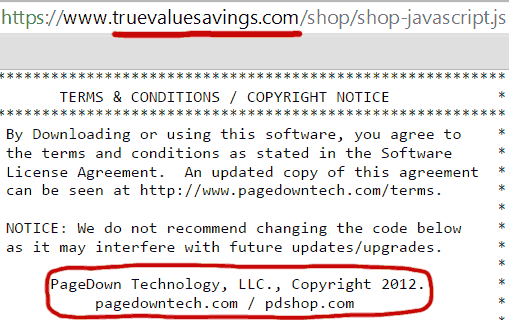 PDShop is available from PageDown Technology's website for between $39 to $149.
The True Value Savings Compensation Plan
The True Value Savings revolves around the acquisition of retail customers and recruited affiliates, and their purchase of products and services supplied through the True Value Savings e-commerce platform.
Commission Qualification
All True Value Savings affiliates must generate at least one retail sale a month (through the e-commerce platform) in order to qualify for commissions.
Commission Payouts
Due to the products and services being sold through True Value Savings belonging to third-party companies, True Value Savings are paid first before commissions are paid out through the compensation plan.
The amount they are paid is a percentage of the sale made. True Value Savings do not publicly disclose the percentages they are paid, stating that 'a complete list of products and the Commission Value associated with each product is available in the IBA back office.'
True Value Savings refer to their commission as "commisionable value" and pay out 100% of this commission to their affiliates.
This is done as follows:
Direct Sale Commission (30%)
The True Value Savings affiliate who makes the sale is paid 30% of the commission amount paid to True Value Savings. This includes retail and recruited affiliate sales.
Recruitment (30%)
10% is paid to the affiliate who made the sale's upline (the affiliate who recruited them)
8% is paid to their upline (level 2)
7% is paid to their upline (level 3)
5% is paid to their upline (level 4)
Matrix Commissions (30%)
True Value Savings use a 10×6 matrix to pay out 30% of each product or service sale's commissionable value.
A 10×6 places an affiliate at the top of the matrix, with ten positions directly under them (level 1). These initial ten positions branch out into another ten positions each to form the second level of the matrix (level 2).
Level 2 positions branch out into another ten positions each to form level 3, and so on and so forth down a total of six levels.
There are 1,111,110 position in total to be filled in a 6×10 matrix, with positions filled via the acquisition of retail customers or recruitment of affiliates.
Commissions are paid out on the sale of products or services within the matrix, paid out as follows:
5% to the first commission qualified affiliate found in the upline (using matrix genealogy)
5% to the second
5% to the third
5% to the fourth
5% to the fifth and
5% to the sixth
Bonus Pools (10%)
True Value Savings offer affiliates shares in two bonus pools, a Unilevel Team Bonus Pool (5%) and Infinity Matrix Team Pool (5%).
The Unilevel Team Bonus Pool is available to all True Value Savings affiliates, with their share of the pool calculated pro-rata based on the generated sales volume of their downline (calculated down four levels of recruitment).
The Matrix Team Pool shares are also calculated pro-rata, based on the generated sales volume of their entire matrix (including retail customer orders).
Joining True Value Savings
Affiliate membership to True Value Savings is free.
Conclusion
With no commissions paid directly on recruitment and at least one retail sale required each month (and no recruitment qualifications whatsoever), True Value Savings do a lot of things right.
Unfortunately however I'm not really seeing long-term attraction on the retail front.
As with all third-party based affiliate platforms, shoppers are going to be severely restricted to what they can buy by whatever agreements True Value Savings can sign.
These agreements typically lack any exclusivity and in some instances are even available to members of the general public (open affiliate programs).
As a retail customer, that begs the question of why I'd shop with True Value Savings.
Some of the commission paid through the affiliate agreements could be used to discount the prices of the products offered, but that of course comes at the expense of the affiliate program (less commissionable value paid to the field).
This concept is typically deployed on a personal level, but doesn't translate so well into an MLM business opportunity. The commissions paid out by the third-party merchants are generally not large enough to sustain any meaningful payout, even for those who do manage to push a decent amount of sales volume through the platform.
Then of course there's the underlying issue of if an affiliate was able to generate significant volume through a third-party platform, they'd probably be much better off going at it alone and keeping 100% of the commission paid out through the affiliate networks used.
True Value Savings is a decent enough attempt at a retail-orientated e-commerce MLM opportunity but I'm just not seeing any long-term viability on the retail front.
And given that retail sales are tied to commission qualification (a good thing by itself), this is likely to present as problem for many affiliates.