That Free Thing Review – Free stuff as a product line?

Getting free stuff has always been an attractive prospect in the marketing industry.
Buy One, Get One Free!
Purchase now for your FREE gift!
Have a look at our offer and go into the draw for your FREE prize!
They might sound cheesy but there's a reason offers like the above are a staple in the consumer marketplace.
They work.
In the context of an MLM business opportunity however, is it possible to combine a compensation plan with free stuff from third party companies?
The folks over at 'That Free Thing' seem to think so. Let's find out.
Joining That Free Thing
In joining That Free Thing, members seem to have two options. They can join as a non-active representative of the company and participate in the free offer side of things, but this costs $199 annually.
The other option is to join as an active (Independent) Representative, in which the $199 annual fee is waived but members must pay $9.95 a month.
$9.95 a month is only $119.4 a year so I'm not sure exactly why someone can't just join up as an Independent Representative. There doesn't seem to be any need for the $199 non-Active membership option.
I might be reading this wrong so I'm going to include the paragraph that details That Free Thing membership from their website as a further reference;
That Free Thing Independent Representatives pay a $199.00 administration fee, which is non-commissionable, for one year Independent Representative status.

This fee is waived for That Free Thing Members who choose to become customer / distributors.

To continue with That Free Thing as an Independent Representative, but without an active Membership, the $199.00 one year administrative fee must be paid.

Remember, this fee is COMPLETELY WAIVED if you simply sign up at the $9.95 monthly level, thereby giving you all the rights of an Independent Representative PLUS full access to our product.
As you can see, it's not the clearest explanation and no further information is given. Given what's provided though, I think my analysis above is accurate.
That Free Thing Product Line
The concept behind That Free Thing is that the company will 'provide thousands of Free Products & Free Services to our members from companies all over the world'.
Sounds simple enough, and that's because it is.
So naturally the question that arises is 'if That Free Thing isn't directly providing this free stuff, where does it come from?'
The answer: The internet.
Forget exclusivity or direct negotiations between That Free Thing and other companies, all they seem to be doing is looking up various internet sources and directly funnelling the offers to you.
That Free Thing aggregates and collects information from other sites on the internet and presents this information to its member, representatives and affiliates.
If anything, it sounds like a giant 'free stuff' portal, of which there are already several existing free, established and popular sites available on the internet.
So why would you pay for one?
Well, how does the chance to earn a residual income sound?
That Free Thing Compensation Plan
That Free Thing offers a pretty standard 3×8 matrix compensation plan.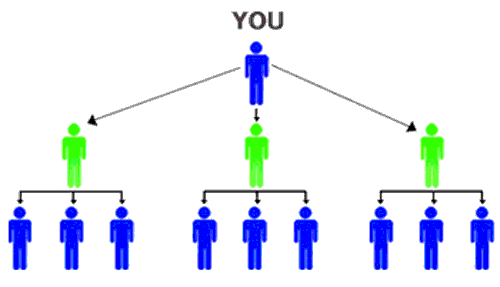 On the first level you're able to recruit 3 new members. These three arms then again split into three on the second level and so on and so forth eight level deep.
Any new representatives your upline brings to the business can fall into your own matrix, counting as spillover.
The payout structure of That Free Thing is twofold;
Direct Percentage Payout
On each level of the matrix representatives are paid out a percentage of both the joining monthly subscription fees of representatives placed in their matrix.
These percentages are as follows;
Level 1: 1% Payout rate, $0.75 in enrolment fees and $0.30 in monthly fees (3 enrolments required).
Level 2: 10% Payout rate, $22.50 in enrolment fees and $9.00 in monthly fees (9 enrolments required).
Level 3: 2% Payout rate, $13.50 in enrolment fees and $5.40 in monthly fees (27 enrolments required).
Level 4: 3% Payout rate, $60.75 in enrolment fees and $24.30 in monthly fees (81 enrolments required).
Level 5: 4% Payout rate, $243.00 in enrolment fees and $97.20 in monthly fees (243 enrolments required).
Level 6: 5% Payout rate, $911.25 in enrolment fees and $364.50 in monthly fees (729 enrolments required).
Level 7: 7% Payout rate, $3827.25 in enrolment fees and $1530.90 in monthly fees (2187 enrolments required).
Level 8: 8% Payout rate, $13122.00 in enrolment fees and $5248.80 in monthly fees (6561 enrolments required).
Note that the enrolment fees commission is a once off payment and is not monthly recurring.
This means that residual income wise, with a complete matrix, a That Free Thing representative will earn $7280.40 a month ($87364 a year) in residual commissions.
The catch? You need to have brought 9,840 people to the business either via direct recruitment or spillover.
Wind it back a notch to the seventh level of the matrix and whilst you still need to bring 2,187 people to the business, your monthly recurring income drops to just $2031 ($24,379 a year).
Keep in mind that's 100% of your downline committed to the business and working at maximum efficiency to try and recruit more members to the business themselves.
Check Match Bonus
That Free Thing also has what's called a Check Match Bonus. That is to say that you're paid a percentage of your downline's income down three generations.
For people you directly refer you're paid 40% of their earnings, for your second generation (people who your direct referals refer) you're paid 30% and then 30% again on your third generation (your second generations referals).
To qualify for these Check Match Bonuses you need to have personally enrolled 5 people for the  generation one bonus, 10 for the generation two bonus and fifteen for the generation three bonus.
This is a monthly recurring bonus and is paid for life once you qualify.
Conclusion
It's pretty easy to see that there really isn't a product line for That Free Thing distributors to market thus the real money to be made here is in the referals.
Free stuff is nice sure, but it is hard to market from an MLM perspective. There's no guarantee that the free products will be relevant to people, no guarantee of what will be on offer and probably a good chance that most of it is going to be low level crap anyway.
Think about it, if you ran a succesfull company does it make business sense to give away products of high value for free over the internet, no strings attached?
Well that's exactly what That Free Thing appear to be promising their members;
Our intent is to find offers that are 100% free without any cost to our members beyond our $9.95 monthly fee.
Not only that but the company appears to have no problem exploiting genuine mistakes either;
We are THE ONLY website that ensures you gain access to time-sensitive offers on a daily basis – including price mistakes
Short of good will, when was the last time you heard of a company acknowledging a price mistake (especially when thousands of orders have gone through before they've corrected the problem).
No company on Earth is going to bankrupt itself just so you can get free stuff.
The other thing to consider with the concept is that given all of That Free Thing's offers are scouted from the internet, its members aren't the only ones aware of them.
Not only are you competing for free stuff with fellow That Free Thing members, but also with the internet at large – only they're not paying monthly subscription fees to access them.
This brings us to the long term sustainability of That Free Thing. Offering nothing that can't be obtained for free on other websites (no pun intended), on the MLM business opportunity side of things we're looking at heavy emphasis on commissions paid out based on recruitment.
That Free Thing themselves acknowledge that
Independent Representatives should not participate in That Free Thing under the expectation of earning income without referring new Members.

Most Representatives earn less money each month in the compensation program than they are paying to maintain their Membership in That Free Thing, or recoup their administration fee, if not an active Member.
The That Free Thing business opportunity an be summarised as offering no direct product and reliant on recruitment driven commissions paid out on subscription fees rather than product sales.
Because there's no products to retail, all commissions are thus paid out company membership fees and recurring subscription charges to company members.
In terms of sustainability (remember, you need almost 9,840 in your downline to max out your matrix) and legality, how long do you think this is going to last?