Savings Highway Review: Membership benefits scheme

Savings Highway was launched in late 2006 and despite the company's "terms and conditions" referring to it as "a Delaware corporation", lists virtual office space in the US state of Georgia as its official address.
Management wise Savings Highway was founded by Steve and Maria Gresham, who are married and serve as the company's CEO and Chief Financial Officer (CFO).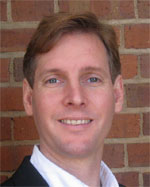 In his Savings Highway company bio, Steve Gresham (photo right) is credited with having
over 22 years of successful experience in home-based business operations, both as a representative and owner.
Prior to launching Savings Highway in 2006, Gresham founded "Movie Club Plus" and served as the President of "Better Universe".
Both companies are now defunct with Movie Club First coming first and then being relaunched as Better Universe. Both companies it seemed focused on entertainment technology.
Better Universe wrapped up in 2007, with Robert Bowen putting out an email to the company's affiliates, writing specifically about Steve Gresham:
Our previous president (Gresham) wanted to control everything else in its entirety, including commissions, cash flow, our programmers, and paying our vendors. He said he needed to do this to keep everything in control.

This was how things were operating until late in January 2007 when I emailed our previous president to express my continuing frustration with the way he was running the corporation and several days' later he sent me a certified letter announcing to me that he "resigned" without any warning or notice of any kind.

Our previous president, who always told us "Winners never quit and Quitters never win", had quit each and every one of us without any notice or warning of any kind.

But after researching what has happened over the past months, he really left us many months ago.

Our previous president then sent me another certified letter the day after he quit stating that he needed me to pay all our commissions on time and pay our vendors on time or let him know as he is still a shareholder of our parent company MovieClubPlus.com, Inc.

Then I find out, the day he quit, he did some very large withdrawals from our corporate bank accounts. Basically removing most of the cash from the corporation, he also had our merchant account company inform me on February 1st that our merchant account was closed.

After calling to talk to them, they had been trying to work with our previous president for the last several months, but they saw no improvement in our chargeback ratio's (which were always under 1% when I used to managed them), but had slid up to 7% in January while our previous president looked on, so our corporation's merchant account company was forced to close our four year old merchant account.

February 1st was the first day that I heard that there was a problem with the corporate merchant account.

I have worked diligently over the past two weeks to get a new merchant account, but with the high chargeback's ratios, and very little cash in the bank, no merchant company will approve us.

A merchant account is the lifeblood of a company such as BetterUniverse.com. Without a merchant account, very little cash comes into the corporation.

Then I started hearing from our vendors, who stated that they have not been paid in the last five months and were demanding payment. Again, this was our previous president's responsibility up until the day he "resigned" without any warning or notice of any kind.

After our previous president's resignation I find that the corporation is in debt many ten's of thousand of dollars, many of these debts, our previous president told me were paid, many others, our previous president never even informed me that the debts existed.

At the same time many members have called our new phone number, complaining that their support tickets have not been handled, or they have not been paid commissions.

After researching this I find that our previous president's wife (Maria Gresham), who was paid a salary to handle support for our corporation, hasn't handled any support tickets in many months. And the fact that December commission checks that our previous president committed to me were paid, were not.

I also find out that our previous president, and our corporate programming staff spent much of their time since September working on a separate site under a different company name, and tied it to BetterUniverse.com back office, all without any benefit to the corporation or our members, all while being paid a salary by BetterUniverse.com.

Our previous president also used many of our corporate assets to create his new company without permission or compensation to the corporation. All this while ignoring your support requests, phone calls, commissions, our vendors, and our merchant account.

I have written our previous president a series of letters to try to save the company, and I even gave our previous president one last chance to return the money by 5pm today, I told him without it BetterUniverse.com would be forced to close, from this letter, I received a response from an Lawyer, that our previous president hired with corporate funds, that he does not owe the corporation any funds.

So it is due to these actions by our previous president, and with a very heavy heart that I must announce the closure of BetterUniverse.com.

I am sorry for telling you this via email, but I thought it was the right thing to let you know what had happened.

No one was charged for their benefits in February. Even if you received a credit card receipt, the merchant company assures me that you were not charged. I thank you in advance for your understanding in this matter.

Sincerely,
Robert T Bowen
Board of Directors
BetterUniverse.com
With Savings Highway launched late 2006 and the above letter sent out in early 2007, It would appear that the apparent gutting of Better Universe was the foundation of the launch of Savings Highway.
Read on for a full review of the Savings Highway MLM business opportunity.
The Savings Highway Product Line
Savings Highway has no retailable products or services. Within the company and its compensation plan, the only thing members are able to market and sell is membership to the company itself.
Savings Highway offers a (sic) membership benefits packages which are intended to help people to save money on products and/or services they may purchase.
Membership to Savings Highway comes in a variety of plans (see "Joining Savings Highway" further down in the review), with some of the services membership provides access to including:
roadside assistance
legal services
ID theft protection
restaurant discounts
accommodation discounts
discounted magazine subscriptions
"doctor visit", medical equipment and surgery discounts
discounted moving services
dental plans
ebook and audio library
Note that these services are all provided by third-party vendors and are not provided by Super Savings Highway themselves:
SavingsHighway.com, LLC does not guarantee the quality of any product or service contained within a SavingsHighway.com membership because many benefits and services are offered by 3rd party vendors.
The Savings Highway Compensation Plan
Savings Highway offers members commissions focused on the recruitment of new paid members, with a focus on getting people to sign up at the "Ultimate" membership level ($149.99 a month).
Residual Recruitment Commissions
Savings Highway pays out monthly commissions upon the recruitment of new members and their continued payment of monthly membership fees:
for each Ultimate Member signed up, the recruiting member earns 33% of their monthly membership fees ($50)
for each Family Super Saver member recruited, $35 is paid upfront and then $20 a month
for each SH Marketing member recruited, $20 is paid upfront and then $10 a month
Residual Matrix Commissions
Residual matrix commissions in Savings Highway revolve around a 2×15 matrix compensation structure.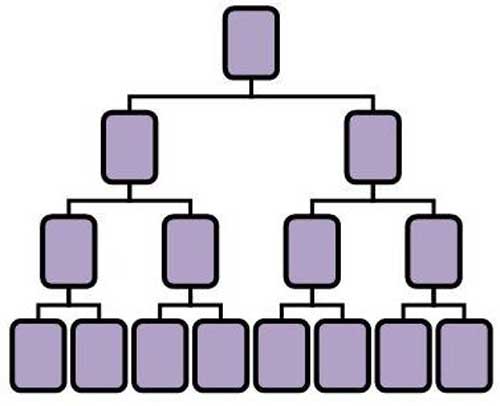 A 2×15 matrix places a member at the top of the structure, with two legs branching out from under them (level 1).
In turn these two legs branch out into another two legs (level 2) and so on and so forth down 15 levels.
As a Savings Highway member fills their matrix, either via direct recruitment or the recruiting efforts of their up and downlines, they are paid a monthly commission.
How much of a commission a member received depends on their own Savings Highway membership level (see "Joining Savings Highway" section of this review), and what level recruited members are placed in their matrix.
Note that the Savings Highway compensation plan doesn't go into the specifics of how much is paid out on each level per member, they only refer to "averages".
Ultimate Members earn "an average of $10 per member on levels 1-8 and  $2 on levels 9-15"
Family Super Savers  earn "an average of $5 per member on levels 1-8 and $2 on levels 9-15"
SH Marketing Members earn "an average of $3 per member on levels 1-8 and $1 on levels 9-15"
Note that Free Members are unable to earn via the matrix and that for paid members a minimum of two personally recruited paid members are required to qualify for matrix commissions.
Matrix Matching Bonus
If a Savings Highway member has recruited seven Ultimate Members and is an Ultimate Member themselves, they qualify to earn a 100% matching bonus on the matrix earnings of every member they personally recruit.
Gas Recruitment Bonus
Savings Highway members who sign up a new Ultimate Member are given a $25 Visa gas card. A maximum of $200 a month can be redeemed via these cards.
Vacation Recruitment Bonus
Savings Highway members who sign up three Ultimate Members are rewarded with a "$1,000 Value Condo Vacation for 7-days and 7-nights".
Members must pay $50 to redeem this bonus and their travel expenses, with Savings Highway claiming they'll "take care of your room and taxes".
Car Bonus
If a Savings Highway member has ten active Ultimate Members and has a downline of at least 100 Ultimate Members (counted down ten levels of recruitment), they qualify for Savings Highway's Car Bonus.
The Car Bonus is paid out as a $500 monthly bonus.
My Store Income
Bundled with membership to Savings Highway is a shopping portal members can earn commissions from (selling products and services offered by third-party vendors).
I had a look at a few affiliate's stores and apart from some mosquito repellant tabs, all that was offered was the same third-party vendor services bundled with  Savings Highway membership.
Joining Savings Highway
Membership to Savings Highway is available at four price points:
Free Membership (no matrix commissions)
SH Marketing – $39.99 a month (matrix commissions capped at $33,000 a month)
Super Savers – $69.99 a month (matrix commissions capped at $66,000 a month)
Ultimate – $149.99 a month (matrix commissions capped at $135,000 a month)
Apart from Free Members being locked out of matrix commissions, the main difference between the four membership levels is the amount of services access is provided to and the cap on matrix earnings.
Conclusion
I'm not going to comment on the establishing of Savings Highway, as I think the letter sent out by Robert Bowen speaks for itself. That and given this all happened now nearly six years ago, I'd like to hope the parties involved learnt from the experience and have moved on.
With that out of the way, here's my rundown of the Savings Highway opportunity as it stands today.
Curiously, Savings Highway state in their Terms and Conditions that the company "does not pay commissions for referring, recruiting or sponsoring". Yet with membership being the only thing sellable via the company itself, this is precisely what the company's members are paid to do.
As per Savings Highway's Privacy Policy:
Savings Highway pays commissions to our Independent Representatives based on the sale of our memberships and other products and services.
The "other products and services" the company mentions I believe are the store commissions, however these are again third-party vendor products (who pay Savings Highway who then pay their members).
What you're ultimately left with is a scheme that primarily pays out on the recruitment of new members and conditionally upon their payment of monthly membership fees. These fees make up 100% of the commissions paid out upon the recruitment of new members and via the offered matrix commissions.
As per Savings Highway's refund policy:
Savings Highway does not offer refunds for any reason and all Members agree to this upon joining when checking the Terms and Conditions Box.

Once a new or recurring Subscription is processed, commissions are paid to the upline and benefits are purchased. If a member chooses not to activate or use any services, that is up to said member. All sales are final.
Also note the line "if a member chooses not to activate or use any services, that is up to said member", as what this is effectively suggesting is that the services membership provides access are by and large irrelevant to the compensation plan and commissions paid out.
You can join Savings Highway, completely ignore the "benefits" membership provides access to and just focus on the recruitment of others. Preferably with much of the compensation locked up or tied into the recruitment of "Ultimate Members", this the level members are encouraged to recruit new members at. Or in other words, the more you pay the more you earn.
At the end of the day the entire Savings Highway scheme hinges on the recruitment of new members by those newly recruited, and the ongoing monthly membership fees paid by existing members.
The notion that mosquito repellant sales will keep people paying $149.99 a month (remember, we're looking at Savings Highway as an income opportunity), is quite simply put, ridiculous.
That said, it's not impossible so I'd advise those approached to join Savings Highway to get in contact with their potential upline and see where their commissions are being paid.
If it's largely from membership fees then you can be sure you yourself aren't going to earn anything without the recruitment of new members. The alternative could hint at legitimacy in the shopping portal but I'd be extremely surprised if that was the case.
99.9% of the time when a shopping portal is included in an MLM opportunity but has nothing to do with the compensation plan, it's to try to mask the glaring recruitment commissions on offer.
Given the extremely recruitment focused Savings Highway compensation plan, I'm not seeing any different here.