TresMore Review: Saivian daily Ponzi ROI clone

Tresmore operate in the cashback MLM niche and provide a corporate address in the US state of Georgia on their website.
Further research reveals this address belongs to "Thanks Matrix", which Tresmore marketing material suggests is an umbrella corporation:
Thanks Matrix cite the same Tresmore corporate address as their global headquarters. A Korean headquarters corporate address is also provided.
Thanks Matrix itself appears to have previously tried to launch an MLM opportunity through Go7Shop.
Go7Shop is an e-commerce platform with an attached MLM compensation plan. Alexa traffic estimates for the Go7Shop suggest it never took off.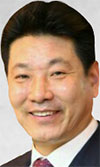 In the Tresmore marketing slide above, Joseph Lee (right) is cited as the CEO and President of Thanks Matrix.
The Tresmore website cites Lee as President of the company and co-CEO with Peter Sohn.
The Tresmore corporate bios for Lee and Sohn contain marketing copy and provide no information about either individual.
I tried to suss out MLM histories for Lee and Sohn and turned up nothing. This in itself is highly suspicious.
A third member of corporate manage is named on the Tresmore website, Michael Krause.
Again, nothing comes up other than Krause holding the same position in TMWellbeing, another company connected to Thanks Matrix.
Read on for a full review of the Tresmore MLM opportunity.
TresMore Products
Tresmore has no retailable products or services.
Once signed up, Tresmore affiliates have access to a mobile app based cashback platform.
Through the app Tresmore affiliates nominate up to ten stores they currently use (excludes utility bills and services).
Receipts for products purchased with a nominated credit or debit card are uploaded through the app at the end of each month.
After a thirty-day "validation period", Tresmore claim they will pay up to 20% cashback on purchases made.
The maximum cashback claimable in a month is $260 a month and/or $3120 a year.
The Tresmore Compensation Plan
Tresmore affiliates pay $130 a month and receive a daily ROI, based on how many affiliates they recruit.
Tresmore's daily ROI is tracked via a binary compensation structure.
A binary compensation structure places an affiliate at the top of a binary team, split into two sides (left and right):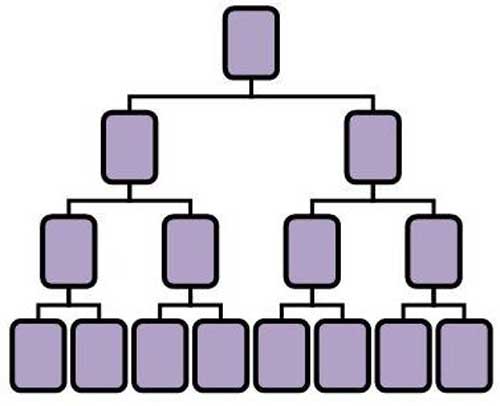 The first level of the binary team houses two positions. The second level of the binary team is generated by splitting these first two positions into another two positions each (4 positions).
Subsequent levels of the binary team are generated as required, with each new level housing twice as many positions as the previous level.
Positions in the binary team are filled via direct and indirect recruitment of affiliates. Note that there is no limit to how deep a binary team can grow.
Tresmore pay affiliates a daily ROI based on affiliate recruitment into their binary team.
Silver – personally recruit 3 affiliates and receive a daily $5 ROI
Gold – have 12 affiliates in your binary team (six on either side) and receive a $20 daily ROI
Platinum – have 36 affiliates in your binary team (eighteen on either side) and receive a $30 daily ROI
Diamond – have 80 affiliates in your binary team (forty on either side) and receive a $50 daily ROI
Double Diamond – have 150 affiliates in your binary team (seventy-five on either side) and receive a $100 daily ROI
Triple Diamond – have 300 affiliates in your binary team (one hundred and fifty on either side) and receive a $150 daily ROI
Crown – have 500 affiliates in your binary team (two hundred and fifty on either side) and receive a $200 daily ROI
Royal Crown – have 750 affiliates in your binary team (three hundred and seventy-five on either side) and receive a $300 daily ROI
At this point a third binary leg is opened up, with affiliates able to increase their daily ROI through continued recruitment.
Premiere – have 1000 affiliates in your binary team (three hundred and fifty in two legs, 300 in the third) and receive a $500 daily ROI
Star Premiere – have 2000 affiliates in your binary team (seven hundred in two legs, six hundred in the third) and receive a $750 daily ROI
Gold Premiere – have 4000 affiliates in your binary team (one thousand four hundred in two legs, one thousand two hundred in the third) and receive a $1000 daily ROI
Diamond Premiere – have 6000 affiliates in your binary team (two thousand one hundred in two legs, one thousand eight hundred in the third) and receive a $2000 daily ROI
Crown Premiere – have 8000 affiliates in your binary team (two thousand eight hundred in two legs, two thousand four hundred in the third) and receive a $3000 daily ROI
Leadership Bonus
Tresmore's Leadership Bonus is a 5% matching bonus on ROI payouts to downline affiliates, paid down three levels of recruitment (unilevel).
Global Pool Bonus
Tresmore take 3% of company-wide affiliate fees each month and place them into a Global Pool.
The Global Pool is split into five separate pools, corresponding with affiliate ranks:
Premier – 30% pool
Star Premier – 25% pool
Gold Premier – 15% pool
Diamond Premier – 15% pool
Crown Premier – 15% pool
Affiliates at the Premier rank or higher receive a share in the corresponding Global Pool each month.
Joining Tresmore
Tresmore affiliate membership is $130 a month.
Conclusion
When analyzing Tresmore's business model, the first obvious question is how are they generating revenue to pay the cashback with?
As per a Tresmore marketing presentation, the company would have you believe it's through 'analysis of consumer habits leading to better marketing management for businesses'.
No proof whatsoever of data being collected and sold aside, this doesn't make much sense.
Data gathering is typically laser-focused and packaged with specific client needs in mind.
Tresmore accept receipts from any product-selling business from anywhere in the world, for any product purchased for any amount.
What data resale value this might generate, if any, is going to be extremely limited.
Of course just like the company it was modeled on, Tresmore's cashback portal is merely a marketing carrot.
The big money in Tresmore is in paying $130 a month and recruiting others who do the same.
Those with the largest downlines of affiliates paying a monthly fee receive a daily ROI of up to $3000 a day.
This is a clone of the Saivian Ponzi business model.
Saivian launched back in 2015 and, just shy of the typical two-year period in which online Ponzi schemes collapse, recently relaunched as SaiviWorld.
Tresmore is obviously hoping to capitalize on the same fraudulent model, even down to who they're targeting.
When Saivian launched it was presented as an American business run by Americans.
Some initial interest aside, Saivian flopped in the US. Elsewhere in the world however the "pay a fee, recruit others and collect a daily Ponzi ROI" model took off.
China quickly established itself as the primary source of revenue from recruited investors. Even to this day SaiviWorld's largest source of website traffic is China (52%), followed by Japan (16%).
Not surprisingly, Tresmore's two largest sources of website traffic are also China (51%) and Japan (32%).
With virtually no US investors, it's unclear whether US regulators will take any notice of Tresmore.
Like Saivian/SaiviWorld, Tresmore has not registered their securities offering with the SEC.
Saivian certainly slipped through the cracks, despite the likelihood of most investors today having already lost their money.
Reboot scams are, after all, rarely as successful as their initial incarnations. Ditto clone scams like Tresmore.
The daily ROI model will see Tresmore affiliates start to lose money when affiliate recruitment dies down.
This will start with those newly recruited unable to make back their $130 monthly investment.
Soon enough they stop paying their fee, which means those above them either take a cut in their daily ROI or stop getting paid.
They stop paying their fee and, well before you know it Tresmore has collapsed and they're rebooting under a different name (TresWorld?).
Don't be fooled by the cashback lure. Tresmore is primarily about collecting a daily ROI of up to $3000.
Someone has to cough up that money and unfortunately that will ultimately result in the majority of Tresmore affiliates losing money.