Powerline Profit Review: $37 cash gifting

There is no information on the Powerline Profit website indicating who owns or runs the business.
The Powerline Profit website domain ("powerlineprofit.com") was registered on the 11th of February 2014, with a "Jim Carpenter" listed as the owner. An address in the US state of Nevada is also provided.
Carpenter got started in MLM in the 1990s. As part of his marketing pitch, Carpenter frequently references his "top earner" status in World Profit:
As Worldprofit's Top Dealer since 1998, I can tell you, without a doubt, this is the absolute best online business on the Internet.
Under the guise of selling marketing tools and lead generation, World Profit back then appears to have been primarily about affiliate recruitment. You sign up, pay a fee and then get paid when you recruit others who do the same.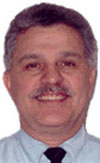 In 2009 Carpenter (right) left World Profit, with the following statement issued to explain the departure:
I left the Company where I had been the TOP Earner & TOP Recruiter for OVER 10 years. Actually, they changed their compensation plan,dramatically reducing my income.

I could no longer stay there They actually made the changes several months before I left, so I started looking for something else.
After leaving World Profit in 2009, Carpenter  went on to join EZ Wealth Solution, a cash gifting scheme run by Ron Walsh.
Back in 2011 Carpenter launched his own gifting scheme, "The Daily Mega Wealth Creator System" (yes, that was the actual name of the opportunity).
The Daily Wealth Creator System saw affiliates make $20 to $3400 payments, which in turn qualified them to receive the same payments from affiliates they recruited.
This was followed up by EZ Daily Cash Generator in 2012, another scheme which saw affiliates gift eachother between $47 to $1497.
Earlier this month Carpenter launched 250CashClub, another "member to member" gifting scheme.
In 250CashClub, participants pay a $250 fee, which then qualifies them to receive $250 payments from participants they recruit.
Your prospects will be sending you $250 via PayPal or other arrangements that you have with them. Remember, you get paid DIRECTLY from your New Member!
And that now brings us to Powerline Profit.
Read on for a full review of the Powerline Profit MLM business opportunity.
The Powerline Profit Product Line
Powerline Profit has no retailable products or services, with affiliates only able to market affiliate membership with the company itself.
The Powerline Profit Compensation Plan
Powerline Profit sees affiliates make $37 payments, which qualifies them to receive $37 payments from affiliates they recruit.
This is tracked via a 1-up compensation plan, which sees affiliates pass up the first $37 payments they receive to the affiliate who recruited them.
In turn, affiliates they recruit must pass up their first $37 payment, with this requirement enforced everytime a new Powerline Profit affiliate recruits a new affiliate.
Joining Powerline Profit
Affiliate membership with Powerline Profit is $10 and then another $37.
YOU Sell to HENRY. Henry's $37 payment goes to YOUR Qualified Director.

YOU ARE NOW QUALIFIED TO RECEIVE UNLIMITED, DAILY $37 PAYMENTS…FOR LIFE!
As above, payment of the $37 fee qualifies a Powerline Profit affiliate to receive payments from subsequently recruited affiliates.
Conclusion
From the Powerline Profit website:
Once you have paid your $10 Membership Fee and your $37 Director's Package Fee, you will be able to begin signing up new Members.

Everybody you bring in who upgrades to Director, begins another profitable Powerline for you, and each new person's first sale is PAID DIRECTLY to you.

You get paid IMMEDIATELY, KEEP 100% and you are paid DIRECTLY from the Member!

No waiting for the Company to pay you! We NEVER touch YOUR money!
After so many years, it should be obvious that Jim Carpenter knows the cash gifting schemes he launches are nothing more than money game scams.
Nothing is being marketed or sold to retail customers (the PLR garbage included with everyone's $37 fee is irrelevant to the payplan), with all payments gifted between members.
The only trigger for commissions to be generated is the recruitment of a new participant who then pays $47.
This identifies Powerline Profit as a cash gifting scheme.
As with all gifting schemes, once recruitment of new participants slows down, gifting payments cease and the scheme collapses.
Carpenter at that point collects all the $10 fees he's been paid and, if history is anything to go by, launches a new gifting scheme when it's time to make more money.