Brank Review: Ponzi credits securities fraud

Brank provides no information about who owns or runs the company on its website.
On its various social media profiles, Brank represents that it is based out of Manchester in the UK.
On Brank's LinkedIn profile, Daniel Noormohamed is identified as the company's founder.

On his own LinkedIn profile, Noormohamed (right) cites himself as
an experienced expert level Application developer specialising in the PHP (including MySQL, Ajax and JavaScript Development).
As far as I can tell, Brank is Noormohamed's first MLM venture.
Update 21st December 2020 – A post left by a visitor to Brank's LinkedIn profile names Nicholas Antel, Chris Hawk Jones and Alan Friedland as Brank partners.

In the comments section of this review, Brank co-owner Ari Maccabi claims Friedland "helped design this to insure we are compliant."
In April 2020 the CFTC sued Friedland for running Fintech Investment Group and Compcoin.
As alleged by the CFTC, Friedland launched compcoin and attached it to a trading bot opportunity.
Naturally the trading bot, named "ART", didn't exist.
Instead of gaining access to ART's high success rate at predicting USD/EUR forex trades and high rate of return from the trades as promised, purchasers of Compcoin were left with a valueless asset.

Indeed, Compcoin was eventually delisted by all digital asset exchanges and is now worthless.
Through Fintech Investment Group and Compcoin, Friedland stands accused of stealing $1.6 million from investors.
The CFTC's case against Friedland is ongoing, with a trial tentatively scheduled for November 1st, 2021.
But uh yeah, this is the guy Brank supposedly hired for legal compliance. Rightio. /end update
At the time of publication Alexa cites the US as the sole measurable source of traffic to Brank's website (100%).
As always, if an MLM company is not openly upfront about who is running or owns it, think long and hard about joining and/or handing over any money.
Brank's Products
Brank has no retailable products or services, with affiliates only able to market Brank affiliate membership itself.
Brank's Compensation Plan
Brank affiliates invest $6.50 to $6,500 in tokens, which are sold for $1.30 each paid in ethereum.
Through their backoffice, Brank affiliates convert tokens into credits.
Brank pegs the current internal credit value of credits to the rate of investment in tokens.
Affiliates withdraw credits based on the current internal value through Brank's internal exchange.
The MLM side of Brank's compensation plan pays on recruitment of Brank affiliates who invest.
Referral Commissions
Brank pays referral commissions via a unilevel compensation structure.
A unilevel compensation structure places an affiliate at the top of a unilevel team, with every personally recruited affiliate placed directly under them (level 1):

If any level 1 affiliates recruit new affiliates, they are placed on level 2 of the original affiliate's unilevel team.
If any level 2 affiliates recruit new affiliates, they are placed on level 3 and so on and so forth down a theoretical infinite number of levels.
Brank caps payable unilevel team levels at seven. Referral commissions are paid as a percentage of funds invested across these seven levels.
Referral commission percentages tied to an affiliate's token investment balance:
have 0 to 249 tokens in your wallet and receive 1% on level 1 (personally recruited affiliates), 0.5% on levels 2 and 3 and 0.2% on levels 4 to 7
have 250 to 499 tokens in your wallet and receive 2.5% on level 1, 1.5% on level 2, 1% on level 3 and 0.5% on levels 4 to 7
have 500 to 999 tokens in your wallet and receive 5% on level 1, 3% on level 2, 2% on level 3, 1.5% on level 4, 1.25% on level 5, 0.75% on level 6 and 0.5% on level 7
have 1000 to 4999 tokens in your wallet and receive 8% on level 1, 5% on level 2, 2.5% on level 3, 2% on level 4, 1.5% on level 5 and 1% on levels 6 and 7
have 5000 or more tokens in your wallet and receive 10% on level 1, 6% on level 2, 4% on level 3, 3 on level 4, 2.5% on level 5, 1.5% on level 6 and 1% on level 7
Note that Brank calculates referral commissions on a reduced $1 per token value (tokens are $1.30 to invest in).
Also note that referral commissions are paid 80% in credits and 20% in tokens.
Trading Tournament Referral Commissions
Within Brank are various trading tournaments affiliates can participate in.
Each tournament has a corresponding token cost of entry.
If an affiliate enters a tournament and someone from across the first three levels of their unilevel team wins credits in the same tournament, a referral commission in credits is paid out.
5% if the winning affiliate is on the first level of your unilevel team
3% if the winning affiliate is on the second level of your unilevel team
2% if the winning affiliate is on the third level of your unilevel team
As with standard referral commissions, 80% of trading tournament commissions are paid in credits and 20% in tokens.
Joining Brank
Brank affiliate membership appears to be free.
Full participation in the attached income opportunity requires an initial $6.50 to $6500 investment in tokens.

Note that payments within Brank (both paid and received) are made in ethereum.
Also note that Brank charges a 20% fee on all withdrawals.
Conclusion
Brank started off as a gamified trading platform that launched in October 2019.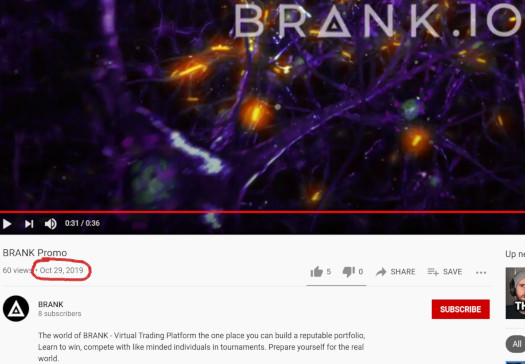 Brank's original concept appears to have been less about investment and more about trading:
Ever wondered what it's like to trade crypto. With BRANK your able to do just that.

We can analyse your portfolio, we can help you to make those right decisions based on your portfolio trends.

Some may ask, how do we know which coins to look at and how to actually understand how this works.

One of the options is BRANK Premium this allows you to get 1 to 1 time with crypto traders/analysts who are able to help you through the whole learning process.
The concept flopped. And so Brank has been rebooted as a investment opportunity through which existing investors withdraw subsequently invested funds.
In other words, a typical MLM crypto Ponzi scheme.
The gaming side of Brank has been reduced to a thin ruse behind which Brank commits securities fraud.
Credits can be earned by participating in Brank's tournaments. Tokens are required to enter trading tournaments, with entry costing 1 to 100 tokens a pop.
Brank's trading tournaments are conducted virtually with play money. Each tournament runs for a set period of time, with winners picked based on who makes the most money through virtual trading.
But why bother with any of that when you can just directly convert your purchased token balance into credits: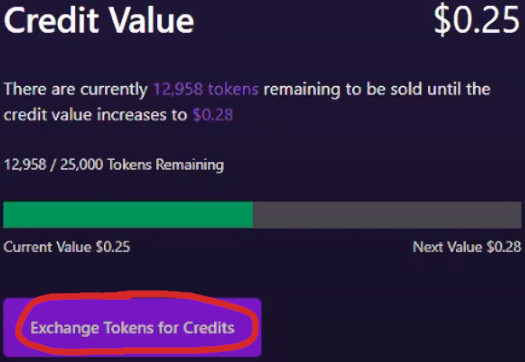 The ability to purchase tokens and convert them directly into credits reduces Brank to a fraudulent investment opportunity.
The internal credit value is pegged to the rate of token investment, which allows existing token affiliate investors to cash out subsequently invested funds.
Theoretically the internal credit value can only go up, but this is true only for as long as new investment is being made.
Ponzi math will also inevitably see withdrawals at the ever-increasing credit value exhaust invested ethereum, eventually prompting Brank to collapse.
That the US is the primary source of investment into Brank should be of concern, as neither Brank or Daniel Noormohamed are registered with the SEC.
This means that in addition to running a Ponzi scheme, Brank, Noormohamed and its promoters are committing securities fraud.
One last thing I want touch on is Ari Maccabi outing himself as a co-owner of Brank.
Maccabi made the disclosure on a December 11th post to Facebook:

Despite Brank operating as a Ponzi scheme and committing securities fraud, Maccabi falsely asserts it is "100% legal the entire world over".

Maccabi (right) is currently based out of the Philippines. Public promotion of his last scam, Mining City, came to a halt after the Philippines SEC issued a securities fraud warning in July.
Mining City remains illegal in the Philippines, and indeed everywhere else in the world.
As stated, Maccabi has ceased public promotion of Mining City. Whether he's still promoting it in his private "Black Ops Marketing" Facebook group(s) is unclear.
Maccabi was also a promoter of the notorious BitClub Network Ponzi scheme, whose owners were arrested earlier this year.
Maccabi has been around for years and there's plenty more scams he's promoted, but that's not the focus of this review so I'll leave it there.
My point in bringing this up is it it seems whatever Brank was has been repurposed by Maccabi and whoever else from the MLM underbelly has recently signed on as an owner.
Brank is now being pushed by serial scammers onto their close downlines, and from there it'll be unleashed onto the general public.

To that end Brank has disabled withdrawals until mid January. The company's website also states:
All payments are made in ethereum and are non-refundable.
Whether withdrawals are in fact disabled for Brank's inner circle or just the regular public is unclear.
To sum up, Brank's ever-increasing internal credit value is unsustainable for obvious reasons. By the time Brank collapses though, it'll already be too late for the majority of affiliate investors.
Maccabi and friends will have already cleaned out invested ethereum, leaving the majority of Brank affiliate investors with a loss.
Alternatively the US SEC and/or Philippine SEC will get involved, which will inevitably lead to years of litigation.
If Daniel Noormohamed is still based out of the UK, don't expect anything there. UK regulation of MLM Ponzi schemes is, for all intents and purposes, non-existent.