CGI Limited soliciting gaming investment through US bank account?

Following publication of BehindMLM's CGI Limited review on February 23rd, the company shut down its Coinsinos website.
Prior to being shutdown, the Coinsinos website marketed a gaming MLM opportunity tied to, among other things, cryptocurrency cock fighting.
Further research reveals that while the front-end of the Coinsinos website has been disabled, affiliate login services ("members.coinsinos.com") now redirects to the CGI Limited website.
As at the time of publication, CGI Limited affiliates are being asked to deposit funds invested into betchip tokens via bitcoin, bitcoin cash, ethereum… or bank wire transfer to a US bank account.
CGI Limited's business model sees affiliates invest up to $50,000 in betchip token packages.
Betchips are used to play games via services operated by CGI Limited. They have no value outside of the CGI Limited MLM opportunity.
Prior to its shutdown, offered games on the Coinsinos website included online slots, live dealer, table games, ladder game, bingo, quick keno and cockfighting.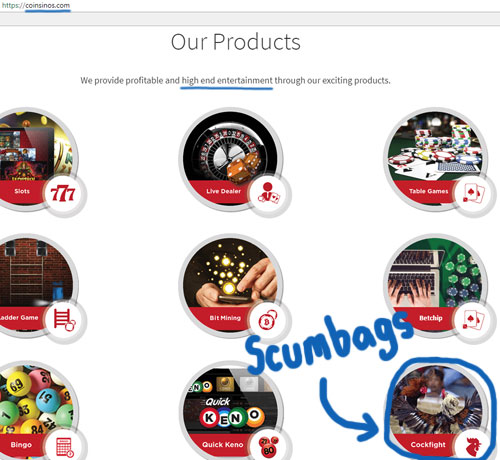 As mentioned earlier, CGI Limited are currently soliciting betchip investment through bitcoin, bitcoin cash, ethereum and a US bank account.
The bitcoin wallet address provided (1LfTD7MCcnfYzii6v8z15p4pyHWQymjgxm), shows three transactions totaling 0.46 BTC from April 1st.
The bitcoin cash wallet provided (qp6r9guwk254jqzfcqlywvlwlgt3hkp2zy3jdpja29) shows two transactions totaling 3.717 BCH since March 31st.
The ethereum wallet provided shows ninety transactions dating back 65 days.
A few of those transactions are cleanouts, with the wallet currently holding 103.37 ETH ($39,446).
Clearly with the exception of CGI Limited's ethereum wallet, there's not much investment activity going on through cryptocurrency.
The US bank account provided to CGI Limited affiliates is a BB&T Georgia account owned by Global Outbreak LLC.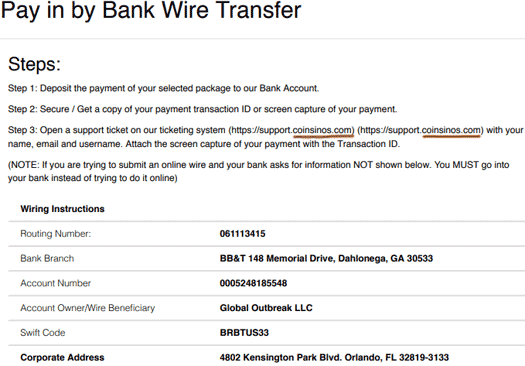 Obviously we have no idea how much investment CGI Limited had solicited through the account.
Corporate documents filed with the Georgia Secretary of State reveal the company was incorporated back in 2011.
Jef Welch is the authorized "attorney-in-fact" of Global Outbreak LLC. The registered agent is Alfred Chang, a local attorney who specializes in family law.
On his personal Global Prosperity Marketing website, Jef Welch refers to himself as "the MLM Business Man".
Jef Welch, known as The Mentor, specializes in speaking and training in the network marketing profession, help leaders develop a higher level of success for themselves and their team, coaching them to understand the dynamics of using easy, simple methods to achieve their goals.

Jef Welch, the C.E.O. of Global Prosperity Marketing, has developed an international team of leadership who pride themselves as the Global Prosperity Marketing Team.
In a recent article that suggested CGI Limited are lobbying Wyoming to legalize CGI Limited's business model, BusinessForHome cited Jef Welch as a "top leader" of the company.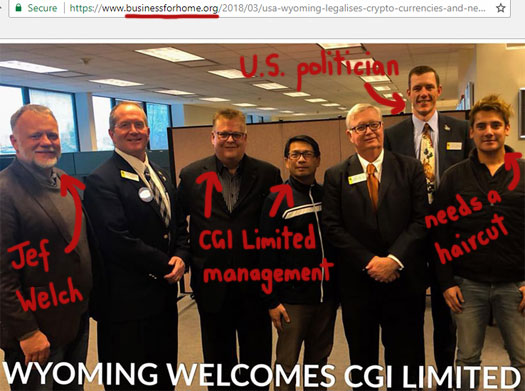 To recap, here's how BusinessForHome describe CGI Limited's business model;
CGI Limited is the creator of the BetChip and Coinsino, a crypto currency with a network marketing compensation plan accepted by a number of casino's [sic].

Mining takes place in Costa Rica and the casinos are licensed in that country.

Lorence Irvine is CEO, Edward Reyes and Esteban Robles are co-founders.
Just so we're clear: CGI Limited is an MLM company using a US bank account owned by one of its "top leaders", to accept deposits for a cryptocurrency token accepted "by a number of casinos".
Here's the thing though, as per the Unlawful Internet Gambling Enforcement Act (2006), what CGI Limited and Jef Welch are doing is entirely illegal.
The Unlawful Internet Gambling Enforcement Act of 2006 (UIGEA) is United States legislation regulating online gambling.

The UIGEA "prohibits gambling businesses from knowingly accepting payments in connection with the participation of another person in a bet or wager that involves the use of the Internet and that is unlawful under any federal or state law."

The act prohibits gambling businesses from "restricted transactions".

Restricted transactions involve gambling businesses when they knowingly accept payments from another person in a bet or wager on the internet.

The Act defines a bet or wager to include risking something of value on the outcome of a contest, sports event, "or a game subject to chance."

The "game subject to chance" restriction is designed to include Internet poker in the act.
Whist I'm not a lawyer, I'm pretty sure conducting online gaming through a cryptocurrency token doesn't make CGI Limited exempt from UIGEA.
As at the time of publication it is unclear whether authorities are investigating CGI Limited and Jef Welch.
It is also unclear whether BB&T Georgia are aware one of their customers is using a BB&T bank account to accept investment on behalf of an MLM online gaming company.
Despite seemingly operating in violation of US law, CGI Limited pitch themselves to potential investors as being "legally operated & secure":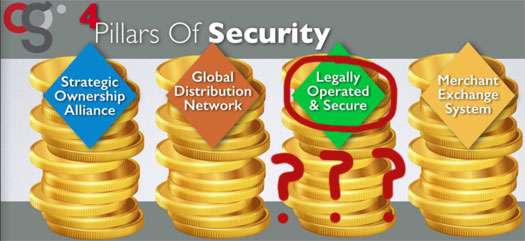 Stay tuned…