Bitcoin Frontiers Review: Two-tier bitcoin gifting scheme

The Bitcoin Frontiers website provides no information about who owns or runs the company.
In fact the website itself is nothing more than an email capture landing page.
Visitors to the Bitcoin Frontiers website through an affiliate referral link, are told they can make "$1000+ A DAY with bitcoin".
The Bitcoin Frontiers website domain ("bitcoinfrontiers.com") was privately registered on October 14th, 2018.
Further research reveals that a few months ago, Clay Montgomery was seeking a freelancer artist to create logos for Bitcoin Adventurer and Crypto Mastery.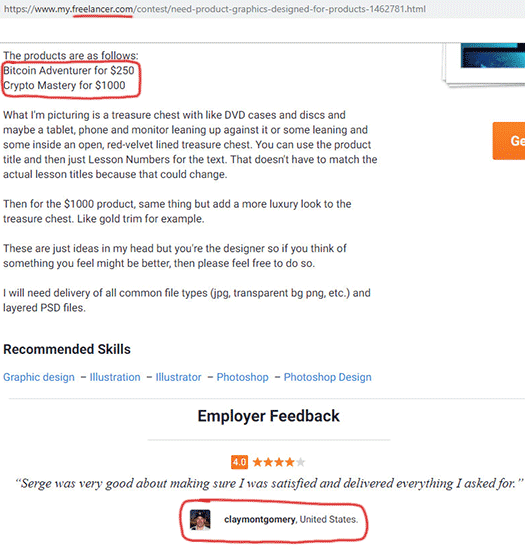 These are the two buy-in gifting tiers for Bitcoin Frontiers.
This lead me to confirm Clay Montgomery is behind Bitcoin Frontiers, and apparently he's working with Franco Gonzalez.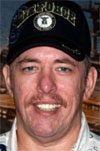 Clay Montgomery (right) first appeared on BehindMLM's radar in 2017, as admin of the short-lived Speed Feeder Ponzi cycler.
Outside of his own launches, Montgomery is a serial promoter of various MLM underbelly scams. These include Digital Altitude and Exitus Elite.
Judging from Bitcoin Frontiers bitcoin theme, it seems now Montgomery is focused on cryptocurrency scamming.
Update 7th April 2019 – Whereas Clay Montgomery represents he is based out of Oklahoma in the US on his personal social media profiles, turns out he's relocated to the Philippines.
Montgomery moved to the Philippines to meet a local he met online on or around December, 2018.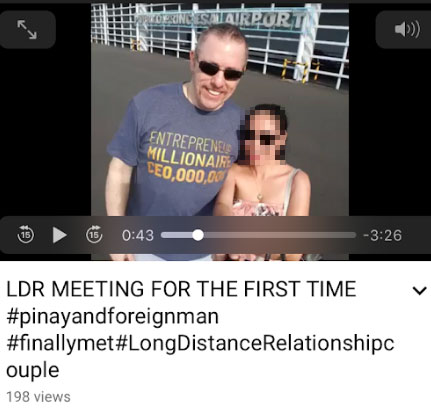 Note the above video has since been deleted or marked as private.
I was able to confirm however that as of March 31st, 2019, Montgomery is still residing in Quezon City, Philippines (in or around Eastwood City). /end update

Franco Gonzales (right) first featured on BehindMLM in 2011, as part of the AutoXTen Ponzi cycler collapse fallout.
At the time Gonzales was working closely with Jeff Long, leading to the launch of the SMS Dailys pyramid scheme shortly after AutoXTen's collapse.
These days Gonzales markets the various schemes he's in through his "Franco Simple Freedom" team.
Read on for a full review of the Bitcoin Frontiers MLM opportunity.
Bitcoin Frontiers Products
Bitcoin Frontiers has no retailable products or services, with affiliates only able to market Bitcoin Frontiers affiliate membership itself.
Bitcoin Frontiers affiliate membership provides access to two cryptocurrency courses:

Bitcoin Adventurer for $350 and
Crypto Mastery for $1250.
As of late February, Bitcoin Frontiers was accepting $1250 payments for Crypto Mastery despite the course having no content.
The Bitcoin Frontiers Compensation Plan
Bitcoin Frontiers affiliates sign up and gift bitcoin payments of up to $1250 to an existing Bitcoin Frontiers affiliate.
This payment in turn qualifies the affiliate to receive gifting payments from subsequently recruited Bitcoin Frontiers affiliates.
Gifting payments within Bitcoin Frontiers are $250 and $1250.
Payments are made in bitcoin and tracked via a perpetual pass-up model. This model is tracked via a unilevel team.

Since Bitcoin Frontiers is a gifting scheme, $250 and $1250 payments pass between affiliate participants.
The pass-up model sees the second gifting payment received on either tier passed up. Then the fourth and every fifth gifting payment thereafter.
Note that the $250 and $1250 payments operate as separate tiers.
If a Bitcoin Frontiers affiliate has not gifting in $1250, any $1250 gifting payments by those in their downline are automatically passed up to the first $1250 tier qualified upline.
Joining Bitcoin Frontiers
Bitcoin Frontiers affiliate membership is free.
To participate in the attached MLM opportunity however, $1250 in gifting payments plus a $100 admin fee is required.
Note that all payments within Bitcoin Frontiers (both paid and received) are in bitcoin.
Conclusion
That Bitcoin Frontiers is your typical old school gifting scheme shouldn't come as a surprise, given how long those behind it have been running and participating in MLM underbelly scams.

In essence, you sign up for $350, and either gift in an additional $1250 later or just get it over and done with for $1350 outright.
Of the $1350 you gift in, $100 is kept by Clay Montgomery and Franco Gonzales. The remaining $1250 is gifted to existing Bitcoin Frontier affiliates.
Rather than refer to Bitcoin Frontiers for what it is, an illegal cash gifting scheme, the company touts "100% commissions".
Be among the first affiliates to share our brand new 2019 Bitcoin educational package and Earn 100% Commissions, paid Instantly, direct to YOUR personal Bitcoin wallet!
"100% commissions" has long been code among MLM underbelly circles for gifting.
Interestingly payments within Bitcoin Frontiers are being processed by Coin Payments.
Coin Payments recently featured on BehindMLM, after Power Bot admin Aidan Parr blamed them for the collapse of his Ponzi scheme.
As I understand it Coin Payments have stated they're no longer accepting bot-based Ponzi schemes after the Power Bot collapse. However they don't seem to have a problem with illegal gifting schemes like Bitcoin Frontiers.
It might be a bit too early to call it, but evidently Coin Payments is emerging as the new darling crypto processor for the MLM underbelly. Well, at least until authorities catch up with them (think Liberty Reserve, Payza and whoever is next).
But I digress. Bitcoin Frontiers being a gifting scheme means those that get in early and recruit will make most of the money.
Once recruitment inevitably dies, that'll be the end of it.
Mathematics guarantees that in order for your Clay Montgomerys, Franco Gonzales', Ari Maccabis, Mack Mills', Michael Mansells and other serial scammers to make money, the majority of Bitcoin Frontiers affiliates have to lose it.
Your best bet at that point will be to approach Coin Payments and demand a refund, although I don't like your chances.