CGI Global promise millions in earnings through Magellan International

CGI Limited surfaced earlier this year as new entry into the MLM cryptocurrency niche.
Combining unregistered securities with cryptocurrency gambling through Coinsinos, CGI Limited planned to operate via its betchips altcoin.
Since our February 2018 CGI Limited review, the company has rebranded itself as CGI Global.
Coinsinos appears to have been abandoned, with CGI Global touting millions through something called "Magellan International Alliances, Corp."
As per a CGI Global social media update dated June 18th;
CGI, Ltd., has always been a temporary brand, while carefully determining the strategic branding and marketing strategy around the name Magellan.

We were able to obtain the domain, MagellanInternational.com.

Magellan International Alliances, Corp., has contracted with one of the most experienced and talented Marketing Agencies to provide the highest quality tools to help you be more efficient and successful.
Interestingly enough, over a month later and the Magellan International website domain is still parked.
CGI Global promotion of Magellan International however is in full swing.
Primarily through social media, CGI Global are currently recruiting gullible investors in Africa on the promise they'll "earn millions".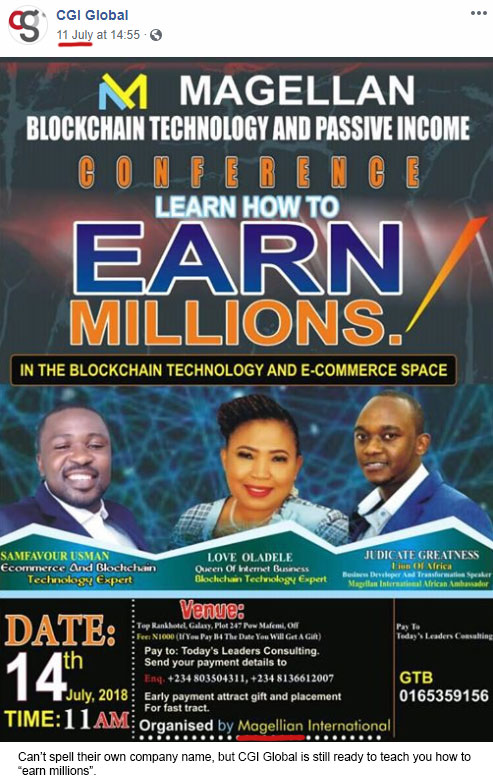 As I understand it CGI Global and Magellan International revolve around betchip investment.
From there's it's the same old MLM cryptocurrency hype story: Invest today and, *somethingsomething insert actual value here*, we'll all be driving Lamborghinis in no time.
It's worth noting that although CGI Global is concentrating marketing efforts in Africa, Alexa still peg the US as the largest source of traffic to the CGI Global website (65%).
At the time of publication, neither CGI Global, Magellan International or co-founders Lorence Irvine and Daniel Grenon are registered to offer securities in the US.