Peter Wolfing reboots Easy1Up gifting scam for 2021

Easy1Up has been rebooted by owner and serial scammer Peter Wolfing.
Our source material today is a marketing video by Michael Mansell, a serial promoter of scams in his own right, uploaded to YouTube on September 11th, 2021.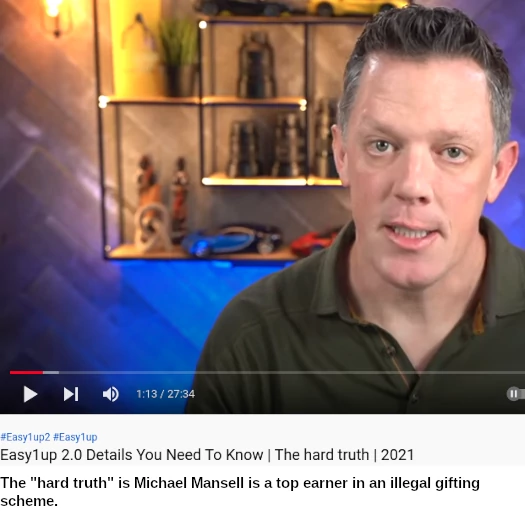 Mansell credits the original 2016 Easy1Up gifting scheme as a "pivotal component" of his success.
He states, to date, that his Easy1Up downline has generated "well over six million dollars" in gifting payments.
So Easy1Up 2.0, what's changed?
Not much. Whereas the original Easy1Up fleeced victims in USD, the reboot adds bitcoin and tether.
According to Mansell, Easy1Up 2.0 launched in late August.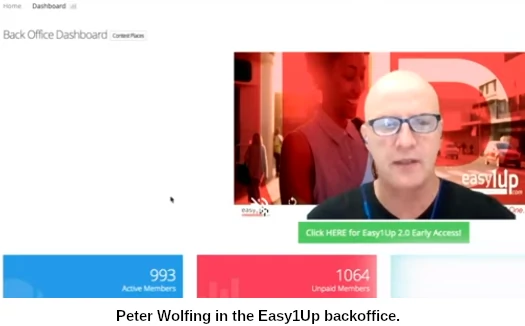 Easy1Up 2.0 maintains the original $25 to $500 gifting tiers, and adds higher $1000 and $2000 tiers.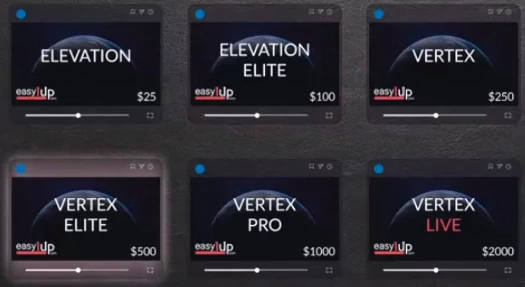 Elevation – $25
Elevation Elite – $100
Vertex – $250
Vertex Elite – $500
Vertex Pro – $1000
Vertex Live – $2000
Long story short, you gift in at the above tiers plus an admin fee.
You have to buy-in at the $2000 tier to receive gifting payments across all six Easy1Up gifting tiers.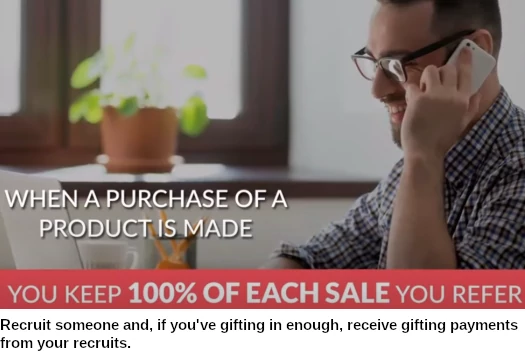 It is possible to upgrade over time but this is designed to cost more.
You can upgrade at any time. The price is the full price of the new product and not the difference between where you are and where you are going.
With respect to the MLM nature of the business, gifting payments are tracked across a unilevel team.

That's you at the top, everyone you recruit on level 2, everyone they recruit on level 3 and so on and so forth.
Easy1Up affiliates "pass up" the second gifting payment their receive across each tier.
A FAQ on Easy1Up's website suggests this waived for recruits who gift in at the higher tiers:
All product packages listed less than the one you join are included AND qualified (no passup needed).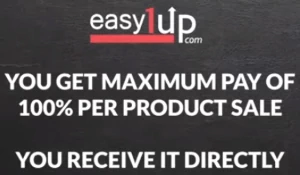 Easy1Up affiliates with large downlines receive "passed up" gifting payments from within their unilevel team.
Easy1Up affiliates who gifting in at higher tiers also receive payments when those in their downline aren't qualified to receive those payments (i.e. they didn't buy-in high enough).
All payments within Easy1Up are made between participants. Peter Wolfing collects the admin fee on top of each payment.
In an attempt to appear legitimate, Easy1Up bundles various training with each gifting tier payment.
Gifting schemes are fraudulent business opportunities, regardless of what is attached to gifting payments.

You can verify this with the FTC if you have any further questions.
Sitting at the top of the company-wide unilevel team is Peter Wolfing and Michael Mansell, who claims he's atop the highest earning Easy1Up team.
Through their earning positions, they receive the largest payouts via company-wide pass-ups.
Those who get in first and recruit the most earn the most. This is true of every MLM gifting opportunity, with them all functioning as pyramid schemes.
Can I get a refund?

Your membership is non-refundable.
As with the original Easy1Up and all MLM gifting schemes, when recruitment inevitably declines so too do gifting payments.
By way of the group of affiliates at the bottom of the Easy1Up gifting pyramid growing with each new recruit, math guarantees the majority of them will take a loss.
Both Peter Wolfing and Michael Mansell are based out of the US.
Last we checked in Wolfing had just launched Daily Digital Club in early 2020.
Like Easy1Up, Daily Digital Club is a gifting scheme. Traffic ranking show a collapse and then uptick beginning mid August – around the time Easy1Up was rebooted.
From this we can surmise Wolfing is feeding Easy1Up recruits into his other gifting scams.
At the time of publication Alexa ranks top sources of traffic to Easy1Up's website as the US (72%) and Canada (9%).
Gifting schemes are illegal in both the US and Canada, and pretty much everywhere else in the world too.
Update 30th October 2021 – As at the time of this update, Michael Mansell has marked his cited Easy1Up YouTube video as private.
I did provide a link to the video but, as a result of Mansell removing public access to it, have disabled the link.