uFun affiliates: Malaysia has "no problem" with $1.17B Ponzi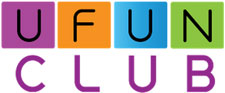 In response to the ongoing criminal investigation taking place in Thailand, top uFun Club investors in the US held a webinar to reassure their downlines that nothing is amiss.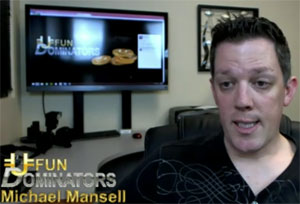 [6:15] Some of the stuff that's been happening over in Thailand has had its ups and downs.

I'm going to be very real here, starting out, and that is just that it has definitely affected some people that were considering joining uFun.

I feel sorry for those people because they got introduced to it (uFun) at a time when there was some information that was being given out to, all over the world really, that was not honest.

It was not in line with what was the truth.
Speakers on the webinar included Michael Mansell, Rodney Burton, Bryant Barbee and Jamison Palmer. Together they are part of uFun Dominators, believed to be the largest US-based group of uFun Club investors.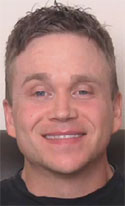 Jamison Palmer (right) is credited as "one of the main team leaders of the uFun organization" and, up until recently, was living in Thailand.
In line with other uFun Club executives who fled Thailand one police started making arrests in connection with their investigation, Palmer too fled the country.
According to Michael Mansell, Palmer is now residing somewhere in the US.
Directly addressing the situation in Thailand, Jamison Palmer made the startling revelation that Malaysia has "no problem" with uFun Club.
[8:02] There's no question, you know there were quite a few things that were happening in Thailand.

Y'know the uFun office, the police did come into the office and they were trying to build a case against uFun, however everything is business as usual.

[8:52] Thailand had the government, some of the people, part of the police organization that Thailand, they were reaching out to Malaysia and saying, "Hey, y'know we're dealing with this uFun situation in Thailand".

And Malaysia said, "We've already looked at it and we don't have a problem with uFun.
How Palmer is aware of Malaysia's official regulatory position on uFun Club is a mystery.
uFun Dominators meanwhile claim to be "well connected" with uFun Club management:
[11:04] We have a huge advantage with our team because we are so well connected to the corporate office and well connected to what is actually going on.

We don't have to rely on the information from other faulty websites.
Faulty websites of course would include Thai news media, who often directly quote Thai police regarding the current status of their investigation.
Instead of relying on official information out of Thailand, Palmer seemingly makes up claims of his own – such as this one relating to the Prime Minister of Thailand:
[9:16] There was a statement made by the Prime Minister of Thailand, and he essentially said,

"Well, everything that you guys have", talking about the police, "everything that you guys have, I don't see anything wrong. There's no criminal activity or anything else here."
The current Prime Minister of Thailand is Prayut Chan-o-cha.
I myself tried to verify any statement made by Chan-o-cha in relation to uFun Club and was unable to do so.
Again, Palmer does not disclose his source. Instead he segues into comparisons between BitCoin and uToken, completely ignoring the Ponzi scheme business model attached to the latter.
Palmer concludes:
[8:43] It's impossible. uFun is not gunna be shut down because of what happened in Thailand, no matter what.

[9:38] No matter what happens in Thailand, it's not gunna affect the uToken in the long-run. And it's not gunna, it's not gunna, it it it has no chance of, of shutting the company down or anything like that.

And y'know, it's just unstoppable at this point.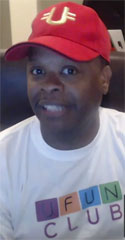 Looking to the future, Rodney Burton (right) announced a new uFun Club payment gateway.
This has apparently been implemented, or is in the process of being implemented, following problems with getting uFun Club affiliates to wire funds to banks in Africa.
Burton doesn't reveal the name of the new payment processor uFun Club has signed up with. Burton states he fears that if he does so, the relationship will be "sabotaged".
If indeed everything at uFun Club is above-board, how an otherwise legitimate relationship between a payment processor and a client might be sabotaged is not clarified.
With $1.17 billion dollars in Ponzi fraud having already taken place and that number only rising, how long money laundering triggers are tripped with this new processor remains to be seen.
Equating investing in uFun Club with "buying stock", Burton claims some uFun Club investors are making "half a million to a million dollars a month".
For now, new uFun Club affiliates are being signed up with "temp accounts", which prohibit investors from placing withdrawal requests.
At the time of publication, uFun Club has no official presence in the US, with Burton stating that an office is "coming soon". He also states he believes there to be less than 3000 US uFun Club investors in total.
Burton reveals that a physical uFun Club office does exist in the US, however before it is opened the scheme has to "get compliance straightened out first".
How do you get a $1.17 billion dollar Ponzi scheme complaint?
No idea.
Michael Mansell concludes by recommending viewers "get as much utoken as you possible can and share the opportunity with as many people as you can".
As to how Mansell, Burton, Palmer and Barbee see themselves as spearheading efforts to introduce uFun Club into the US, Burton explains
[55:27] Me, myself, Bryant, Michael Mansell, we're not here trying to rob, steal, defraud (or) scam anyone.

So whatever you may see in any of these crazy blogs… y'know. You guys know us, we're not like that.

We didn't get our names in the industry being scammers, being people who are out there trying to deliberately scam you.

Our deeds might be one thing, but what's in our heart is another.
Mich airtime during the webinar is given to pushing the line that investments made by uFun Club (using affiliate funds), will somehow pay indefinite ROIs and explain uToken only ever rising in price.
When asked by a viewer to further clarify, both Rodney Burton and Jamison Palmer were unable to explicitly clarify the nature of the purported relationship between the value of uToken and uFun Club property investments.
(Burton) [59:35] Is the price (of uToken) dependent on how many people join uFun?

The price is dependent on a lot of variables.

One is based upon the investments that these guys invest in and the profits that then are put back into the system, which helps the price of the (uFun Club) shares rise.

Am I right Jamison?

(Palmer) [1:00:00] Yeah, exactly. Someone has asked before, "Well what's the exact percentage, this and that?"

Y'know, we don't know… and I don't care what the exact percentage is.
What we do know is that uFun Club affiliates invest funds, said funds are converted to uTokens and then existing investors are able to withdraw those funds, based on how many uTokens they've accumulated through direct investment, continued re-investment and recruitment of new uFun Club affiliates.
A Ponzi scheme by any other name.