Only7Bucks Review: $7 two-tier matrix cycler

Only7Bucks do not explicitly clarify who owns the business on their website, but they do mention it comes under the "Success Unlimited USA" banner.
Success Unlimited USA is a US company with corporate offices in Austin, Texas and New York City.

For over 13 years SUUSA Inc. has established itself as a leader in maintaining its commitment to superior marketing servicesas a global leader in social networking self-development programs.
Success Unlimited USA is owned by John Dierksmeier, who through it has launched a number of schemes over the years.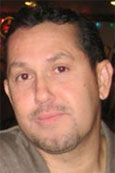 Dierksmeier (right) first popped up on BehindMLM's radar as the Founder of MaxeVida in 2011.
2014 saw Dierksmeier launch Cafe Nopal, a recruitment-based scheme combined with nopal extract infused coffee.
In 2015 Dierksmeier then went on to launch no less than four MLM underbelly schemes:
Of the opportunities Dierksmeier has launched over the years, MaxeVida and Cafe Nopal have since collapsed.
The 2×2 Wealth, Nopa Vida, Eco Plus Network and My Secret Fortune websites are still online, however Alexa statistics reveals each of the opportunities to be in decline.
This has likely prompted Dierksmeier's launch of yet another company.
Read on for a full review of the Only7Bucks MLM business opportunity.
The Only7Bucks Product Line
Only7Bucks has no retailable products or services, with affiliates only able to market Only7Bucks affiliate membership itself.
Once signed up, Only7Bucks can purchase matrix positions, with each position purchase bundled with advertising credits.
These advertising credits can be used to display advertising on the Only7Bucks website.
Also bundled with an Only7Bucks matrix position purchase is access to a "universal teaching program", which appears to be populated with various ebooks.
The Only7Bucks Compensation Plan
The Only7Bucks compensation plan sees affiliates purchase $7 positions in a two-tier 2×4 matrix cycler.
A 2×4 matrix places an affiliate at the top of a matrix, with two positions directly under them: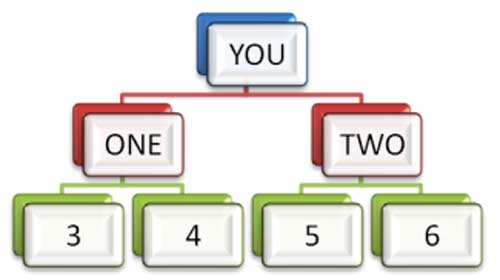 These initial two positions form the first level of the matrix, with the second position generated by splitting each of the two positions into another two positions each.
Levels three and four of the matrix are generated in the same manner, with each 2×4 matrix containing
In total a 2×4 matrix has six positions to fill, with the filling of each position in the matrix triggering a "cycle".
Upon cycling out of a matrix, the top position in the matrix is paid a commission and entered into the next tier of the cycler as follows:
Matrix 1 (positions cost $7) – pays out $550
Matrix 2 (positions cost $75) – pays out $9700
Joining Only7Bucks
Affiliate membership with Only7Bucks is free, however affiliates must purchase at least one $7 matrix position in order to participate in the income opportunity.
Conclusion
We're not even two weeks into 2016, and Dierksmeier appears to be gearing up for another year of dubious schemes.
Using a two-tier matrix cycler structure, Only7Bucks sees new affiliates gift funds to existing affiliates.
Those funds are then used to further advancement through the matrix cyclers, with an eventual $10,250 payout advertised.
In addition to cash gifting being illegal around the world, the math behind Only7Bucks is pretty bad.
To pay out $10,250, you're looking at 1465 seven dollar payments.
Realistically Dierksmeier's own positions in Only7Bucks (preloaded or otherwise), are likely to see the largest payouts.
Scraps of what's left might be paid out to early adopters, but don't expect too much.
As with all such gifting schemes, once recruitment of new affiliates dries up, so too will payments within the system. And looking at the status of Dierksmeier's earlier schemes, despite Only7Bucks having recently launched, that's probably already not too far off.