MaxeVida Review: Combining retail and distributors

Unfortunately, most matrix based MLM opportunities I look at are nothing more than shallow 'get people to join the company and we'll pay you a commission but we promise you this is not a scam!' type affairs.
Rare is it that I see a matrix opportunity that actually relies on retail sales and rarer still one that does away with membership fees altogether.
Read on for a full review of the MaxeVida MLM business opportunity.
The Company
Launched in December 2011, MaxeVida defines itself as a 'division of Total Health Intl. in Georgetown, Texas, USA' and is headed up by President and Founder John Dierksmeier.
Dierksmeier seems to have had a bit of a mixed run with his previous MLM ventures under the banner of 'Success Unlimited USA Inc'. From what I can tell Success Unlimited USA Inc. was launched roughly nine years ago.
Through Unlimited USA Inc., Dierksmeier's more recent flops include the matrix based TVBoxNet ($199 to join internet tv offering) and EZProBuilder, which appears to be another matrix based pairing with an unnamed energy company.
The MaxeVida Product Line
MaxeVida's one and only product offering is what they call a 'Super-Food Complex'. In layman's terms, a capsule based supplement.
These capsules (not checked by the FDA) allegedly contain Acai Fruit, Goji Berry, Hawaiian Noni, Mangosteen and Pomegranate. MaxeVida claims their capsules will provide
greater energy and stamina
improved mental focus and alertness
aid in weight loss/management
more youthful and healthier looking skin and hair
better more restful sleep
MaxeVida brand their supplements under the company name and claim that their
product manufacturer is a US-based one-stop-shop for private label vitamins, custom formulations and top quality nutritional supplements.

They have an unrelenting passion for excellence relying on over 30 years of experience, expertise and a proven track record of delivering the highest quality products to the market.
The manufacturer however is not named, leaving a big question mark over the quality of the product seeing as MaxeVida themselves aren't making it.
For international buyers of MaxeVida's supplements, the company 'strongly' warns buyers
to contact your customs office or other appropriate authority before you place an order to familiarize yourself with any regulations or restrictions that may apply.

Customs regulations differ by country and not knowing their regulations can result in your order incurring high import duties, delivery being delayed, or returned to us.
MaxeVida's 'Super-Food Complex' supplements come in a monthly supply bottle at a cost of $29.95 for one bottle or $50 for two.
The MaxeVida Compensation Plan
The MaxeVida compensation plan revolves around the pairing of a product purchase requirement and a 4×4 matrix.
Matrix Commissions
A 4×5 matrix holds 340 members with you at the top. Starting with you at the top, four legs branch out making up your level one. From here, each leg branches out another four times forming your level 2 and so on and so forth four levels deep.
With you at the top, the first few levels of a 4×4 matrix look something like this;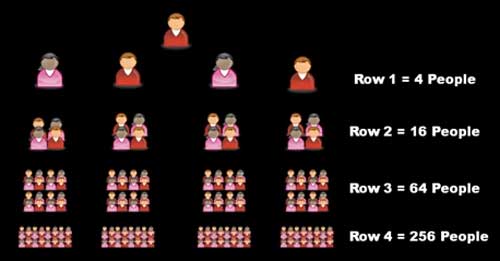 As you fill your MaxeVida matrix, the company pays you a commission for each person you have in your matrix actively purchasing the product each month. This essentially equates to autoship as without a product purchase you don't earn any commissions and nobody makes any money off you as you yourself aren't making a purchase.
Each level of the MaxeVida matrix pays out a different commission level per member on that level, as follows;
Level 1 – $1 (4 members totalling $4)
Level 2 – $3 (16 members totalling $48)
Level 3 – $7 (64 members totalling $448)
Level 4 – $2 (256 members totalling $512)
5th Level Super-Max Bonus
All MaxeVida members start off with a 4×4 matrix, but for Gold membership MaxeVida members who recruit 4 new distributors or obtain 4 customers, a 5th level is opened up on their matrix.
This 5th level holds an additional 1024 members and pays out $5 for each Silver and $10 for each Gold member who makes up your fifth level.
The Super-Max Bonus expands your matrix commissions by an additional $5120 – $10240.
Max-e-Match Bonus
The Max-e-Match Bonus pays out members a 100% matching bonus on the matrix commissions of MaxeVida members they recruit to the company.
If you're a Silver member you are paid out a 100% matching bonus on the matrix commissions from levels 1-3 of anybody you recruit. If you're a Gold member this is extended to another level to cover levels 1-4.
Joining MaxeVida
Those wishing to join MaxeVida are looking at a product purchase of either $29.95 for one bottle of MaxeVida Super-Food Complex or 2 bottles for $49.95.
As long as members keep purchasing the product they retain membership to MaxeVida.
Note that despite there being no effective membership fee, there are still two membership ranks between the MaxeVida opportunity.
Customers or Members who purchase two bottles of MaxeVida's 'Super-Food Complex' are automatically bestowed with Gold membership and those that purchase just one bottle a month are given Silver membership.
Outside of compensation plan commissions, these two levels of membership have no bearing on customers or the ability to market MaxeVida's products as a distributor.
Conclusion
There's a bit of a messy overlap of with MaxeVida's combining of company membership and product purchases, but in effect it's entirely possible to retail the MaxeVida Complex and earn a commission from it.
Membership is tied into a product purchase which does introduce the grey area of MaxeVida being a simple 'get everybody onto autoship' opportunity, but with there being no difference between your retail customers and company members, this I believe is a non-issue.
In effect, company membership is 100% compulsory but costs nothing and guarantees a product purchase. Membership ends when you stop buying the product and by using the product as a selling point it's thus entirely possible to retail MaxeVida's product to those not interested in participating in the compensation plan.
Even the recruitment requirements buit into the upper end of the compensation plan still effectively could be filled with customers or distributors.
Sort of like an affiliate program front end but with a MLM compensation backend.
Like I said, it's messy but a business model that in the end is acceptable as it offers both a retail avenue and platform for those wishing to invest into MaxeVida as a business opportunity.
Now given that MaxeVida are all quiet on who's actually making their product for them – whether you can sell the merits of a supplement on the name of a MLM company alone is another thing entirely.
Definitely something to think about if you're considering joining MaxeVida.
Good luck!