NuMedia Review: TVizion piracy continues through shell company

TVizion was a pirated streaming service offered through 247 SmartLife.
A few months ago Dish Network sued 247 SmartLife, TVizion and owner Ferras Jim Pshehalouk for copyright infringement.

In response to the lawsuit, Pshehalouk took down the TVizion website. The 247 Smartlife website is still up but traffic wise is pretty much dead.
Rather than defend the Dish Network lawsuit, Pshehalouk just ignored it.
In late July default was entered against 247 SmartLife, TVizion and Pshehalouk, with damages yet to be determined.
In the meantime, 247 Smartlife affiliates were told TVizion had been acquired by NuMedia for around $220 million.
Other than claiming to be a "Nevis corporation", NuMedia provides no information on its website about who owns or runs the company.
The NuMedia website domain ("numedia.biz") was privately registered on June 13th, 2018.
Considering Dish Media sued 247 SmartLife and TVizion on April 27th and the NuMedia "sale" announced on May 11th, it's pretty obvious it was hastily put together.
Outside of potentially registering a shell company there, NuMedia obviously has no physical business operations in Nevis.
The NuMedia Distributor Agreement states the chosen venue for mediation and arbitration is Oregon.
Either directly or indirectly, it's a safe assumption that Pshehalouk retains control of the company.
To confirm this however one need only look at the source-code for the NuMedia website;

As above, the NuMedia affiliate backoffice is hosted on the domain "myhbn.net".

The My HBN domain registration lists Jim Ferras as the owner, through a Texas address.
It's also worth noting the NuMedia Distributor Agreement on the My HBN website cites California as the venue choice for arbitration.
This is the same as 247 SmartLife and TVizion, confirming where NuMedia is actually being operated from hasn't changed.
Read on for a full review of the NuMedia MLM opportunity.
NuMedia Products
NuMedia provides app access to pirated content streams for $49.95 a month.
The NuMedia website contains numerous copyright holder logos, inferring that it has permission to provide access to their copyrighted content.
NuMedia however fail to disclose any agreements it might have with any of the third-party copyright holders featured on their website.
The NuMedia Compensation Plan
NuMedia affiliates are paid to sell access to pirated content via monthly subscription.
Direct Commissions
NuMedia affiliates earn $10 a month per affiliate or customer they refer to the company's $49.95 pirated content subscription.
Recruitment Commissions
If a NuMedia affiliate convinces a new recruit to sign up with a $259 or $1249 Director Package, they earn $100 or $350 respectively in recruitment commissions.
Residual Commissions
NuMedia appear to pay residual commissions via a unilevel compensation structure.

The first six affiliates recruited into the unilevel team, two of which must be personally recruited, are "coded" to an affiliate.
Commissions are then paid out as a percentage of affiliate membership fees generated by recruitment under these six affiliates.
Coded affiliates are split over four tiers as follows:
1 Star – recruit two affiliates
2 Star – maintain two recruited affiliates and have a total downline of at least 100 affiliates
3 Star – maintain two recruited affiliates and have a total downline of at least 300 affiliates
4 Star – maintain two recruited affiliates and have a total downline of at least 500 affiliates
As I understand it once a NuMedia affiliate qualifies at a Star rank, the first six affiliates in their downline that meet the same qualification criteria are their coded team for that tier.
Commissions are then paid out as a percentage of volume generated by that coded tier.
monthly $49.95 subscription generates $25 in CV
$259 Director Package fees paid by a recruited affiliate generates $100 in CV
$1249 Director Package fees paid by a recruited affiliate generates $500 in CV
CV stands for "Commissionable Volume" and is the actual sales volume residual commissions are calculated on.
CV percentages paid out as residual commissions at each Star rank tier are as follows:
1 Star – 10%
2 Star – 20%
3 Star – 30%
4 Star – 40%
Matching Bonus
A 100% Matching Bonus is paid on Direct Commissions paid to personally recruited affiliates within a NuMedia affiliate's first thirty days.
Joining NuMedia
NuMedia affiliate membership is tied to
a $49.95 monthly pirated content subscription
$259 Director 1 Star Package or
$1249 Director 2 Star Package
The Director Packages come with "vouchers" that can be given to newly recruited affiliates.
Conclusion
There's no legitimate reason for an MLM company to be incorporated in Nevis.
Nevis itself is a small island in the Caribbean. A significant percentage of the country's economy is sourced from offshore accounting services, which are bolstered by local secrecy legislation.
And so facing obliteration in court by Dish Network, rather than cease providing access to pirated content, Jim Ferras set up a shell company in Nevis.
That's pretty much all NuMedia is.
Ferras' lack of response to Dish Network's lawsuit and abandoning of 247 SmartLife and TVizion, speaks volumes about the legitimacy of the business.
NuMedia is basically a ticking time-bomb, with either regulators or copyright holders able to step in and shut it down at any time.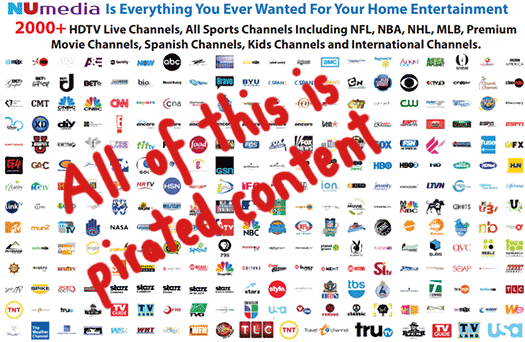 Depending on how much Dish Network are awarded, that could also see NuMedia vanish overnight.
And of course all of this is in addition to trashing your personal reputation and credibility, by promoting access to pirated content as a legitimate MLM opportunity.
With respect to NuMedia's compensation plan, as $49.95 a month subscribers can earn commissions – everyone is affiliate.
That ties 100% of commissions NuMedia pay out to recruitment, making it a pyramid scheme.
As explained by NuMedia themselves, the core of the compensation plan is recruitment:
Your NuMedia Infinity income plan is based on the power of *duplication* that can generate incredible income from your teams.

Therefore, as long as your teams keep growing, your income keeps growing.
Sign up, pay a fee to access pirated content and recruit others who do the same.
Pending litigation, pirated streaming and pyramid recruitment. What could go wrong?