Nefful Review: Negative ion clothing?

Neffull claim to have been founded in 1973 by Hisami Kamijo. The company is based out of Japan and today is run by Chairman Toshiya Kamijo.
Nefful's worldwide expansion began in the 1980s with Taiwan (1989). The company has since expanded into the US (2002), Hong Kong (2005), Malaysia (2006) and Singapore (2010).

Nefful USA are based out of the City of Industry, California.
Nefful claims they have 600,000 affiliates worldwide and is a member of the Direct Selling Association in the US.
Possibly due to language barriers, I was unable to find any further information on Toshiya Kamijo (right).
Read on for a full review of the Nefful MLM opportunity.
The Nefful Product Line
In the shadow of Japan's beautiful Mount Fuji, during the company's early years, intensive, in-house research and development led to a product line of premium quality undergarments with unique body-shaping features.

In 1979, the company introduced its Nefflon product line – garments, bedding and accessories that employ negative ion technology to enhance good health, increase vitality and improve focus.
As above, taken from the Nefful website, Nefful market a range of "negative ion" clothing, bedding and accessories.
The Nefful website claims
negative ions may not be unusual, but negative ion clothing is.

Numerous studies have shown that negative ions have a positive effect on good health and even aging.
Nefful however doesn't provide any studies linking their own products to positive health effects.
Nefful's products contain "Nefflon". A marketing pitch from the Nefful website that goes into greater detail;
The unique Nefflon fiber blend surrounds you with negative ions. Negative ions are beneficial for your body.

Exposure to an abundant amount of negative ions has been shown to enhance three essential areas; enhance oxygen utilization, improve mental concentration, and raise levels of alertness.

Consequential health benefits of negative ions also include, it could ease pain, increase metabolism, provide a positive outlook towards life, encourage blood circulation, enhance our immune system, and help regulate our autonomic nervous system.

In addition, Nefflon protects against harmful transmission of positive ions protecting you anytime, anywhere.
Again, no scientific or medical studies are provided to back up any of Nefful's claims.
Our product lines Neoron, Nefflon, Nature's Clean, Nesse and Newell are improving many lives and helping others fulfill their individual dreams, hopes, and missions of success.

You will believe in the power of Nefful once you try our products and take advantage of the premium health enhancing benefits.
A full product catalogue is provided on the Nefful website.
My own quick perusal of the Nefful store revealed
a $1800 blanket
a $380 shawl
a $96 beanie
a $160 knee or elbow support
a $550 cardigan
$135 leg warmers
$95 circulation socks
$110 women's panties
$98 men's boxer shorts and briefs
$275 long underpants ($550 for a top and bottom set)
Secondary products sold by Nefful include a "veggie wash", natural detergent, dishwashing liquid and OptiBrain (nutritional support for your brain).
The Nefful Compensation Plan
The Nefful compensation plan sees affiliates purchase Nefful products and get paid to recruit others who do the same.
Nefful Affiliate Ranks
There are six affiliate ranks within the Nefful compensation plan.
Along with their respective qualification criteria, they are as follows:
Consultant – sign up as a Nefful affiliate for $55
Manager – generate 150,000 GV over three consecutive months across your first three unilevel levels
Area Manager – personally recruit and maintain two Manager ranked affiliates and generate 600,000 GV over three consecutive months
Area Manager+ – personally recruit and maintain two Area Managers ranked affiliates
Area General Manager – personally recruit and maintain five Area Managers and generate 6,000,000 GV a month
Nefful Executive Top Leader is the highest affiliate rank in Nefful, with slightly different qualification criteria.
To qualify as a Nefful Executive Top Leader, an affiliate must generate 100 million GV in a calendar year.
The volume is made up of
100% of personal and personal downline sales volume
60% of sales volume from personally recruited Area General Managers
40% on second generation Area General Managers
20% on third generation Area General Managers
Some of these volume groups overlap. This is intended with each group contributing volume irrespective of the other three groups.
Note that GV stands for "Group Volume" and is sales volume generated by a Nefful affiliate's downline.
Retail Commissions
Nefful affiliates earn a 20% commission when they resell products they've purchased from Nefful to retail customers.
Nefful as a company to not take retail orders or payment directly from retail customers.
Residual Commissions
Residual commissions in Nefful are paid out via a unilevel compensation structure.
A unilevel compensation structure places an affiliate at the top of a unilevel team, with every personally recruited affiliate placed directly under the affiliate (level 1):

If any level 1 affiliates recruit new affiliates, they are placed on level 2 of the original affiliate's unilevel team.
If any level 2 affiliates recruit new affiliates, they are placed on level 3 and so on and so forth down a theoretical infinite number of levels.
Residual commissions are paid out according to Nefful affiliate ranks as follows:
Manager – 10% commission up until another Manager affiliate is found (each unilevel leg is paid out independently from the rest)
Area Manager – 25% commission on Consultant Sales Volume (infinite depth) and 15% on Manager or higher sales volume (infinite depth)
Area Manager+ and higher – 30% commission on Consultant sales volume (infinite depth) and 20% on Manager or higher sales volume (infinite depth)
Leadership Bonus
The Leadership Bonus pays Nefful affiliates on sales volume generated by generations within their unilevel team.
Generations are defined when an affiliate of the same rank is found in each individual unilevel leg.
Manager ranked affiliates receive 5% on their first Manager generation, 2% on the second and 1% on the third
Area Manager ranked affiliates receive 5% on their first Manager generation, 2% on the second and 1% on the third
Area General Manager and higher ranked affiliates receive 2% on their first generation, 1.5% on the second generation and 1% on the third
Incentive Bonus
Area General Managers and higher receive a  2.5% volume bonus on their entire downline's generated sales volume.
NET Pool
Nefful Executive Top Leaders receive a monthly share in 0.5% of Nefful's company-wide sales volume.
Joining Nefful
Nefful affiliate membership is $55.
Conclusion
Quite obviously nobody is paying hundreds or thousands of dollars for Nefful clothing and bedding, based on the workmanship quality of the merchandise alone.
Nefful's drawcard to justify such extravagant pricing is the negative ions all of their manufactured clothing and bedding produce.
Whether negative ions do or don't product positive health effects is not the issue here.
Nefful provide no studies or scientific evidence to link any of their products to the purported health benefits of negative ions.
And if you thought what I've directly quoted from the Nefful website regarding their products sounds like baloney, wait till you hear how Nefful affiliates are marketing the clothes.
According to Nefful affiliates, Nefful's clothing line treats everything from Parkinson's disease, ADHD, sinus problems, back pain, knee pain, high blood pressure, diabetes, eczema, psoriasis, migraines and insomnia.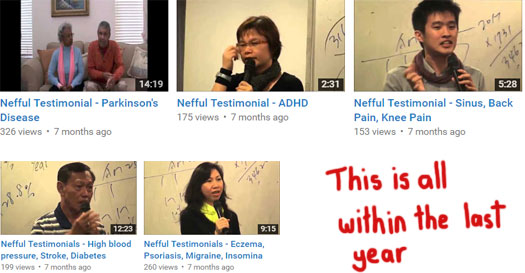 Wearing Nefful clothing also purportedly prevents strokes and can even cure breast cancer and blindness.
Do you know anyone who have or had breast cancer? Do you know that the medical treatment is very painful? Do you know that some patient had their breast removed?

What if there is a better way to improve this condition, would you introduce this to your friends?

I did when I first found out that my ex-colleague had breast cancer and lucky for her, her husband already bought a full set for her to use, I am so happy for her.

After her electric treatment for her breast cancer in the hospital, her skin actually turns black, however after just using the full set of the Nefful clothing, her skin cells actually recovered and grew new skin.

Another testimonial shows that one of our member had shared Nefful teviron clothing to her niece and 2 other cancer patient in the hospital back in 2008, her niece listened to her and started to wear Nefful clothing and her condition improved and she is now back to the work force teaching.

However the 2 friends that she met in the hospital did not and both of them passed away last year in June and December 2010 respectively.

Coincidentally at the car park she met a stranger who had blindness due to stroke, and just by wearing the Nefful teviron Eye Mask for over 2 weeks, he finally can see.

Do share this with your friends if they have breast cancer, let them have another choice in life.
Yeah, alright then.
Nefful's scarves, underwear and cardigans quite obviously don't sure blindness or cancer, yet this is what Nefful affiliates are running around telling people.
And on the topic of how Nefful's products are marketed, if you've got a spare seven minutes this official Nefful corporate marketing video is a hoot.
Not too sure how male Nefful affiliates are supposed to market that range though…
Moving onto the compensation plan, Nefful actually only pays out on the sale of products or services – which is great.
The problem is however the company is set up to only accept orders from affiliates.
The Nefful member booklet states:
Nefful will only accept payment from Distributors.
When you couple this with a monthly PV requirement (which appears to be $20), this encourages affiliate autoship recruitment.
Nefful directly appear to encourage this, with their affiliate autoship order form offering an "Autoship with PV" option:
Autoship with PV: Product will be shipped out when the participating distributor does not have enough PV before 23rd of each month.
To be clear, MLM affiliates should only ever be purchasing product to consume or resell.
Under no circumstances should MLM affiliates be purchasing product to generate PV for commission qualification.
Yet that's exactly what Nefful encourage via their own corporate documents.
This likely leads to a culture of affiliate autoship recruitment.
And you can get away with it, provided you stay under $5000 a month:
A distributor will be allowed by Nefful to purchase a reasonable amount of product for personal use and enjoyment as well as to be used as sales samples.

Such reasonable amount of product will not exceed $5000 without proof that the Distributor has sold 70% of their present inventory.
And even then, how strictly Nefful enforces that policy is unclear (probably about as strictly as they monitor affiliates making medical claims).
Here there's seemingly a disconnect between the upper tiers of the Nefful compensation plan and the practical side of the business.
To participate in the MLM opportunity Nefful affiliates have to generate 150,000 GV (that's $150,000 worth of commissionable volume), over three consecutive months.
Needless to say only at tiny percentage of affiliates are going to get anywhere near that.
And even then, it's a hell of a lot of recruiting without getting paid. You're basically building Nefful's salesforce for them for free.
Free for them that is. You're stuck only earning retail commissions and saddled with a minimum monthly PV requirement.
From there Nefful's rank progression only gets more ridiculous, topping out a hundred million in sales volume annually.
Granted some of that volume is doubled up on, but still… how many Nefful affiliates are generating one hundred million in sales annually?
I get that this is the top affiliate tier and it's supposed to be exclusive… but shouldn't Nefful at least try to keep things somewhat realistic?
One counter to affiliate autoship recruitment is Nefful's buyback policy.
Nefful will buy back from distributor with the following condition:

a) limited quantity merchandises ninety-percent (90%) for a period of 3 months;

b) Newell products ninety-percent (90%) within 7 days;

c) all other products ninety-percent (90%) for a period of 12 months from the date of receipt of the products
Sounds pretty good, until you consider Nefful's products aren't consumables.
You can probably bet the company isn't taking back worn clothing.
This is problematic because with the claims Nefful affiliates are making about their products, I can see "just try it!" being a heavily utilized marketing technique.
When someone's cancer isn't cured… they're left with clothes they paid way too much for that can't be returned.
Ditto affiliate purchases, unless they're kept "as new" and unopened. Which then begs the question of why they were purchased at all (certainly not for personal use and if they're being returned, not for retail resale either).
Looking at the bigger picture, Nefful's primary drawcard is scientifically questionable at best.
In the absense of third-party studies (specifically pertaining to Nefful's products), more than likely it's just hocus pocus nonsense.
Magic healing underwear, really…?
Given the absurd cost of Nefful's products, I can't even recommend trying them first.
If anyone approaches you with either Nefful products or the MLM opportunity, demand to see scientific studies proving any of the health claims provided on the Nefful website.
If none are provided (again, specifically pertaining to Nefful's products), turn around and run.
Update 19th October 2020 – Nefful USA wrote in to complain about our "false review". The issue was our compensation breakdown, which relied on an overseas version of Nefful's compensation plan.
When pressed to provide a copy of their current USA compensation plan so I could publish an updated review, Nefful USA failed to respond.