Joy Life USA Review: Stone wands and EMF shields?

Joy Life International claim they are "backed by the third-largest direct selling company in China, Joymain Science & Technology".
Joymain was founded back in 1993 although I'm not entirely sure who founded it. Currently Joymain is headed up by Chairman Wang You-Shan. Wang joined Joymain as Chairman in 2000 and credits himself as being a "Senior Engineer" with the Chinese Communist Party as well as a series of executive positions in various Chinese companies ranging from pharmaceuticals to textiles, health care and an "anti-unfair" competition regulatory body.
Joymain's second in command is Vice-Chairman Zhou Xi-Jian who interestingly enough credits himself with positions in several MLM companies, including being a
the CEO of Hong Kong based MLM company Winalite
a "Millionaire Member" of NuSkin
a "Sales Manager" at Amway
a "President of Operations" in something called the "6-4-2 System" (appears to be a Chinese language based MLM mentoring program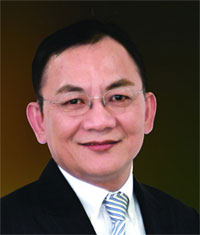 Joymain's CEO, Frankie Kiow (photo right), similarly holds a position in another MLM company being the President of NuSkin China. Additionally Chow is also
a member of the Chinese People's Political Consultative Conference (a political advisory body in China)
Chief Consultant for the "China Direct-Selling Research Center" at Nanjing University
Vice-President of the Cosmetics Chamber of Commerce and China Industrial and Commercial Associations
Vice-President of the Foreign-Invested Enterprise Association in Shanghai, China
According to JoyLife USA's website, Kiow appears to be heading up Joy Life's USA operations.
I'm not sure what is required to run a MLM company in China but the management team of Joy Life do appear to be well-connected both politically and in special interest groups promoting and representing MLM, direct sales and network marketing in China.
Looking to expand under the banner of Joy Life USA, Joymain International (who currently claim to have 600,000 distributors) has recently made efforts to expand their international market share beyond Hong Kong, Taiwan and the Philipines.
Read on for a full review of the Joy Life USA MLM business opportunity.
The Joy Life USA Product Line
Joy Life USA's product line focuses around health and nutrition. The company offers a range of products in this niche including
"Intense", an anti-aging skin cream that contains 'organic nutrients that are rich in antioxidants, vitamins and minerals'
"Energy Cup", a filtration system that 'converts everyday drinking water into ionized, alkaline water, helping sustain the body's natural pH levels'
"Galaxy", a juice blend containing acai, pineapple, red and white grapes, pomegranate, red raspberry, acerola, aroniaberry, elderberry, cranberry, goji, mangosteen, barley, acai oil, cayenne pepper, flaxseed, buckwheat, alfalfa sprouts, lactobacillus, soy isoflavones, garlic, wheatgrass, green tea extract and garlic
"Zing", an energy supplement that Joy Life market as 'a safe and healthy alternative to carbonated beverages filled with artificial sugar and caffeine'
"Live and Revive" food powders that contain 'more than 70 live whole foods' and come in capsule form as a nutrient supplement
something kooky looking called an "Anion Emitter" (photo right), which JoyLife claims 'contains semi-precious stones infused with proprietary frequencies that carry a negative charge' designed to 'bring the body into balance and energetic homeostasis while restoring health and reducing pain'
"Cation Shield", also kooky sounding with Joy Life claiming it 'helps strengthen your body's bio-field while bathing you with the beneficial effects of negative ions to help combat EMFs'
The Joy Life USA Compensation Plan
Joy Life USA offer distributors a unilevel based compensation plan offering retail commissions, Fast Start and Matching Bonuses and residual commissions using a "reference" and "pay" leg structure.
Commissions Qualification
In order to qualify for commissions, Joy Life distributors must generate 70 Personal Volume (PV) every 4 weeks (28 days).
This PV can either be personal purchase of products or sales to either retail customers.
Retail Commissions
Joy Life's products are all available to be marketed at a true retail level to customers, with distributors earning a retail commission on the sale of all products to retail customers.
This retail commissions is calculated as being the difference between the wholesale cost of a product and its recommended retail price.
Joy Life distributors are able to earn a 25% bonus on their PV volume if they manage to sell 210 PV over a 4 week (28 day) period and they personally have at least 70 PV a month on autoship.
Eg. If you sell 400 PV in a 4 week period, you'd first subtract 210 PV from 400 giving you 190 PV. You'd then calculate your bonus as being 25% of this additional 190 PV over the qualifying 210 you needed.
25% of 190 is 47.5 PV which would equate to a bonus commission of $47.50.
Initial Order Bonus
When a new members joins, if they opt to purchase a Joy Life Fast Start pack, the recruiting member earns a "Enroller Reimbursement Bonus" (ERB).
There are four tiers of Fast Start Packs available:
Personal (cost $135) – $10 ERB
Starter (cost $500) – $50 ERB
Builder (cost $1000) – $100 ERB
Executive (cost $2000) – $200 ERB
VIP (cost $3000) – $300 ERB
These Fast Start Packs may be "upgraded" to a higher tier (one level only, eg. Builders can only upgrade to Executive) within 60 days of a new member joining Joy Life.
Unilevel Commissions
The residual commissions component of the Joy Life compensation plan is built around a unilevel compensation structure.
This structure places you at the top with each new member you personally recruit (as well as retail customers) being placed directly underneath you (forming your level 1).
If a distributor on your level 1 recruits a new distributor of their own, they will be placed on level 2 of your unilevel team. If a distributor on level 2 of your unilevel team recruits a distributor, they will be placed on level 3 of your unilevel team and so on and so forth.
These unilevel legs operate independently of eachother, with the one generating the most PV being your designated "reference leg". All other legs are cumulatively referred to as your "pay legs".
Built into this style of commission payout is the requirement of personally recruiting at least two Joy Life distributors (one for your reference leg and one for your pay leg).
Commissions wise, you are paid out on each of your legs depending on your membership tier.
Note that if the cumulative sum of the PV in all your pay legs is less than your reference leg, depending on your membership tier you are able to carry over reference leg PV to the following pay cycle (weekly). Any excess PV in your reference leg that does not qualify to be carried over is flushed weekly.
Commissions paid out on your pay legs are determined by your membership tier (outline above in "retail commissions"). There are five membership tiers in Joy Life USA with each offering a larger amount able to be earnt off of each pay leg:
Personal (70 PV cost): Pay Leg 1 – $1200, Pay Leg 2 – $1350, Pay Leg 3 – $1500, Pay Leg 4 – $1650, Pay Leg 5+ – $1800, maximum carryover PV – 8,800
Starter (70 PV cost): Pay Leg 1 – $3000, Pay Leg 2 – $3700, Pay Leg 3 – $4400, Pay Leg 4 – $5100, Pay Leg 5+ – $5800, maximum carryover PV – 22,000
Builder (140 PV cost): Pay Leg 1 – $8800, Pay Leg 2 – $9900, Pay Leg 3 – $11000, Pay Leg 4 – $12100, Pay Leg 5+ – $13200, maximum carryover PV – 58,000
Executive (140 PV cost): Pay Leg 1 – $11800, Pay Leg 2 – $13200, Pay Leg 3 – $14600, Pay Leg 4 – $16000, Pay Leg 5+ – $17400, maximum carryover PV – 88,000
VIP (210 PV cost): Pay Leg 1 – $15000, Pay Leg 2 – $16500, Pay Leg 3 – $18800, Pay Leg 4 – $19500, Pay Leg 5+ – $21000, maximum carryover PV – 132,000
Matching Bonus
The Joy Life Matching Bonus is earnt on the commissions paid out to your personally recruited downline, that is people you've recruited and people they've recruited (paid out down 9 levels).
Starter and Personal – 10% level 1 and 5% on levels 2 and 3
Builder and Executive – 10% on level 1, 5% on levels 2 and 3, 10% on level 4 and 5% on levels 5 and 6
VIP – 10% on level 1, 5% on levels 2 and 3, 10% on level 4, 5% on levels 5 and 6, 10% on level 7 and 5% on levels 8 and 9
Note that the Matching Bonus also has an autoship requirement members must meet in order to qualify for a matching bonus commission. How much product must be purchased on autoship depends on how many levels down a distributor wishes to be paid:
Levels 1 to 3 – 70 PV
Levels 4 to 6 – 140 PV
Levels 7 to 9 – 210 PV
Joining Joy Life USA
Membership to Joy Life USA is an initial $35 fee with an optional $24.95 monthly fee if you wish to use the company's inhouse marketing system and replicated storefront to market the company's products.
The $35 initial membership fee is annually recurring.
Conclusion
I don't know if it's something in the water or what but we sure do seem to get a lot of kooky MLM products originating out of Asia.
Joy Life has two questionable products that I felt were a bit 'uh, okay then', those being the Anion Emitter and the Cation Shield.
The Anion Emitter
is a Titanium barrel containing 2000 negative ions per square inch, a total of 10,000 in each Emitter. Rather than emitting a ray of anions, the anions in this product permeate and emit a negative charge in all directions, affecting the immediate targeted area for an extended period of time.
So what?, you ask?
Generally speaking, positive ions (cations) are harmful to the human body, while negative ions(anions) are beneficial.

Positive and negative ions also exist in our bodies, and the ratio of ions in the air we breathe influences the ratio in our bodies.

Ions enter the body through the lungs (inhalation) as well as through the skin – especially through meridian (acupressure) points, which have weak electronic resistance. They then travel through the blood and lymphatic systems to cells throughout the body.

Wearing Joy Life Enerceutical products may increase the number of negative ions absorbed through the skin.
Now be that as it may, I don't care who backs it, you're going to have a hard time convincing me that waving some wand around is going to supercharge me with negative anything. Anymore than you'd be able to paint the stick brown and convince me you were Harry Potter.
The Cation Shield (also spelt "Canton Shield" in some parts of the Joy Life website) is just as dubious sounding, in that it 'protects you from the rigors and dangers associated with EMFs produced by everyday electronics' by 'transmuting and neutralizing dangerous positive ions to beneficial negative ions'.
All you have to do is
attach one to your Cell Phone, Microwave Oven, Television or any other electronic device and start transmuting dangerous EMFs with the neutralizing benefits of negative ions.
One would think if this technology was so great, that surely manufacturers of these products would just… y'know, fit these shields at the factory level?
Oh and how the Cation Shield actually works, isn't explained. It just… works. Stop asking questions.
There are of course other products to market but at the end of the day I'd imagine magic wands and EMF shields are what's going to attract the most interest from your potential customers (if for nothing else than sheer novelty value).
Product issues aside (and I only bring those two up because if you're trying to pitch Joy Life's products to anyone with half a brain they're gunna ask followup questions about them), the pay plan is not without its issues either.
For starters there's the tier system, which wholly dictates how much I can ultimately earn in Joy Life as a distributor.
Whereas a traditional income limiting business model would unlock higher earning capacity via achievement, Joy Life seems to only do so via how much money you pay them. What's worse is that you can only decide this within 60 days of joining the company, after that if I'm understanding correctly, you're stuck on your chosen tier level for life.
If you didn't take a $3000 VIP tier wild leap of faith and your Joy Life business takes off, sucks to be you.
I'm also not too keen on the mandatory autoship requirements in the Matching Bonus. Why should I as a distributor have to buy product just to earn a higher matching bonus on my distributors sales?
All in all from joining the company with the different tiers available (I'm not sure what happens if you don't buy into a tier level and just pay the membership fee), the 25% bonus PV commission requiring autoship and the Matching Bonus autoship qualification, there appears to be a rather large incentive to sign members up and just whack them on whatever the minimum autoship for there chosen tier is.
When you throw in kooky wands and EMF shields, what you're left with is a MLM company that doesn't really seem all that attractive given what else is out there in the health and wellness MLM niche. Unless you really believe in crystal wands, I'd probably give Life Joy a pass.