MX World Review: James Lee Valentine launches 2nd adcredit Ponzi

MX World is the latest MLM opportunity from James Lee Valentine.
The MX World website domain ("mx.world") was registered on the 1st of September, 2016. An MX World marketing video on the company website was uploaded to YouTube on September 13th, suggesting this was about the time MX World was launched.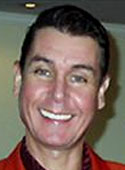 Valentine (right) operates out of the Philippines and first popped up on BehindMLM's radar as the owner of Supreme Wealth Alliance, a $55 chain-recruitment pyramid scheme.
In 2013 Valentine resurfaced with MX Fast Money, a feeder for Valentine's primary MillionaireX Ponzi cycler.
Earlier this year Valentine launched MX Revshare, a 110% ROI Ponzi scheme.
Alexa traffic estimates for the MX Revshare website show a decline beginning in late October. MX Revshare not meeting Valentine's expectations likely prompted the launch of MX World.
Read on for a full review of the MX World MLM opportunity.
The MX World Product Line
MX World has no retailable products or services, with affiliates only able to market MX World affiliate membership itself.
Once signed up, MX World affiliates invest funds in packages.
Bundled with package investment are ad credits, which can be used to display advertising on the MX World website.
The MX World Compensation Plan
MX World affiliates invest in packages on the promise of an advertised 110% ROI.
$5 package – invest $5 and receive $5.50
$25 package – invest $25 and receive $27.50
$50 package – invest $50 and receive $55
ROIs are paid at a rate of up to 2.5% a day.
Note that MX World affiliates must click ten company-supplied advertisements each day to qualify for the daily ROI payout.
Referral commissions are available on funds invested by personally recruited MX World affiliates.
The MX World website claims that 20% is paid out over three levels of recruitment (unilevel), however specific percentage level payouts are not disclosed.
Joining MX World
MX World affiliate membership is free, however affiliates must invest between $5 to $50 to participate in the attached income opportunity.
Conclusion
With nothing marketed to or sold to retail customers, 100% of revenue paid to MX World affiliates is sourced from the affiliates themselves.
This makes MX World a Ponzi scheme.
The bundled adcredits are neither here nor there, serving only as pseudo-compliance for what is otherwise a fraudulent business model.
MX World is noticeable similar to Lee's last scam, MX Revshare. I'm not sure what the point of launching two similar scams so close to eachother was, but it seems Lee's recent opportunities aren't lasting long.
Speaking of his other opportunities, MX World affiliates are pitched positions in seven of Lee's past "MillionaireX" cycler scams.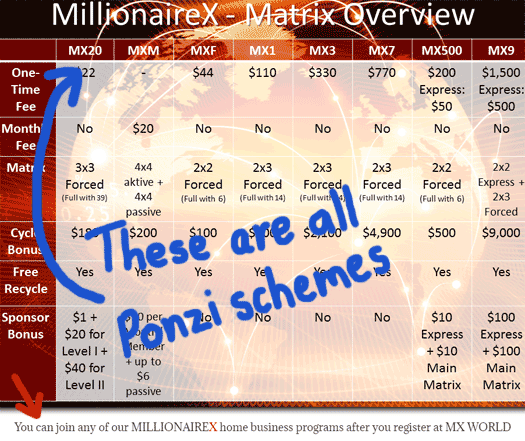 Having been around a few years, all of these opportunities are either dead or dying, as you'd expect in a cycler Ponzis that have run their course.
As with all Ponzi schemes, once new affiliate recruitment dies out so to will newly invested funds.
MX WORLD offers no refunds. Do not join MX WORLD if this no refunds policy is not agreeable to you.
This will see MX World starved of funds to pay ever-growing ROI liabilities with, prompting an eventual collapse.