Supreme Wealth Alliance Review: $55 pyramid scheme

There is no information on the Supreme Wealth Alliance website indicating who owns or runs the business.
The company does however state that it is based in "the sovereign nation of Belize, Central America". Belize is of course  widely recognised as a tax-haven for offshore business activity.
Despite the Supreme Wealth Alliance website containing no information on who is running things, the company's domain ("supremewealthalliance.com") is using the DNS servers of the domain "millionairex1.com".
Millionaire X1 is one of three schemes (Millionaire X2 and Millionaire X7 are the other two), run by James Lee Valentine under the Millionaire X brand (which in turn appears to be part of Valentine's Empowered Millionaire" parent scheme).
Additionally, both the Supreme Wealth Alliance and Millionaire X7 websites both share the same favicon (with Supreme Wealth Alliance's source code requesting an image from the Millionaire X7 domain):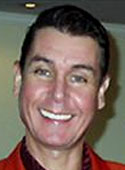 On his personal website, Valentine (photo right) refers to himself as "the man of power" and an "empowering author extraordinaire". Valentine also claims that participation in his Millionaire X scheme will allow members to "learn the wealth mastery secrets of millionaires… and earn 700% ROI".
Looking a bit further into Valentine's training technique, I came across this… "interesting" marketing video on Youtube.
Uploaded by Valentine himself, it's essentially four minutes of Valentine shouting at the viewer (highlights include weird 80s cult indoctrination style aesthetics and the "wise old man" fable!).
Moving on…
Despite Valentine's obvious connection to Supreme Wealth Alliance, the company's domain is currently registered to a "Franco Chaves", who provides an address in the Philippines.
Chaves seems to have primarily targeted the Philippines in the past with various schemes and owns and runs "Chavesnet Enterprises".
Having worked with Valentine on past ventures, it appears Chaves has some sort of executive management role within Super Wealth Alliance, however for reasons unknown the specifics of this are not divulged on the company's website.
Read on for a full review of the Supreme Wealth Alliance MLM business opportunity.
The Supreme Wealth Alliance Product Line
Supreme Wealth Alliance has no retailable products or services. Instead, members are only able to sell membership to the company itself, which they are then paid commissions for doing so.
Membership to Supreme Wealth Alliance includes access to the "Supreme Wealth Library", which is a series of 'ebooks, videos, audios, scripts, graphics, templates, icons, fonts, and many more'.
Access to additional resources are also included with Supreme Wealth Alliance membership, covering topics such as
beauty and health enhancement
"winning against various problems"
"learn how to do and accomplish great stuff"
wealth building strategies
"tons of software, scripts, plugins and templates"
The Supreme Wealth Alliance Compensation Plan
Dubbed the "Perfect Pay Plan System" or "PS3", the Supreme Wealth Alliance compensaton plan revolves around the recruitment of new members, paying out affiliates using two compensation structures.
Matrix Commissions
Matrix commissions are offered to Supreme Wealth Alliance affiliates using a 2×2 matrix compensation structure.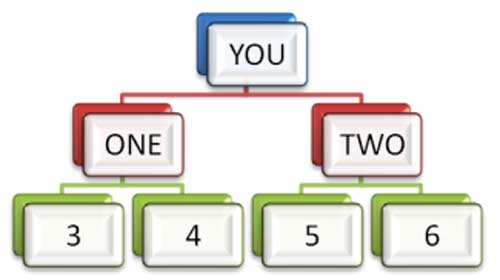 A 2×2 matrix places an affiliate at the top of the structure, with two legs branching out from under them (level 1). In turn, these two legs branch out into another two legs (level 2).
An affiliate is paid when this matrix is full (6 member positions in total), with matrix positions fillable either via direct recruitment or the recruitment efforts of an affiliate's up and/or downlines.
Once a matrix is full this is called a "cycle" and Supreme Wealth Alliance affiliates are paid $70 and re-entered into another matrix, with the process then repeating itself.
Note that if an affiliate personally recruits 10 new members into the scheme, their $70 payout per matrix cycle increases to $90.
Recruitment Commissions
Recruitment commissions in Supreme Wealth Alliance are paid using a 3-up style compensation plan. What this means is that 3 of an affiliate's "qualifying sales" are passed to their upline, and in turn any new members they recruit also must pass up their three qualifying sales too (residual income).
In Supreme Wealth Alliance, qualifying sales are the commissions generated by the sale of an affiliate's 2nd, 3rd and 7th membership sale. These commissions are paid out at $20 per new member recruited, with all other numbered commissions being paid to the affiliate recruiting.
Joining Supreme Wealth Alliance
Membership to Supreme Wealth Alliance is a one-time fee of $55.
Conclusion
Taken from the Supreme Wealth Alliance website:
Within the next five years, Supreme Wealth Alliance Corporation will be the largest Online Membership Site.
Unfortunately when coupled with an MLM compensation plan, in attempting to achieve their goal, Supreme Wealth Alliance boils down to nothing more than a recruitment driven pyramid scheme.
All commissions are dependent upon the continued recruitment of new members and there is no revenue coming into the company, other than the membership fees being paid by new members.
Supreme Wealth Alliance even go so far as to break down exactly how 100% of the commissions paid to affiliates are sourced from membership fees:
The entry price of the P3S is broken down as follows:

– US$30 goes to the 2 x 2 Dynamic Follow Matrix
– US$20 goes to the Infinity 3-Up Pass Up
– USD5 goes to Admin Fee (pay processor charge alone is already more than USD4)
This dependency on constant recruitment is further emphasised by the fact that you can't even access any information on the Supreme Wealth Alliance website without an affiliate referral:
When you have an MLM company generating 100% of its commissions via membership fees and affiliates solely paid out commissions from these membership fees (and the acquisition of new members), that is the textbook definition of a pyramid scheme.
If new members aren't recruited both the matrices and the 3-up components of Supreme Wealth Alliance's compensation collapse.
With membership to the company being a one-time payment this means that the member liability is lessened as opposed to a monthly membership fee, however it doesn't change the fact that once the recruiting dries up (inevitable in pyramid schemes), whoever joins last will fail to recoup the money spent on their membership.