Mr CryptoCoins: 80 day 200% ROI bitcoin Ponzi scheme

Mr CryptoCoins provide no information on their website about who owns or runs the business.
The Mr CryptoCoins website domain ("mrcryptocoins.com") was privately registered on March 22nd, 2017.
As always, if an MLM company is not openly upfront about who is running or owns it, think long and hard about joining and/or handing over any money.
Mr CryptoCoins Products
Mr CryptoCoins has no retailable products or services, with affiliates only able to market Mr CryptoCoins affiliate membership itself.
The Mr CryptoCoins Compensation Plan
Mr CryptoCoins affiliates invest bitcoin on the promise of a 200% ROI paid in 80 days.
In total there are eight packages Mr CryptoCoins affiliates can invest in:
Mister 1 – 0.05 BTC
Mister 2 – 0.1 BTC
Mister 3 – 0.3 BTC
Mister 4 – 0.5 BTC
Mister 5 – 1 BTC
Mister 6 – 2 BTC
Mister 7 – 4 BTC
Mister 8 – 5 BTC
Residual commissions are available on funds invested by downline affiliates, paid out via a binary compensation structure.
A binary compensation structure places an affiliate at the top of a binary team, split into two sides (left and right):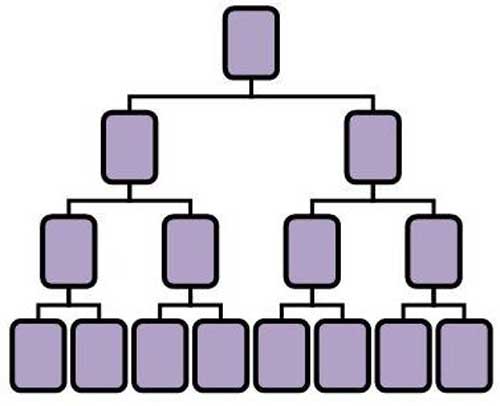 The first level of the binary team houses two positions. The second level of the binary team is generated by splitting these first two positions into another two positions each (4 positions).
Subsequent levels of the binary team are generated as required, with each new level housing twice as many positions as the previous level.
Positions in the binary team are filled via direct and indirect recruitment of affiliates. Note that there is no limit to how deep a binary team can grow.
At the end of each day Mr CryptoCoins tallies up new investment volume on both sides of the binary.
Residual commissions are paid as a percentage of invested funds on the weaker binary side.
How much of a percentage is paid out is determined by how much a Mr CryptoCoins affiliate has invested:
Mister 1 – 5% residual commission, capped at 0.1 BTC a day
Mister 2 – 6% residual commission, capped at 0.2 BTC a day
Mister 3 – 7% residual commission, capped at 0.6 BTC a day
Mister 4 – 9% residual commission, capped at 1 BTC a day
Mister 5 – 11% residual commission, capped at 2 BTC a day
Mister 6 – 13% residual commission, capped at 4 BTC a day
Mister 7 – 15% residual commission, capped at 8 BTC a day
Mister 8 – 16% residual commission, capped at 10 BTC a day
Joining Mr CryptoCoins
Mr CryptoCoins affiliate membership is tied to a minimum bitcoin investment of 0.05 to 5 BTC.
Conclusion
The ruse behind Mr CryptoCoins 200% 80 day ROI is cryptocurrency trading.
HOW DO YOU DOUBLE BITCOINS IN ONLY 80 DAYS?

Our traders are trading on cryptocurrency exchanges, such as ETH/BTC, ETH/USD, DASH/BTC, FCT/BTC and many other altcoin pairs and 90% of the time they always make a profit.

We go on every cryptocurrency exchange and do all the trading.

For example, exchange A sells bitcoin for 1000, while at the same time, exchange B sells Bitcoin for 1100.

We purchase cheap, and sell on the most expensive.

Of course that the more volume we have in Bitcoin, the more we can negotiate and thus giving our investors high profit every day.
Naturally there's no proof of any trading taking place, with the business model also failing the Ponzi logic test.
If the anonymous owner(s) of Mr CryptoCoins were able to consistently generate a 200% ROI every 80 days, why waste time soliciting investment from affiliates?
The reality is the only verifiable source of revenue entering Mr CryptoCoins is affiliate investment.
Using newly invested funds to pay off existing investor ROIs is Ponzi fraud.
As with all Ponzi schemes, once Mr CryptoCoins affiliate recruitment drops off so too will newly invested funds entering the system.
This will starve Mr CryptoCoins of revenue, leaving it unable to meet its 80 day ROI obligations.
Having only launched in late April, 80 days puts the first ROI cycle at mid July.
With referral commission further draining available ROI funds, don't expect Mr CryptoCoins to last too far beyond initial 200% ROI payouts.
Anyone who didn't invest within the first few days of Mr CryptoCoins' launch is likely to lose money.