Mining City Review: Bitcoin mining securities fraud investment scheme

Mining City provides no information about who owns or runs the company on their website.
The Mining City website domain ("miningcity.com") was first registered back in 2003.
The domain registration was last updated on December 20th, 2018, which is likely when the current owner(s) took possession of it.
"Prophetek" is listed as the domain owner, through an incomplete address in Cyprus.
Considering Cyprus is a scam-friendly jurisdiction, there's a good chance these details are fake.
A video titled "Founder MINING CITY at Investment Seminar (Vietnamese Translator) 05/2019", was uploaded to Mining City's official YouTube channel on May 17th, 2019.
The video depicts a man with a distinctly eastern European accent presenting Mining City to a Vietnamese audience: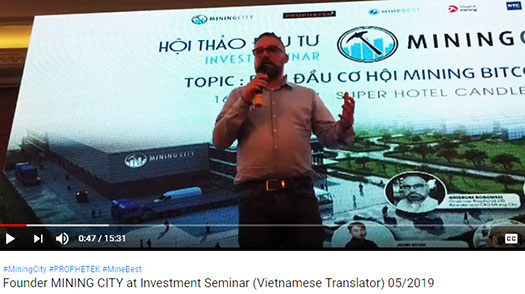 As you can see, the individual is named in the backdrop but it's blurry.
With a bit of poking around I was able to find a higher resolution shot of the backdrop: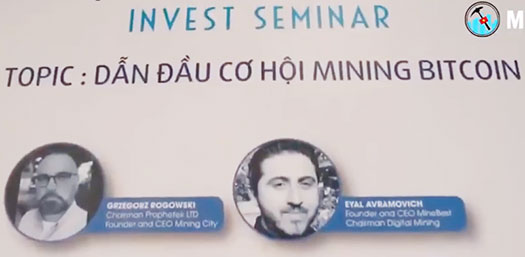 The founder and CEO of Mining City is Grzegorz Rogowski.

On LinkedIn Rogowski (right) goes by Gregory. I've also seen him credited as Greg Strong.
According to Rogowski's LinkedIn profile he's based out of Poland. This is presumably where Mining City is being operated from.
Prophetek started up late last year and appears to be a shell company through attached to Mining City.
Based on his LinkedIn profile, Mining City is Rogowski's first MLM venture as an executive.
Despite being run from Europe, Mining City is primarily targeting Asia in their marketing efforts.
At the time of publication Alexa ranks Japan (50%), South Korea (26%) and Vietnam (13%) as top traffic sources to Mining City's website.
Read on for a full review of the Mining City MLM opportunity.
Mining City Products
Mining City has no retailable products or services, with affiliates only able to market Mining City affiliate membership itself.
The Mining City Compensation Plan
Mining City affiliates invest funds on the promise of a ROI paid over 1100 days.
Standard – $500
Bronze – $1000
Silver – $2000
Gold – $3500
Mining City represents the more an affiliate invests, the higher their daily return rate.
City Mining Affiliate Ranks
There are five affiliate ranks within City Mining's compensation plan.
Along with their respective qualification criteria, they are as follows:
Citizen – sign up as a City Mining affiliate and invest
City Builder – recruit at least five Citizens and generate $10,000 in total downline investment volume
City Developer – maintain five personally recruited affiliates with an active investment (three must be City Builders), and generate $50,000 in total downline investment volume
City Manager – maintain at least five personally recruited affiliates with an active investment (three must be City Managers), and generate at least $250,000 in total downline investment volume
Chief Manager – maintain at least five personally recruited affiliates with an active investment (three must be City Managers), and generate at least $2,000,000 in total downline investment volume
City Mayor – maintain at least five personally recruited affiliates with an active investment (three must be Chief Managers), and generate at least $10,000,000 in total downline investment volume
Referral Commissions
Mining City pays referral commissions via a hybrid unilevel model.
In this model, affiliates you recruit are placed under you. Affiliates they recruit are placed on level 2 of your unilevel team and so on.

The hybrid nature of the model sees a Mining City affiliate paid 5% of funds invested by their first five recruited affiliates.
From the sixth recruited affiliate onward who invests, 10% is paid out.
From the sixth recruited affiliate the unilevel team kicks in, and multiple levels can be earned on.
Citizens receive a 5% referral commission on up to ten unilevel team levels
City Builders receive a 5% referral commission on up to fifteen unilevel team levels
City Developers receive a 5% referral commission on up to twenty unilevel team levels
City Managers receive a 5% referral commission on up to thirty unilevel team levels
Chief Managers and higher receive a 5% referral commission on all unilevel team levels
Note that this is a coded bonus, so if a Mining City is not qualified to receive 5% on funds invested by their unilevel team, that commission is passed upline to the first appropriate level-qualified affiliate.
Joining Mining City
Mining City affiliate membership is tied to a $500 to $3500 initial investment.
The Mining City affiliate backoffice suggests that while investment amounts are quoted in USD, actual investment is made in bitcoin.
Conclusion
Mining City is your typical cloud mining unregistered securities investment fraud scheme.
Once again you've got eastern European scammers targeting gullible Asian investors out of their money.
The nature of Mining City's investment scheme is passive, which qualifies it as a security.
Securities in Poland are regulated by the Polish Financial Supervision Authority. In Japan it's the Securities Exchange Surveillance Commission (part of the FSA).
South Korea has its own Financial Services Commission and in Vietnam its the State Securities Commission.
Mining City provides no evidence it has registered its securities offering with any of these regulators. Or indeed with any securities regulator in any jurisdiction it solicits investment in.
This alone means Mining City is operating illegally in any country securities are regulated in (pretty much all of them).
Reflective of investor awareness in the countries they are targeting, Mining City instead feigns legitimacy through third-parties.
To that end Mining City publicize partnerships with third-parties, namely BTC.com and MineBest.
Prophetek Ltd. – the operator of Mining City is proud to announce that we have procured most valued services of MineBest Sp. z o.o. as our mining provider.

MineBest will be constructing an entire set of mining containers for exclusive use of MiningCity in Kazakhstan.

We will be posting information about the construction and the equipment on our social media channels.
I can't stress this strongly enough: social media marketing is not a substitute for legally required regulatory registration.
One of the key reasons for this is because regulatory registration requires companies offering passive investment opportunities to file evidence (typically audited accounting), proving they are using external revenue to pay their investors.
To be clear: I'm not disputing any partnerships Mining City claims it has. I'm stating that from a regulatory and due-diligence perspective, they are irrelevant.
Signing a contract with a third-party is not evidence of external revenue (from any source) being used to pay returns.
Mining City might very well generate some revenue from mining, but there's no way of verifying whether this revenue is being used to pay returns.
As it stands the only verifiable source of revenue entering Mining City is new investment.
Using new investment to pay existing investors in any capacity would make Mining City a Ponzi scheme.
On top of that they're also running a pyramid scheme, by way of nothing being marketed to or sold to retail customers.
As with all MLM Ponzi and pyramid schemes, once affiliate recruitment slows down so too will new investment.
This will starve Mining City of ROI revenue, eventually prompting a collapse.
The math behind Ponzi and pyramid schemes guarantees that when they collapse, the majority of participants lose money.
One final point I want to touch on is is that according to his LinkedIn profile, Grzegorz Rogowski worked as Vice President of Marketing for MineBest from August to October 2018.
One month later he launched Prophetek and presumably set about putting together Mining City.

MineBest is run by owner and CEO Eyal Avramovich (right).
MineBest's website domain was for sale up until a few months ago. It was purchased by Avramovich on or around April 2019.
I'm not sure what's up with Rogowski's LinkedIn profile, but MineBest as it exists today only came into existence a few months ago.
To summarize; We have a new cloud mining company nobody has ever heard of, making a bunch of promises about setting up mining facilities in Kazakhstan.
Before any of that actually exists though, we have Mining City already soliciting investment 1100 day returns, purportedly from mining activity.
Riiiiiiiiiiiight.
Update 13th July 2020 – Following changes to Mining City's compensation plan and the launch of BitCoin Vault (BTCV), BehindMLM published an updated Mining City review on July 12th, 2020.