Mining City "humiliated" by BehindMLM's fraud coverage

A CloudBest employee has revealed BehindMLM's ongoing coverage of fraud has left Mining City feeling "humiliated".
On June 3rd Wojciech Orych, who identifies himself as an Information Security Analyst, wrote in requesting information on BehindMLM (emphasis mine).

Hi,

I'm an Information Security Analyst in CloudBest company, which provides IT service for Mining City company.

We would like to know as much information as you can provide to us about BEHINDMLM.COM domain.

This domain serves a blog with a series of negative and fake articles about Mining City and more.

Due to the fact that Mining City is a fast-growing brand, it is extremely important for us to duly protect our best reputation and accordingly prevent any actions that may be performed in order to damage Mining City's brand reputation in any manner.

We would like to kindly inform you that the behavior of the domain owner may be qualified in the light of criminal law as slander, because it is false, not supported by any evidence and humiliating our company in the public opinion and exposing it to loss of trust, both individual and public.

As the creator is not open to dialogue and cooperation, we had to ask the Legal Department for help.

For this purpose, we need to find out as much information as possible about the domain owner, we need it to go to court.

If you have any question fell free to ask me.

Wojciech Orych
Despite finding the claim I wasn't "open to dialogue and cooperation" offensive, I let it slide. I archived Orych's email and got on with it.
I figured that'd be the end of it but Orych then emailed me again today;
Hello,

Could you answer my question below?

What is the status of my ticket.
Normally I don't bother publicly addressing legal enquiries as they typically go like this:
Random lawyer hired by scammers writes in claiming defamation/libel/false reporting etc. etc., no specific examples provided.
I tell them BehindMLM stands by its research and reporting and if they want to specifically address any of the claims made we can go from there.
I never hear from them again.
This happens on average about once a month. I had one other legal email earlier this month, which I can't reply to because the attorney forgot to include their email address.
In the case of Orych's original email, you can see nothing specifically is referenced, he's just fishing for information.
Anyway seeing Orych seems to think BehindMLM has some sort of ticket system, and that this is particularly slimy behavior, I thought I'd address his deceit publicly.
While BehindMLM's reporting of Mining City can be construed as negative, nonetheless it is grounded in accurate research supported by facts.
As to what specifically Mining City is feeling humiliated about, I don't know. But here's a run down of BehindMLM's coverage thus far;
Mining City, Mining Best, Cloud Best and all of owner Eyal Avramovich's other associated shell companies, are part of the same Ponzi scheme launched in mid 2019.
Mining City launched on or around May 2019. The original pitch saw Mining City solicit investment in bitcoin, on the promise of a return paid via bitcoin mining.
The mining supposedly took place in Khazakhstan through MineBest.
Avramovich put MineBest employee Grzegorz Rogowski in charge of Mining City.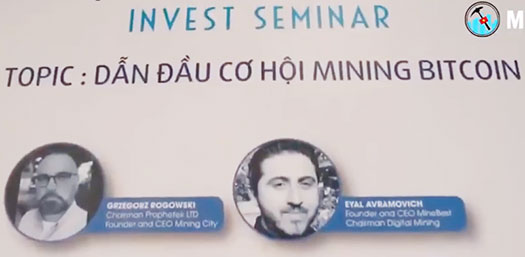 Despite offering a passive investment scheme, at no point has Mining City registered with financial regulators as is legally required.
Without audited financial reports verifying external revenue generation, the only ever verifiable source of revenue entering Mining City has been new investment.
Eyal Avramovich is acutely aware of he and his companies committing securities fraud.
To avoid attention of the SEC, the most active securities regulator, the US is blocked from accessing Mining City's website.
A meaningless pseudo-compliance gesture: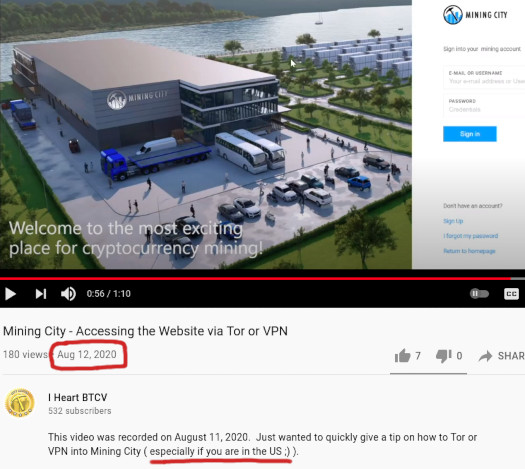 Not surprisingly, within a few months Mining City went into decline. This prompted Avramovich to launch the shitcoin Bitcoin Vault (BTCV).

Instead of paying out bitcoin Mining City switched to BTCV, meaning Eyal Avramovich kept a larger percentage of invested bitcoin.
When Mining City began to collapse again, BTCV was dumped on dodgy public exchanges in April 2020.
After a pump tied to recruitment of new Mining City investors, Mining City dumped from a high of ~$443 on August 20th, 2020, to $119 by September 2nd.
Since then it's been the typical dumped shitcoin slow-bleed towards $0.
BTCV is currently trading at $20.39. Daily volume is typically less than a million a day – and most of that is likely internal trading.
Interest in BTCV outside of Mining City has always been non-existent. Mining City themselves have abandoned BTCV, deflecting affiliate enquiries to "Bitcoin Vault directly":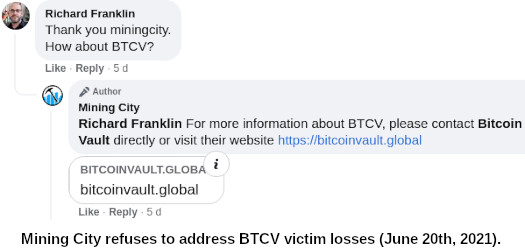 On its standalone website Bitcoin Vault represents it is owned by Electric Vault Sp. z o.o.
This is of course just another shell company owned by Eyal Avramovich.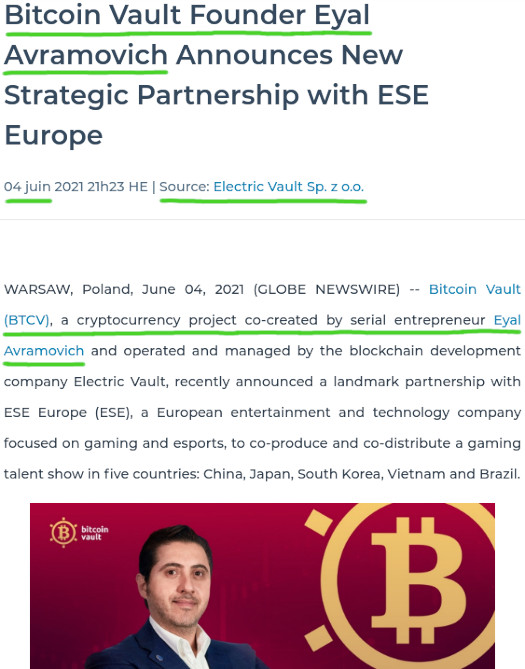 In December 2020 Avramovich decided to launch another Mining City shitcoin, Electric Cash (ELCASH).
Like BTCV, ELCASH was just an excuse to con Mining City investors out of more money.
Existing BTCV bagholders were promised ELCASH to keep them quiet.
Avramovich learnt from his mistake in not dumping BTCV on public exchanges till the last possible minute.
Subsequently ELCASH remains inside Mining City, its internal value decided by Avramovich or whoever he's put in charge.
ELCASH was supposed to serve as a BTCV investment incentive. Thus far it has had no noticeable impact.

This prompted Mining City to introduce fixed ROI plans in April 2021. Paid in worthless BTCV of course, so who cares.
A few days after that, on April 14th, Mining City announced a fire at its Kazakhstan mining facility.
A few days later there was some baloney about a fake Mining City app and hacking.
For whatever reason, neither exit-scam facade stuck.
On the regulatory front Mining City has received securities fraud warnings from the Philippines and Canada.
The Philippines warning was particularly embarrassing for Avramovich.
In response to the SEC's fraud warning, Mining City hurriedly set up the shell company Prophetek Mining City and attempted to register it.
This was accompanied by an announcement from Mining City, claiming;
We conducted a video call on 27th October 2020 with a representative manager of the SEC office in the Philippines, and it's been estimated that the process will be completed within a week from that date, subject to no further delays.

The SEC will then announce the result to the public.
Within 24 hours the Philippine SEC put out another advisory, stating;
This DISCLAIMER-ADVISORY is prompted by numerous reports, inquiries, including posts and videos circulating on social media and video-sharing sites where it has been made to appear that MINING CITY or variations of its name such as, among others, PROPHETEK MININGCITY, OPC and other entities connected with it, have completed the SEC company registration process or have in fact been registered with the Commission.

This is apparently an effort by individuals or group of persons to mislead the public using such false representations to create a semblance of legality to the operations of MINING CITY for the purpose of enticing the public to inv est in its scheme which was subject of an ADVISORY issued by the Commission on September 10, 2020.

Hence, contrary to these claims and for the guidance and information of the public, per records of the Commission, MINING CITY, PROPHETEK MINING CITY, OPC or any variation of such name using the root word MINING CITY or any entity connected with it, are NOT REGISTERED with the Commission.

Likewise, contrary to said false representations, MINING CITY, PROPHETEK MINING CITY, OPC or any variation of such name using the root word MINING CITY or any entity connected with it, have not been issued a secondary license to solicit investments or offer securities to the public for whatever purpose.

As such, MINING CITY, PROPHETEK MINING CITY, OPC or any entity related to MINING CITY, are NOT AUTHORIZED to solicit, offer, accept or take investments/placements from the public nor to issue investment contracts and other forms of securities.

The offering and selling of securities in the form of investment contracts with badges of a "Ponzi Scheme," which is inherently fraudulent and unsustainable, is NOT a registrable security.

The Commission will not issue a Permit/License to Offer and Sell Securities to the Public to persons or entities that are engaged in this business or scheme.

The public is again advised NOT TO INVEST or STOP INVESTING in any scheme offered by MINING CITY.
Mining City quietly abandoned the Philippines and never brought it up again.
Is the documented blow by blow of Mining City's Ponzi scheme on BehindMLM humiliating?
Probably. But it's based on facts and events that actually happened.
Reporting the facts isn't slanderous. Nor does BehindMLM's coverage constitute "fake articles" (whatever that is).
In any event scammers crying about BehindMLM's content is nothing new.
What I took particular offense to was Wojciech Orych claiming "the creator is not open to dialogue and cooperation".
Unless I'm mistaken, the only time Mining City has reached out to me was to pretend the Philippine SEC was lying.
I documented that back and forth in the linked article above. That discussion ended when the Philippine SEC clarified Mining City was not registered and that it was a Ponzi scheme.
That brutal takedown came at the hands of the Philippine SEC, not me. But more importantly, I was engaged in a dialogue with Mining City leading up that humiliation.
Neither Mining City or any of Avramovich's other shell companies have contacted me about anything since.
Wojciech Orych now phishing for information on the false pretense I'm not open to dialogue, is just … well it's what you'd expect from a bunch of Ponzi scammers.
No doubt Avramovich is feeling emboldened by Polish authorities to date taking no action against his Ponzi scheme.
Ultimately however the facts, as reported by BehindMLM are truthful no only by way of being self-evident in an of themselves – but also through discovery should it ever come to that.
You think the Philippine SEC left you with no clothes Eyal? I know exactly what to ask for in discovery.
While it's doubtful Mining City reached the $722 million dollar heights of BitClub Network, which it's remarkably similar to, I'd still wager Avramovich has taken in tens of millions over the past two years.
BTCV's $400+ pump might even have broke Avramovich into the hundreds of millions.
Hopefully one day law enforcement in Poland or some other jurisdiction catches up with him and Rogowski.
In the meantime, quit it with the butthurt goon squad emails. Thanks.
In an effort to maintain BehindMLM's commitment to "open to dialogue and cooperation" with Mining City, I've directed Wojciech Orych to this article as a response.
I'll publish an update below if I hear anything back.