AWS Mining served securities fraud cease and desist in Texas

AWS Mining has been served a securities fraud cease and desist by the Texas State Securities Board.
Named as respondents to the notice are
AWS Mining and AWS Elite
co-founders Daniel Beduschi and Alexandre Campos
Jessica Nunes Sivirino, cited as an executive of AWS Mining
Josiah Kostek, cited as CMO of AWS Mining
MyCoinDeal, cited as a wallet services provider for AWS Mining and
Kenneth Luster and his West Texas Oilfield Cloud Miners Club AWS Mining investor downline
In their November 6th emergecy cease and desist order, the Texas Securities Board alleges AWS Mining has engaged in securities fraud.
BehindMLM reviewed AWS Mining a few months ago and found it to be your typical MLM cryptocurrency mining offering.
AWS Mining investors signed up on the promise of a passive return, in addition to pyramid recruitment commissions.
The Texas Securities Board went one step further and pegged AWS Mining advertised ROIs at 200%.
Of note is the Texas cease and desist observes AWS Mining and MyCoinDeal have been registered with the Australian Securities and Investments Commission since June 2017.
ASIC is essentially Australia's equivalent of the SEC.
Whereas ASIC should be on top of scams operating right under their nose, unfortunately the regulator has a terrible track record for policing MLM related securities fraud.
As we pointed out in our review, AWS Mining fails to offer conclusive evidence it is engaged in cryptocurrency mining. Or that the company uses external revenue to pay affiliates a 200% ROI.
This is cited as an example of fraud in Texas' cease and desist;
In connection with the offeri of (unregistered) crypto mining power contracts, AWS Mining, Beduschi, Campos and Nunes are intentionally failing to disclose the following material facts about the management of AWS Mining:

A. The relationship between AWS Mining PTY and AWS Mining;

B. The business repute and qualification of Beduschi, Campos, Nunes and other principals of AWS Mining;

C. AWS Mining's assets, liabilities and capitalization; and

D. AWS Mining PTY's assets, liabilities and capitalization

E. The identity, business repute or qualifications of the persons responsible for managing the operations of AWS Mining's cryptocurrency mining farms;

F. Whether AWS Mining is mining bitcoin, ethereum, monero, or some combination of these cryptocurrencies and/or other mineable cryptocurrencies that use proof of work hashing;

G. The type of specialized hardware used to mine cryptocurrencies and the collective hash rates of hardware used to mine cryptocurrencies, whether expresses as GH/s, TH/s, PH/s, or some other metric;
On top of that there are a boatload of disclosure failures cited, which can be read in the Texas Board's notice.
Following review of collected evidence, the Texas Securities Board concluded
AWS Mining's investment opportunity was a security;
AWS Mining violated the Texas Securities Act by failing to register its securities offering with the Texas Securities Commissioner;
AWS Mining and the named respondents are engaged in fraud with the offer for sale of securities;
AWS Mining and the named respondents are making offers containing statements that are materially misleading or otherwise likely to deceive the public.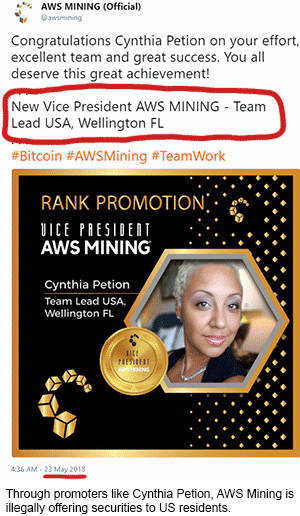 As part of our AWS Mining review, BehindMLM identified Cynthia Petion as a prominent promoter of the company.
In response to our calling her out for promoting fraud in Africa, Petion stated;
My business resides overseas. And yes, I file my taxes. Idiot.

The SEC doesn't view Bitcoin as a security – and they sure as hell don't care if those plans are sold outside of the United States, despite my residency.
Cynthia's husband, Eddy Petion, claimed our pointing out AWS Mining was engaged in securities fraud violations was "speculative and not factual."
The Petions are believed to be based out of Florida. According to Eddy Petion's Facebook page, the couple were recently promoting AWS Mining in Russia.
As at the time of publication neither AWS Mining, any of the other named respondents or Cynthia and Eddy Petion have responded to Texas' cease and desist.
Stay tuned…