Minerva Trading Bot Review: 240% annual ROI Telegram Ponzi bot

Minerva Trading Bot provides no information on who owns or runs the company on their website.
The Minerva Trading Bot website domain ("minervatradingbot.com") was privately registered on December 10th, 2018.
Further research reveals a Minerva Trading Bot YouTube video featuring the company's CEO.
The individual in the video isn't credited in the description. The video itself is in German, so even if the individual is credited I wouldn't understand.
What I was able to later find is an incorporation document for CMC Invest on the Minerva Trading Bot website domain: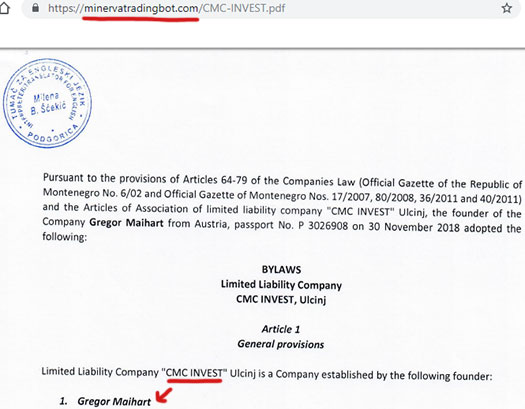 As above, the document cites Gregor Maihart as owner of CMC Invest.
Maihart's Facebook profile photo is dated 2010, but it's enough to confirm he features in the Minerva Trading Bot CEO video.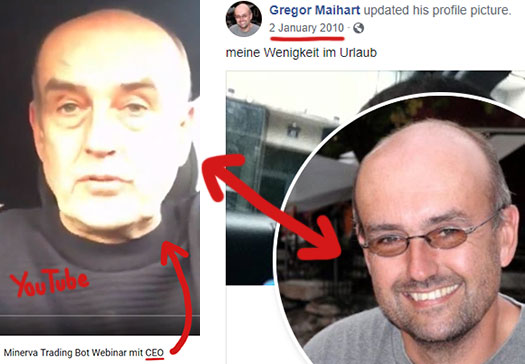 Thus I can confidently state Gregor Maihart is running Minerva Trading Bot.
As for CMC Invest, it appears to be nothing more than an offshore shell company. It is highly likely CMC Invest is being used to launder funds invested by Minerva Trading Bot affiliates through.
According to his Facebook profile, Maihart is based out of Austria.
This corresponds with Alexa pegging Austria as the top source of traffic to Minerva Trading Bot's website (23%). Neighboring Germany is the second largest, coming at 21%.
The closest I was able to come to putting together Maihart's MLM history, was a subscription to the official USI-Tech channel.
Whether Maihart was a USI-Tech Ponzi investor is unclear.
Read on for a full review of the Minerva Trading Bot MLM opportunity.
Minerva Trading Bot Products
Minerva Trading Bot has no retailable products or services, with affiliates only able to market Minerva Trading Bot affiliate membership itself.
The Minerva Trading Bot Compensation Plan
Minerva Trading Bot affiliates invest euros on the promise of a 240% ROI after 365 days.
Minerva Trading Bot returns are paid weekly in bitcoin.
Minerva Trading Bot pays referral commissions on initial funds invested by recruited affiliates, down a maximum three levels of recruitment (unilevel):

invest at least €500 EUR and receive 7% on level 1 (personally recruited affiliates)
invest at least €1000 EUR and receive 7% on level 1 and 3% on level 2
invest at least €1500 EUR and receive 7% on level 1, 3% on level 2 and 2% on level 3
Referral commissions are also paid on reinvestment made across the same three levels (same personal investment qualification applies):
level 1 (reinvestment by personally recruited affiliates) – 3%
level 2 – 2%
level 3 – 1%
Joining Minerva Trading Bot
Minerva Trading Bot affiliate membership is free.
Full participation in the attached Minerva Trading Bot MLM opportunity however requires a minimum €500 EUR investment.
Conclusion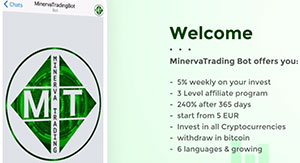 Minerva Trading Bot is a cookie-cutter Telegram Ponzi bot scheme.
Affiliates sign up and invest through the company's official Telegram channel bot.
Minerva Trading Bot represents that it generates external ROI revenue through cryptocurrency trading.
No verifiable evidence of trading or any other source of external ROI revenue is provided.
Furthermore neither Minerva Trading Bot or Gregor Maihart are registered with Austria's Financial Markets Authority. This means that at a minimum Minerva Trading Bot and Maihart are committing securities fraud.
There is no indication that Minerva Trading Bot or Maihart have registered their passive investment opportunity in any other jurisdiction either.
As it stands the only verifiable source of revenue entering Minerva Trading Bot is newly invested funds.
The use of newly invested funds to pay existing Minerva Trading Bot affiliates a weekly ROI makes it a Ponzi scheme.
Minerva Trading Bot will pay returns in bitcoin until invested funds run out, or Telegram shuts their bot channel down for fraud.
Regardless, both outcomes result in Minerva Trading Bot collapsing.
The math behind Ponzi schemes like Minerva Trading Bot guarantees that when they collapse, the majority of participants lose money.
Update 4th January 2023 – Authorities in Austria have arrested a 58 year old man and his 81 year old father in relation to Minerva Trading Bot.
The younger suspect, believed to be Gregor Maihart, was sentenced to four and half years in prison in late 2022.