Minerva Trading Bot victims being funneled into Finiko

Minerva Trading Bot victims are being funneled into the Finiko Ponzi scheme.
The disturbing development is part of a "CMC Disbursement Concept".
According to a roadmap put out by Minerva Trading Bot, participation in Finiko provides
the opportunity to help recover the deposited funds of all investors in the portfolio in the concrete and foreseeable future.

The company Finiko offers the possibility to double deposited amounts (e.g. $ 250) in 4 month.

I.e. if you deposit $ 250 you will have $ 500 after 4 months. There is no upper limit.
Finiko is a twice collapsed Russian Ponzi scheme. The first collapse saw Finiko abandon its homegrown Russian Ponzi scheme. Victims were merged with the international version.
The second collapse saw Finiko disabled bitcoin withdrawals. The scheme now only pays out in its own worthless FNK tokens.
Minerva Trading Bot advises;
A special account has been opened for this purpose with Finiko, where everyone who can and who wants to may help.

You do not need to register with Finiko if you don't want to!

All those who do not yet have an account with Finiko, we invite to join our group and place your own account under the group account we have created.

Any kind of commission also serves to build capital.
Minerva Trading Bot details a "plan to build up capital of 3 million".
Once the envisioned level of capital is reached, the capital is moved to the Finiko CTI 1 trading program to maintain the built up capital.

The profit of CTI 1 is about 20% per month and this gain is
paid out monthly to all users who still have open claims.

As soon as all users are paid out their ROI, the built up capital of about 3 million is freely available and will be returned proportionally to all users who are helping now.

(The planned 200.000 will have become 3.000.000)

Conclusion:

A win-win situation that helps many thousands of people so no-one has losses. And people who want to help still have profit from contributing!
What happens if Finiko completes their FNK exit-scam before Minerva Trading Bot can withdraw $3 million isn't addressed.
Minerva Trading Bot was a Telegram Ponzi bot launched in May 2019.
The collapsed scam was run by Gregor Maihart.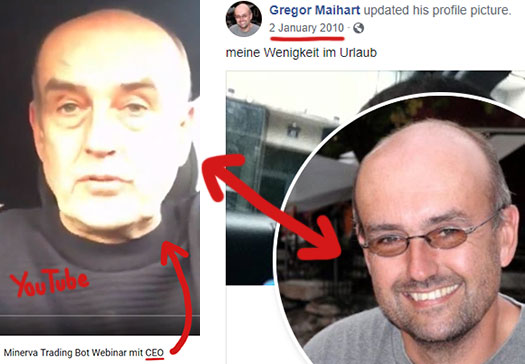 Maihart is presumably the primary beneficiary of Minerva victims investing new funds into Finiko.
Since Minerva Trading Bot collapsed, Maihart has wiped his social media profiles.
Based on incorporation documents filed for the related CMC Invest shell company, Maihart is believed to reside in Austria.
Minerva Trading Bot's victims are believed to primarily be from Austria and Germany.
Update 6th August 2021 – Finiko collapsed in mid July.
How much more money Gregor Maihart caused his victims to lose is unclear.
Update 4th January 2023 – Authorities in Austria have arrested a 58 year old man and his 81 year old father in relation to Minerva Trading Bot.
The younger suspect, believed to be Gregor Maihart, was sentenced to four and half years in prison in late 2022.