Matt Bot AI Review: 10-30% monthly ROI securities fraud
Matt Bot AI operates from the domain "mtai.vip".
The domain was registered with incomplete bogus information on December 30th, 2020.
At the time of publication Matt Bot AI's website is nothing more than an affiliate login page, presented in default Chinese: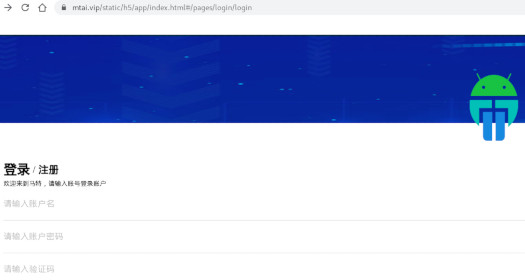 English is a selectable option, which brings us to Matt Bot AI's promotion.
Matt Bot AI is primarily promoted to English-speaking potential investors via 10X Crypto Traders.
On Meetup 10X Traders is based out of California and represented by a group of 929 members.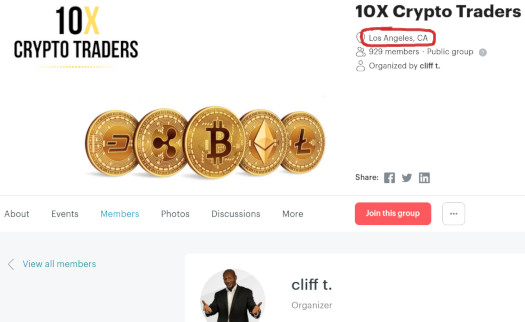 The organizer of the group is Cliff Townsend:

As above, Townsend's Meetup profile places him in Florida.
Outside of 10X Crypto Traders, Townsend doesn't have much of a digital footprint.
In this absence of official marketing material provided, this review relies on Matt Bot AI presentations uploaded to 10X Crypto Traders' YouTube channel.
As always, if an MLM company is not openly upfront about who is running or owns it, think long and hard about joining and/or handing over any money.
Matt AI Bot's Products
Matt AI Bot has no retailable products or services, with affiliates only able to market Matt AI Bot affiliate membership itself.
Matt Bot AI's Compensation Plan
Matt Bot AI affiliates pay an annual fee for access to a cryptocurrency trading bot.
Cryptocurrency is placed under control of Matt Bot AI, with 10X Crypto Traders touting 10% to 30% passive monthly returns.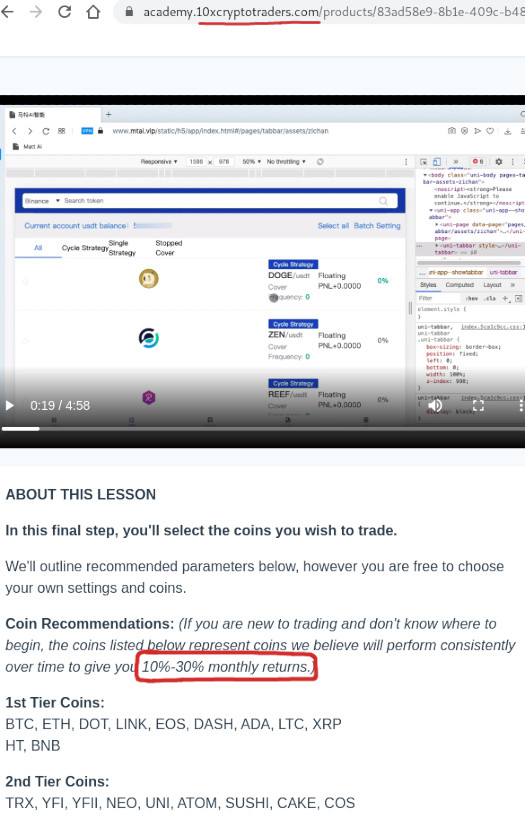 Matt Bot AI's anonymous admins take a 20% fee of profitable trades made by the bot.
The MLM side of Matt Bot AI sees affiliates paid to recruit new affiliates.
Commissions are paid as a percentage of annual fees paid by recruited Matt Bot AI affiliates.
Matt Bot AI Affiliate Ranks
There are six affiliate ranks within Matt Bot AI's compensation plan.
Along with their respective qualification criteria, they are as follows:
One Star – sign up as a Matt Bot AI affiliate
Two Star – recruit three affiliates and have fifty affiliates in your downline
Three Star – recruit five affiliates, have a Two Star in three individual legs and have a downline of two hundred affiliates
Four Star – recruit ten affiliates, have a Three Star in three individual legs and have a downline of five hundred affiliates
Five Star – recruit twenty affiliates, have a Four Star in three individual legs and have a downline of one thousand affiliates
Partner – recruit thirty affiliates, have a Five Star in three individual legs and have a downline of two thousand affiliates
Note that "legs" refers to unilevel legs. Each personally recruited affiliate generates a new unilevel team leg.
In order to count towards qualification criteria, recruited affiliates must be current with annual fee payment.
Recruitment Commissions
Matt Bot AI affiliates earn a percentage of fees paid by personally recruited affiliates:
One Stars earn 30%
Two Stars earn 40%
Four Stars earn 50%
Five Stars earn 65%
Partners earn 70%
Residual Commissions
Matt Bot AI's admins take a 20% cut of any profitable trades made by the bot.
Up to 60% of this 20% collected fee is used to pay residual commissions.
One Stars earn a 20% residual commission rate
Two Stars earn a 30% residual commission rate
Three Stars earn a 40% residual commission rate
Four Stars earn a 50% residual commission rate
Five Stars earn a 55% residual commission rate
Partners earn a 60% residual commission rate
Residual commissions are coded and tracked via a unilevel compensation structure.
A unilevel compensation structure places an affiliate at the top of a unilevel team, with every personally recruited affiliate placed directly under them (level 1):

If any level 1 affiliates recruit new affiliates, they are placed on level 2 of the original affiliate's unilevel team.
If any level 2 affiliates recruit new affiliates, they are placed on level 3 and so on and so forth down a theoretical infinite number of levels.
The way coded residual commissions are paid is the difference between ranks.
E.g. You are a Four Star and a Two Star you've recruited recruits a new Matt Bot AI affiliate.
The Two Star is paid their 30% residual commission rate. Because you're a Four Star, you are paid the difference between your rate and that of Two Star (50% – 30% = 20% paid out).
Of the maximum 60% paid on all 20% admin fees collected, 10% remains to be paid out (the Partner 60% rate minus your 50% rate).
The system searches further upline for either a Five Star or Partner ranked affiliate.
If a Five Star is found first, they are paid 5% (55% – 50%). The remaining 5% is paid to the first upline Partner ranked affiliate found.
If a Partner is found first, they are paid the full 10% outstanding residual commission.
Note that nothing is passed up when a Partner affiliate is found. Be it a direct or coded residual commission, Partners are always paid the full 60% or what's left of 60% to be paid out.
Joining Matt Bot AI
Matt Bot AI affiliate membership is $150 annually, paid in tether (USDT).
Conclusion
Matt Bot AI uses the standard MLM crypto trading bot securities fraud business model.

Ownership details aren't provided, because securities fraud is illegal the world over.
The MLM side of Matt Bot AI is pyramid recruitment, as 100% of commissions paid out are tied to recruitment and payment of $150 annual affiliate fees.
With respect to Matt Bot AI as a trading bot, it should be noted that 70% of the $150 paid for access to it is recycled to pay commissions.
That leaves $45 paid for the bot annually.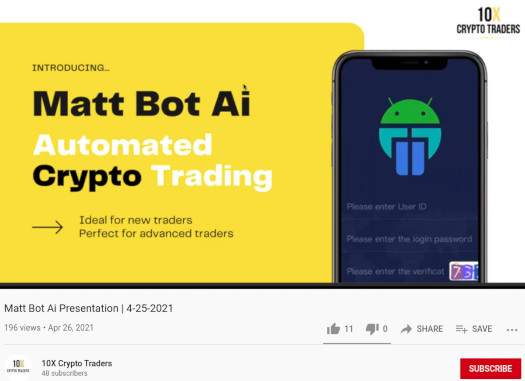 If you had a trading bot capable of legitimately generating a consistent 10% to 30% a month, would you sell access to it for $45 a year?
As part of my research into Matt Bot AI, I noted at one time attempts to access the domain homepage threw a "white label" error.

This error has since been rectified. Matt Bot AI's domain homepage now redirects to a parked message.
This suggests Matt Bot AI is just a white label trading bot script bought from a third-party.
Prospective Matt Bot AI affiliates should be wary of social media trading results "proof". This is not a substitute for audited financial reports.
Matt Bot AI also fails to disclose any information about its bot to affiliates, again in violation of securities law.
Typically pseudo-compliance sees trading bot scammers pretend they aren't selling a passive investment scheme.
This is not the case with 10X Crypto Traders' promotion of Matt Bot AI.
[28:47] So Princess shared her story of sharing Matt Bot with a couple of people.

She earned ninety dollars, and she was then able to transfer those funds into her investing account.

Fantastic strategy. That's how you "10x" your earnings.
Regardless of whether the existence of a passive investment scheme is acknowledged, it's there nonetheless.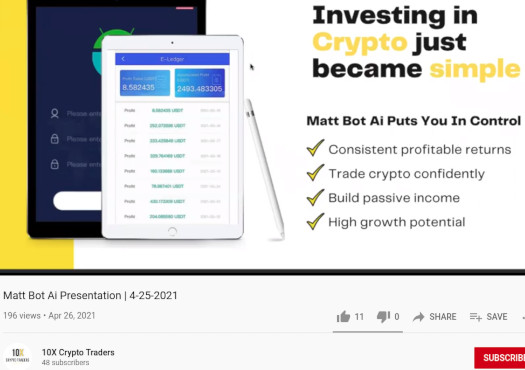 Remember, where pooled funds are stored is irrelevant with respect to securities law and establishing an investment contract as per the Howey Test.
If Matt Bot AI itself doesn't lose investor funds through bad trades, the trading bot exit-scam sees funds lost to admins via rigged trades.
A documented example of this playing out on BehindMLM is iQuandex.
The rigged trades exit-scam is typically accompanied by excuses that don't hold up to scrutiny.
As to who's behind Matt Bot AI, as I write this Alexa pegs the US as the only notable source of traffic to its website (37%).
This suggests that Cliff Townsend and 10X Crypto Traders could be behind the scheme. Or alternatively persons known or unknown to Townsend, operating elsewhere within the US.