iLearning Crypto Review: Twin TurboTRX Ponzi reboot

iLearning Crypto provides no information on its website about who owns or runs the business.
iLearning Crypto's website domain ("ilearningcrypto.io"), was privately registered on September 8th, 2021.
iLearning Crypto's homepage contains one marketing video, hosted on a Vimeo account.
The name of that account is "Twin TurboTRX Official":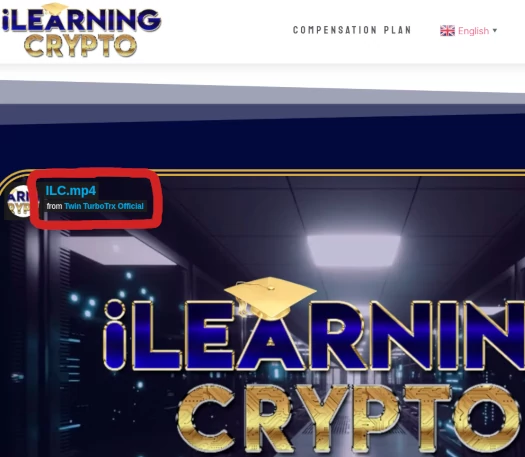 Twin TurboTRX was a tron cycler launched early last year.
iLearning Crypto appears to be a reboot of the collapsed Ponzi scheme.
The only names BehindMLM was able to peg to Twin TurboTRX were Husty Designs and Ann Marie Osorio.
Husty Designs is a scam-friendly web development company in India. Ann Marie Osorio is a graphic designer from California.
Whether Husty Designs and Osorio are involved in iLearning Crypto is unclear.
As always, if an MLM company is not openly upfront about who is running or owns it, think long and hard about joining and/or handing over any money.
iLearning Crypto's Products
iLearning Crypto has no retailable products or services.
Affiliates are only able to market iLearning Crypto affiliate membership itself.
iLearning Crypto affiliate membership provides access to a "Global Training Center".

iLearning Crypto's Global Training Center includes various digital products.
iLearning Crypto's Compensation Plan
iLearning Crypto affiliates invest tether on the promise of "daily passive rewards":
Crypto 101 – 40 USDT
Crypto 102 – 100 USDT
Crypto 103 – 250 USDT
Crypto 104 – 500 USDT
Crypto 105 – 1000 USDT
Note that only Crypto 105 tier affiliates qualify for iLearning Crypto's daily returns.
The MLM side of iLearning Crypto pays on recruitment.
Recruitment Commissions
iLearning Crypto pays recruitment commissions via a 3×1 matrix cycler.
A 3×1 matrix places an affiliate at the top of a matrix, with three positions directly under them.
These positions are filled via investment by directly and indirectly recruited affiliates.
Commissions are paid as 50% of the buy-in on the first two positions of the matrix.
The third position is used to generate a new same-tier cycler position.
Filling all three positions is referred to as a cycle.
Note that an iLearning Crypto cycler position can only cycle twice, after which a new position must be invested in.
With all that in mind, here are the cycler payouts across iLearning Crypto's five-tier cycler:
Crypto 101 – invest 40 USDT and receive 40 USDT per cycle, capped at 80 USDT over two cycles
Crypto 102 – invest 100 USDT and receive 100 USDT per cycle, capped at 200 USDT over two cycles
Crypto 103 – invest 250 USDT and receive 250 USDT per cycle, capped at 500 USDT over two cycles
Crypto 104 – invest 500 USDT and receive 500 USDT per cycle, capped at 1000 USDT over two cycles
Crypto 105 – invest 1000 USDT and receive 1000 USDT per cycle, capped at 2000 USDT over two cycles
Trading Bot
iLearning Crypto affiliates who buy in at Crypto 103 and higher get access to a trading bot.
iLearning Crypto states the bot is "provided by a third party", and that it bears no responsibility for generated losses.
Additional Bonuses
iLearning Crypto's marketing material cites Rank Achievement Bonuses and a "Leadership League Prize Pool".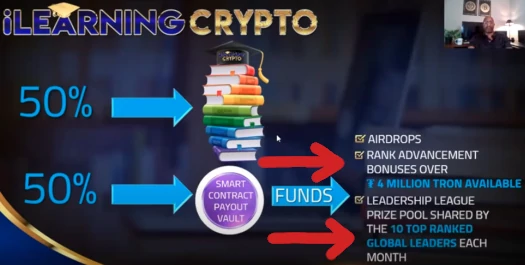 Other than the Leadership League Prize Pool being paid to top recruiters, no specific information is provided.
Joining iLearning Crypto
iLearning Crypto affiliate membership is tied to an initial 40 to 1000 USDT investment:
Crypto 101 – 40 USDT
Crypto 102 – 100 USDT
Crypto 103 – 250 USDT
Crypto 104 – 500 USDT
Crypto 105 – 1000 USDT
Once a 200% ROI has been realized through iLearning Crypto's matrix cycler, reinvestment is required to continue earning.
iLearning Crypto Conclusion
Not surprisingly, iLearning Crypto is a straight reboot of Twin TurboTRX.
While early iLearning Crypto marketing cites the use of tron, today the company's website references tron.
I'm not sure what the story is there.
Perhaps iLearning Crypto was originally launched with tron, that flopped and so it was rebooted with tether.
In any event you're looking at a 200% ROI cycler Ponzi. Added to that is daily returns and an unsupported trading bot.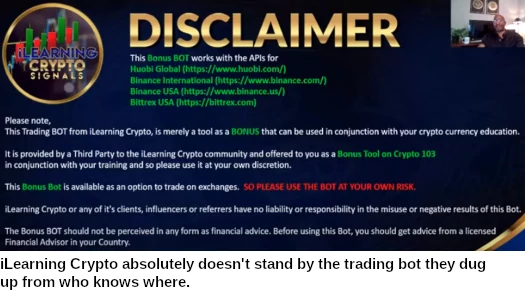 The digital library is meaningless old school pseudo-compliance. You can't legitimize a Ponzi scheme by bundling products to it.
Seeing as they're essentially the same business, my analysis of Twin TurboTRX applies to iLearning Crypto;
Presented as "the smartest smart contract ever", Twin TurboTRX is in fact just another low effort cycler Ponzi separating stupid people from their money.
The majority of Twin TurboTRX affiliates did in fact lose money when it inevitably collapsed.

iLearning Crypto's collapse won't be any different.
Based on current Alexa traffic estimates, the majority of iLearning Crypto investors will be from Canada (84%).