Inclusive Cryptos Review: InclusiveFX Ponzi adds cryptocurrency

Inclusive Cryptos provides no information on their website about who owns or runs the business.
The company does state that it's a "daughter company of Inclusive Investment services limited", which ties it to the InclusiveFX Ponzi scheme.
Whereas InclusiveFX claimed to be based out of the UK, Inclusive Cryptos is pretending to be based out of Arkansas in the US.
To that end Inclusive Cryptos incorporated itself in Arkansas as Inclusive Intl. Services LLC.
As with InclusiveFX, marketing videos on Inclusive Cryptos website feature what appear to be young paid actors.
As always, if an MLM company is not openly upfront about who is running or owns it, think long and hard about joining and/or handing over any money.
Inclusive Cryptos Products
Inclusive Cryptos has no retailable products or services, with affiliates only able to market Inclusive Cryptos affiliate membership itself.
The Inclusive Cryptos Compensation Plan
Inclusive Cryptos affiliates invest funds on the promise of an advertised ROI.
Sigma – invest $50 to $999 and receive a 221% ROI over 130 days
Omega – invest $1000 to $9999 and receive a 252% ROI over 140 days
Beta – invest $10,000 to $24,999 and receive a 285% ROI over 150 days
Alpha – invest $25,000 to $100,000 and receive a 320% ROI over 160 days
A 6% fee is charged on all withdrawal requests by Inclusive Cryptos affiliates.
Recruitment Commissions
Inclusive Cryptos affiliates are paid to recruit new affiliates who invest.
How much of a referral commission is paid out is determined by how the recruiting affiliate has invested:
Sigma tier affiliates earn a 7% recruitment commission rate
Omega tier affiliates earn an 8% recruitment commission rate
Beta tier affiliates earn a 9% recruitment commission rate
Alpha tier affiliates earn a 10% recruitment commission rate
Residual Commissions
Inclusive Cryptos pays residual commissions via a binary compensation structure.
A binary compensation structure places an affiliate at the top of a binary team, split into two sides (left and right):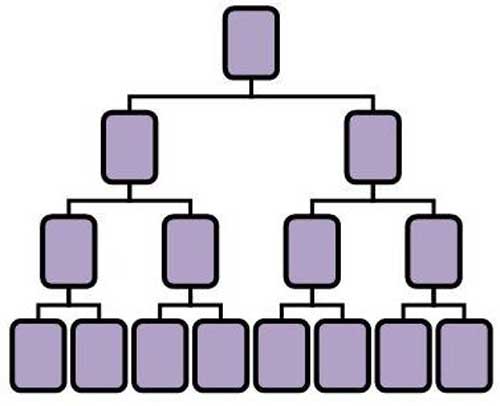 The first level of the binary team houses two positions. The second level of the binary team is generated by splitting these first two positions into another two positions each (4 positions).
Subsequent levels of the binary team are generated as required, with each new level housing twice as many positions as the previous level.
Positions in the binary team are filled via direct and indirect recruitment of affiliates. Note there is no limit to how deep a binary team can grow.
At the end of each day Inclusive Cryptos tallies up new investment volume on both sides of the binary team.
Affiliates are paid 10% of funds matched on both sides of the binary team, subject to the following daily limits:
Sigma tier affiliates can up earn up to $500 a day in residual commissions
Omega tier affiliates can earn up to $1000 a day in residual commissions
Beta tier affiliates can earn up to $2500 a day in residual commissions
Alpha tier affiliates can earn up to $5000 a day in residual commissions
Once paid out on matched volume is flushed. Any leftover volume on the stronger binary team side is carried over.
Joining Inclusive Cryptos
Inclusive Cryptos affiliate membership is tied to a minimum $50 investment.
Conclusion
The only reason a Ponzi scheme launches a new opportunity is if it's running low on ROI funds.
Website traffic to InclusiveFX has flatlined, which for an MLM Ponzi scheme means investor recruitment has slowed.
Cue the launch of Inclusive Cryptos, which is basically the same fraudulent investment scheme in different packaging.
Inclusive Cryptos gives InclusiveFX some breathing room, as the initial idea is to get their existing investors to keep funds in the system.
Recruitment of new investors will be limited, as reboot scams typically don't take off outside their existing investor base.
One important thing to note on the Inclusive Cryptos website is the claim it is 'regulated by the United States government'.
This is possibly the only non-lie on the entire website.
Passive investment schemes are securities offering, which in the US are regulated by the SEC.
Naturally neither Inclusive Cryptos, Inclusive Intl. or InclusiveFX are registered with the SEC.
This means the companies are operating illegally (securities fraud).
It should be pretty obvious that whoever is running Inclusive Cryptos isn't based in the US though, so don't expect too much to come of it.
Arkansas might suspend the LLC incorporation, but beyond that you're pretty much on your own when Inclusive Cryptos inevitably collapses.
Reload scams collapse faster than there predecessors, so once initial investment hype wears thin – expect both InclusiveFX and Inclusive Cryptos to go under.
One final note, the original InclusiveFX website domain has been repurposed to serve as a navigation platform for Inclusive Investments' two Ponzi schemes.
Club Zone, a third "live soon" scheme", is featured on the site. Trading is mentioned but no further specifics.
The take-away is that when Inclusive Cryptos begins to fail, a third launch might happen before the final collapse.