Global Success Plan Review: $500,000 a month cash gifting?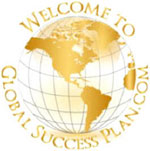 Testimonials on the Global Success Plan website identify Frank Trueblood as the owner of the company.
According to his LinkedIn profile, Trueblood is based out of the US state of Minnesota, which is likely where Global Success Plan is being run out of.
The company itself appears to be a reincarnation of something called "Cha-Ching Success Formula", which Trueblood was heavily promoting on his Facebook profile throughout 2014.
The last advertisement for the Cha-Ching Success Formula is dated 30th of November 2014, with advertisements for The Global Success Plan starting on the 8th of January, 2015 (no posts were made between those two dates).

Other posts in Trueblood's timeline reveal him to be an affiliate of DS Domination (2014), Internet Lifestyle Network (2014) and Empower Network (2012),
In 2010 Trueblood (right) launched "1weektosuccess", a matrix-based recruitment scheme. Trueblood has also been involved in a number of non-MLM internet marketing activities over the years (specifically lead capture and traffic generation).
Read on for a full review of the Global Success Plan MLM business opportunity.
The Global Success Plan Product Line
Global Success Plan has no retailable product or services, with affiliates only able to market affiliate membership with the company itself.
Once signed up, Global Success Plan affiliates can participate in a two-tier cash gifting scheme. Bundled with participation fees paid is access to a PLR ebook library and a replicated capture page.
The Global Success Plan Compensation Plan
The Global Success Plan compensation plan sees affiliates pay a monthly fee, which is gifted to affiliates who joined before them.
In turn, this fee qualifies a Global Success Plan affiliate to receive gifting payments made to them by subsequently recruited affiliates.
Phase 1 (3×2 matrix)
Phase 1 of the Global Success Plan sees affiliates pay $100 for a matrix position in a 3×2 matrix.
This is an ongoing $100 a month cost, which qualifies an affiliate receive $100 payments from recruited affiliates placed in their matrix.
A 3×2 matrix has three positions on the first level of the matrix and then nine on the second, for a total of twelve positions.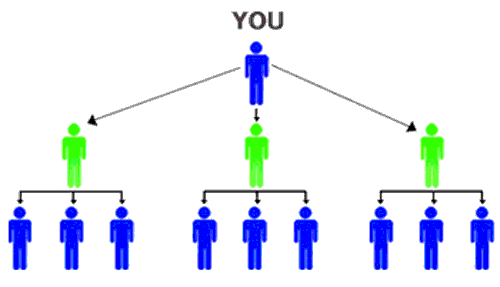 Positions on the first level are filled recruitment of new affiliates, with each paying a $100 position fee.
These fees are gifted to the affiliate at the top of the matrix, their upline (the affiliate who recruited them) and their upline's upline.
The $300 generated on the first level of the matrix is split $100 equally between these three affiliates.
The second level of the matrix (the nine level 3 recruited affiliates above) then send $100 to the affiliate who owns the position they are under on the first level (the green level 1 positions above), with an additional $100 out of the $300 paid to the affiliate at the top of the matrix and their upline.
Affiliates on the third level of the matrix also pass up $100, once they've filled the first three levels of their 3×2 matrix (this is an additional $900).
In essence you're looking at a reverse 2-up gifting compensation model, compressed into a 3×2 matrix structure.
A full matrix, with the assumption that all nine recruited affiliates continue to pay $100 a month, results in monthly gifting payments of $1300 ($100 from the first level of the matrix, $300 from the second and $900 from the third (the first level of your second level affiliates)).
$100 a month is required to maintain qualification to continue to receive payments, resulting in a net monthly gifted payment of $1200.
In total, Global Success Plan affiliates are permitted to purchase four Phase 1 matrix positions.
Phase 2
Phase 2 of the Global Success Plan sees affiliates once again gift a monthly payment to another Global Success Plan affiliate.
This is done via an email the company sends out, informing the affiliate who to pay.
Presumably this is tracked via another matrix on the Global Success Plan backend, however these specific details are not revealed by the company.
It's likely this second matrix is compressed, given the dropoff rate in Phase 1 will likely be high once recruitment of new affiliates slows down.
How much a Global Success Plan affiliate must send as a gifting payment is not publicly disclosed, but Global Success Plan marketing material states an affiliate can receive "up to $500,000 a month".
I initially thought Phase 2 would involve an affiliate redirecting most or all of their Phase 2 gifting payments into Phase 2.
The Global Success Plan FAQ states however that the Phase 2 monthly payment 'will be a reasonable amount similar to the Stage 1 product purchase'.
I'd guess the matrix used in Phase 2 is much larger than that of Phase 1, with monthly participation costing a few hundred dollars.
This is evidenced by a Facebook post by Frank Trueblood dated 29th of January 2015, in which he mentions a Phase 3 (3×10 matrix) for founding affiliates of Global Success Plan:
ATTENTION ALL CHA-CHING PHASE 3 MEMBERS …

What you are about to read is going to change your life forever.

Congratulations, you are a founding member!

This means you have changed your financial future forever because you were intelligent enough to secure your position with us and became a "founding member" of the Global Success Plan for a mere $19.95 admin fee.

Again Congratulations, you should print this post out and frame it. This will mean something very special to you for the rest of your life.

You will learn more about what this means for you as we continue building our Global Success Plan business for all of our members.

Here is the bad news for some folks. If you are one of them you should still print this out and save it.

If you did not pay your admin fee of $19.95 to secure your current position in our 3×10 matrix that means you are about to lose your current position.
Joining Global Success Plan
Affiliate membership with Global Success Plan is $19.95 a month.
At least $100 a month is then also required in order to participate in the Global Success Plan income opportunity.
Conclusion
Is the Global Success Plan a member to member company?

Most definitely, the members control the money not the company, people to people.
Global Success Plan's business model is that of a cash gifting scheme, with affiliates gifting eachother a participation fee each month.
In turn, payment of this participation fee qualifies a Global Success Plan affiliate to receive payments from affiliates who join after them.
The reverse 2-up compensation model used means payments are gifted irrespective of whether subsequent participants are personally recruited or not.
As with all cash gifting schemes, those at the bottom of the scheme are sooner or later going to realize there's nobody left to recruit.
When that happens, they stop paying their monthly participation fee, which means those above them stop receiving gifting payments each month.
They too then stop paying their monthly fees, and as this effect trickles up the Global Success Plan affiliate genealogy, eventually an irreversible company-wide collapse is triggered.
At that point anyone who hasn't recruited enough new participants to receive more in gifts then they've gifted themselves, loses out.
Naturally Trueblood sits at the top of every Global Success Plan matrix, receiving the most gifted payments and of course the monthly admin fee he has everyone paying.