Fundising Review: Five-tier cash gifting

There is no information on the Fundising website indicating who owns or runs the business.
The Fundising website domain ("fundising.com") was registered on the 25th of July 2016, however the domain registration is set to private.
Alexa currently estimate that 100% of traffic to the Fundising website originates out of Spain, suggesting the that's probably where the company is being operated from.
As always, if an MLM company is not openly upfront about who is running or owns it, think long and hard about joining and/or handing over any money.
The Fundising Product Line
Fundising has no retailable products or services, with affiliates only able to market Fundising affiliate membership itself.
Bundled with Fundising affiliate membership is access to 'hundreds of thousands of E-Books, PLR Articles, website scripts, templates, marketing tools and software'.
The Fundising Compensation Plan
The Fundising compensation plan sees new affiliates gift $25 to $1000 to existing Fundising affiliates.
Payments within Fundising are tracked through a 3×5 matrix.
A 3×5 matrix places an affiliate at the top of a matrix, with three positions directly under them: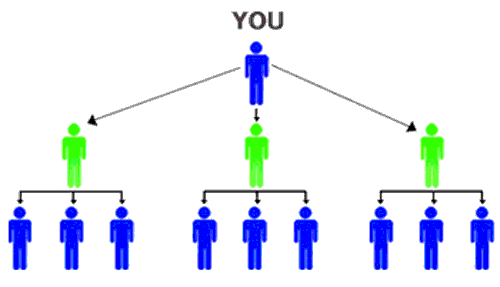 These initial three positions form the first level of the matrix, with the second level generated by splitting each of the three positions into another three positions each (9 positions).
Subsequent levels of the matrix are generated in the same manner, with a complete 3×5 matrix housing 363 positions.
Each level of the 3×5 matrix acts as a separate gifting tier, with a payment fee required to unlock the level (receive payments from other affiliates):
level 1 (3 positions) – gift $25 to the affiliate who recruited you and receive $25 from three subsequently recruited affiliates ($75)
level 2 (9 positions) – gift $50 and qualify to receive $50 from nine affiliates ($450)
level 3 (27 positions) – gift $250 and qualify to receive $250 from twenty-seven affiliates ($5400)
level 4 (81 positions) – gift $500 and qualify to receive $500 from eighty-one affiliates ($40,500)
level 5 (243 positions) – gift $1000 and qualify to receive $1000 from two hundred and forty-three affiliates ($243,000)
Joining Fundising
Fundising affiliate membership is tied to a $25 gifting payment.
Conclusion
Fundising is a member to member, Direct Funding and Crowd Sharing Platform created to share abundance privately and advertise our websites, businesses or programs.
Under the guise of crowdfunding and donations between affiliates, Fundising operate a five-tier cash gifting scheme.
The key to differentiating Fundising between legitimate crowdfunding is that donations aren't made with the expectation of receiving funds from subsequent members.
That and in legitimate crowdfunding donors put money towards a cause they align with. In Fundising funds are paid to the recruiting affiliate, not a cause or project.
Realistically the only people who make money in cash gifting schemes are the admin(s) and first few affiliates to join. Everyone else just contributes payments that, through the matrix, are ultimately passed up to pre-loaded positions.
As with all cash gifting schemes once recruitment of new Fundising affiliates dies down so too will payments within the scheme. This will see matrix payments slow down before collapsing entirely.
Are there any refunds?

There can't be refunds available, since all donations are sent directly from one person's processor to another person's processor.
At that point any Fundising affiliates who haven't had at least two affiliates placed in their matrix loses out. At any given time, this is mathematically guaranteed to the be the majority of Fundising affiliates.