50/50 Crowdfunding Review: Five-tier 2×2 matrix gifting scheme

50/50 Crowdfunding (also known as 50/50 Fast Funding) provides no information as to who owns or runs the business on their website.
The 50/50 Crowdfunding website domain ("5050cf.com") was first registered in August 2017.
The domain registration details were last updated on August 9th, 2018. Unfortunately the registration is private and provides no information on the owner.
Further research however reveals blog posts on the 50/50 Crowdfunding website authored by David T. Rosen.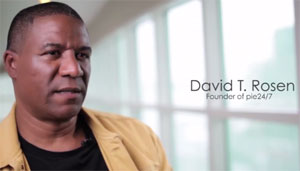 Rosen (right) first popped up on BehindMLM's radar in 2015, as founder of PIE 24/7.
PIE 24/7 was basically a "pay a monthly fee and recruit other affiliates who do the same" scheme.
By early 2016 it appears PIE 24/7 collapsed, with one affiliate claiming they hadn't been paid for 7 months as of April.
In March 2018 Rosen resurfaced with Cooperative Crowdfunding, a 3×10 matrix gifting scheme.
Alexa traffic estimates for the Cooperative Crowdfunding website suggest the scam collapsed a few months after launch.
Read on for a full review of the 50/50 Crowdfunding MLM opportunity.
50/50 Crowdfunding Products
50/50 Crowdfunding has no retailable products or services, with affiliates only able to market 50/50 Crowdfunding affiliate membership itself.
The 50/50 Crowdfunding Compensation Plan
50/50 Crowdfunding affiliates purchase positions in a five-tier 2×2 matrix gifting cycler.
A 2×2 matrix places an affiliate at the top of a matrix, with two positions directly under them: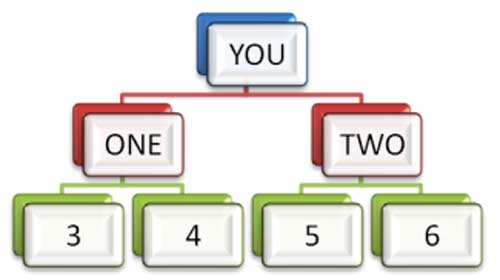 These two positions form the first level of the matrix. The second level of the matrix is generated by splitting these first two positions into another two positions each (4 positons).
In total, a 2×2 matrix has six positions to fill. Positions are filled via subsequent position purchases by directly and indirectly recruited affiliates.
Once all six positions in a matrix are filled, the position cycles out and enters a new matrix on the same tier.
Gifting payments across all five of 50/50 Crowdfunding's cycler are as follows:
$250 matrix – gift $250 in and receive $750 in gifting payments
$500 matrix – gift $500 in and receive $1500 in gifting payments
$1000 matrix – gift $1000 in and receive $3000 in gifting payments
$2000 matrix – gift $2000 in and receive $6000 in gifting payments
$4000 matrix – gift $4000 in and receive $12,000 in gifting payments
Whereas some matrix cyclers recycle funds toward tier progression, 50/50 Crowdfunding's tiers appear to operate independently of each other.
Joining 50/50 Crowdfunding
50/50 Crowdfunding affiliate membership is free.
Participation in the attached MLM opportunity however requires a minimum $250 gifting payment.
Full participation in the 50/50 Crowdfunding opportunity costs $7750 in gifting payments.
Conclusion
50/50 Crowdfunding claims to be a "peer to peer crowdfunding system" that uses "Mobius Loop and the System G Technology".
50/50 Crowdfunding Is A Peer-To-Peer Team Crowdfunding System, Which Means There Is No Waiting For A Matrix To Fill, No Middleman And 100% Of All Donations Are Immediately Assigned To A Beneficiary.
This is nothing more than meaningless marketing waffle to mask the true nature of the business.
50/50 Crowdfunding is nothing more than a cookie-cutter matrix-based gifting scam.
There is no "mobius loop or system g technology". 50/50 Crowdfunding uses a simple 2×2 matrix.
New participants gift funds to existing 50/50 Crowdfunding affiliates, for the sole purpose of qualifying to receive gifting payments from people who join after them.
This is key, as payment to qualify to receive gifting payments is what separates scams like 50/50 Crowdfunding from legitimate crowdfunding and/or donation platforms.
Given this is Rosen's second gifting launch in 2018, it seems he's at the stage of his career where it's a new launch every few months.
You've got to be pretty ethically and morally bankrupt to pursue the launch of scam after scam, as evidenced by Rosen's use of Mother Teresa to promote cash gifting: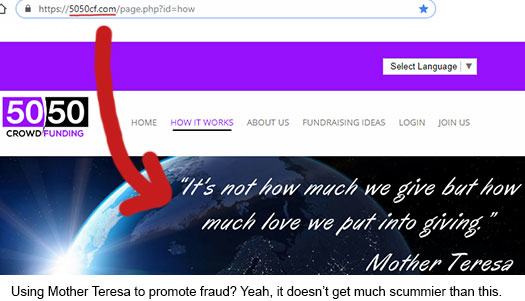 The reality of gifting schemes like 50/50 Crowdfunding is that they primarily benefit only those running them.
Rosen, through one or more preloaded admin positions on each tier will collect the majority of funds gifted in.
A few early adopters will receive what's left, leaving the majority of participants with a loss when 50/50 Crowdfunding inevitably collapses.
Update 29th October 2019 – Since publication of our review 50/50 Crowdfunding has added $25, $50 and $150 gifting tiers.
Matrix gifting payments across these lower tiers are $75, $150 and $450 respectively.