Fund My Cause Review: Six-tier bitcoin cash gifting

There is no information on the Fund My Cause website indicating who owns or runs the business.
The Fund My Cause website domain ("fundmycause.com") was privately registered on October 11th, 2016.
The official Fund My Case Facebook group was created by Jim Watts on October 25th.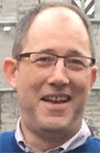 Watts (right) operates out of Belgium and appears to be a serial MLM underbelly participant. His downlines groups are named "The Early Birds" and "Team Builder Network".
In The Early Birds Facebook group, Watts refers to Fund My Cause as the group's "first project".
Opportunities Watts was promoting prior to Fund My Cause include Leased Ad Space (cash gifting), My Paying Crypto Ads (Ponzi scheme), Zukul Gold (pyramid feeder), The Ads Team (Ponzi scheme), Zukul Ad Network (Ponzi scheme) and My Paying Ads (Ponzi scheme).
Read on for a full review of the Fund My Cause MLM opportunity.
The Fund My Cause Product Line
Fund My Cause has no retailable products or services, with affiliates only able to market Fund My Cause affiliate membership itself.
The Fund My Cause Compensation Plan
The Fund My Cause compensation plan sees affiliates gift funds to eachother via a 2×6 matrix.
A 2×6 matrix places an affiliate at the top of a matrix, with two positions directly under them: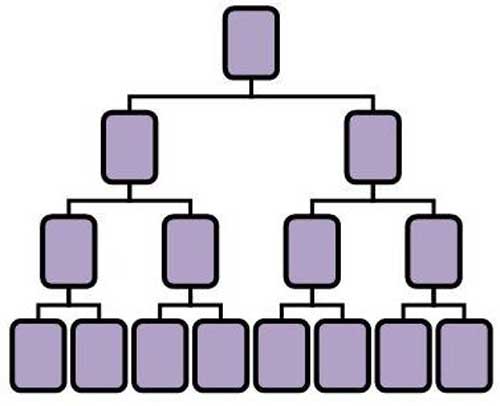 These two positions form the first level of the matrix. The second level of the matrix is generated by splitting each of the two positions into another two positions each (4 positions).
The third to sixth levels of the matrix are generated in the same manner, with each new level housing twice as many positions as the previous level.
A complete 2×6 matrix houses 126 positions. Positions in the matrix are filled via direct and indirect recruitment of new Fund My Cause affiliates.
A new Fund My Cause affiliate signs up and gifts 0.05 BTC to the affiliate who recruited them.
This payment qualifies the affiliate to receive 0.05 BTC from two affiliates recruited into the first level of their matrix.
All six Fund My Cause matrix levels operate in the same manner as follows:
level 1 – gift 0.05 BTC to the affiliate who recruited you and receive 0.05 BTC from two subsequently recruited affiliates
level 2 – gift another 0.05 BTC and receive 0.05 from four affiliates
level 3 – gift another 0.1 BTC and receive 0.8 BTC from eight affiliates
level 4 – gift another 0.2 BTC and receive 0.2 BTC from sixteen affiliates
level 5 – gift another 0.5 BTC and receive 0.5 BTC from thirty-two affiliates
level 6 – gift another 1 BTC and receive 1 BTC from sixty-four affiliates
Note that the above payments (both paid and received) are monthly recurring.
Joining Fund My Cause
Fund My Cause affiliate membership is tied to a minimum monthly 0.05 BTC gifting payment.
Full participation in the Fund My Cause income opportunity costs 1.9 BTC a month.
Conclusion
Under the guise of "contributing to a cause", Fund My Cause affiliates participate in a six-tier cash gifting scheme.
Nothing is marketed or sold to retail customers, with all commissions within Fund My Cause paid from one affiliate to another.
Our goal is to create a community of like-minded individuals who also have a desire to make a difference in this world.
Under the leadership of Jim Watts, Fund My Cause's like-minded admins scam each and every affiliate who joins.
Considering the Fund My Cause Facebook group has no less than sixteen admins, Fund My Cause was likely preloaded to the hilt prior to launch.
These preloaded positions see the majority of funds passed up across the matrix tiers to Jim Watts and friends.
Just one position cycling into the sixth matrix tier sucks twenty 0.05 BTC payments from the first tier, so it only takes a few sixth-tier positions to see most of the money passed up.
As with all cash gifting schemes, once recruitment of new Fund My Cause affiliates dries up so too will gifting payments.
The inevitable collapse will begin by new Fund My Cause affiliates ceasing to pay their monthly gifting fee when nobody is recruited under them.
The affiliates above these affiliates stop getting paid, which means they too stop making their monthly gifting payments.
Before you know it this has trickled right up to the top of the company matrix, resulting in the vast majority of Fund My Cause affiliates losing money.