Freedom Equity Group: Too much marketing, no details

Freedom Equity Group operate in the insurance MLM niche.
The company was founded in 2002 and is based out of California in the US.
Heading up Freedom Equity Group are co-founders Ron Bloomingkemper (Chairman), Ron Petrinovich (CEO) and Bill St. Clair (President).

According to Bloomingkemper's corporate bio, he's
been in the life insurance and annuity business for more than 40 years.

As an owner and co-build of National Marketing Alliance, which produced over 40 Billion in face amount of insurance, he helped create one the highest producing companies in the US.
Ron Petrinovich and Bill St. Clair came across with Bloomingkemper from National Marketing Alliance.
In 1992, Bill began his working relationship with Ron Petrinovich, and Ron Bloomingkemper heading up the annuity division of National Marketing Alliance.
Prior to co-founding Freedom Equity Group, Bloomingkeeper is reported to have been promoting A.L. Williams and Primerica. I believe this makes up the bulk of his "more than 40 years" in the insurance and annuity business claim.
I wasn't able to definitively establish why National Marketing Alliance was effectively rebooted as Freedom Equity Group. I did note National Marketing Alliance had troubles with at least one of their insurance partners.
Read on for a full review of Freedom Equity Group's MLM opportunity.
Freedom Equity Group's Products
Freedom Equity Group markets indexed universal life insurance and annuities through third-party partners.

Not having an insurance background, I was clueless as to what an IUL or annuities are. As linked, Investopedia has decent articles explaining the ins and outs of both.
Are Freedom Equity Group's plans competitive or worthwhile? That I can't answer because no specifics are provided on the company's website.
I get that insurance premium's vary from individual to individual, but Freedom Equity Group don't even provide basic information about IULs or annuities.
Freedom Equity Group's Compensation Plan
Rather than provide compensation documentation to the public and prospective affiliates, Freedom Equity Group only focuses on income potential.
I know this because I went through every single "presentation" and "compensation" video provided by the company.
The following analysis of Freedom Equity Group's compensation plan is what I was able to piece together from numerous presentations.
If I've left anything out, it's because Freedom Equity Group are more interested in dazzling prospective recruits with dollar signs than providing actual compensation information.
Freedom Equity Group Affiliate Ranks
There are six affiliate ranks referenced in recent Freedom Equity Group presentations:
Training Representative
Representative
District Manager
Division Manager
Regional Manager
Regional Vice President
I was able to find qualification criteria from 2017 but it was for different ranks. Notably there were ranks higher than Regional Vice President but I wasn't able to confirm they still exist.
What we do learn from the 2017 information is that Freedom Equity Group rank progression is tied to commissionable volume generated via policy sales.
These premiums can be sold to retail customers or recruited affiliates.
Commissionable premium volume is split between personal production and downline production.
Freedom Equity Group rank progression is also tied to individual and team recruitment efforts.
Direct Commissions
Direct commissions are paid on policies taken out by retail customers and personally recruited affiliates.
Training Representatives earn 30%
Representatives earn 35%
District Managers earn 40%
Division Managers earn 45%
Regional Managers earn 55%
Regional Vice Presidents (and possibly above) earn 70%
Note that these are percentages of commissionable volume generated by policy sales, not percentages of policy sales themselves.
Residual Commissions
Freedom Equity Group pays residual commissions as downline overrides, tracked through a unilevel team.
A unilevel compensation structure places an affiliate at the top of a unilevel team, with every personally recruited affiliate placed directly under them (level 1):

If any level 1 affiliates recruit new affiliates, they are placed on level 2 of the original affiliate's unilevel team.
If any level 2 affiliates recruit new affiliates, they are placed on level 3 and so on and so forth down a theoretical infinite number of levels.
Overrides are paid on Regional Vice Presidents found in each unilevel team leg.
Residual commissions are paid on up to six Regional Vice Presidents per unilevel team leg.
the first upline RVP is paid a 14% override
the second upline RVP is paid a 9% override
the third and fourth upline RVPs are paid an 8% override
the fifth and sixth upline RVPs are paid a 7% override
Joining Freedom Equity Group
Freedom Equity Group affiliate membership is $125.
I noted mention of additional "license fees" in marketing videos, which were quoted as costing "two to three hundred dollars".
Although not clarified, I'm assuming these are insurance license fees. They vary from state to state hence the vague figure quoted.
Conclusion
Although I wasn't interested in the MLM opportunity, I still felt that in researching the company I was being covertly put through a marketing funnel.
I believe this is a by-product of Freedom Equity Group's age.
The end result was me wasting time and getting frustrated over not learning what I wanted to know. And I guess the idea is then that I approach whoever introduced me to get the information I actually wanted in the first place.
In 2020 that's not good enough. You can maybe gatekeep detailed compensation details with a summary (which isn't provided), but basic product/service information? Yeah, no.
Outdated marketing tactics designed by perhaps outdated marketers themselves.
Given the lack of specifics provided, Freedom Equity Group's presentations come off as hype marketing that rings hollow.
We believe in fixed, guaranteed no risk products, that offer our clients an opportunity to receive a GUARANTEED LIFETIME INCOME.
In addition to guaranteeing income, corporate Freedom Equity Group presentations also guarantee success.
I'm gonna tell you this, Joe and Susie, you stick with me (and) you will become a Regional Manager.

Pretty much that's a guarantee. You're going to get there with my help. We're gonna do it together. I'm here with you.

The only way you're not gonna get here is you quit.

And if you quit in the first year, Joe and Susie I want you to know this, you quit in the first year you didn't quit 'cause you never even got started.
The reality however is far less… guaranteed. According to Freedom Equity Group's 2018 Income Disclosure Statement;
From January 1 through December 31, 2018, FEG paid cash flow to its sales force at an average of $7,084, which includes commissions on all lines of business to licensed representatives.
$7,084 annually sounds awfully low in spite of all the guarantees Freedom Equity Group makes. And it's a heck of a lot less than income potential provided in Freedom Equity Group presentations.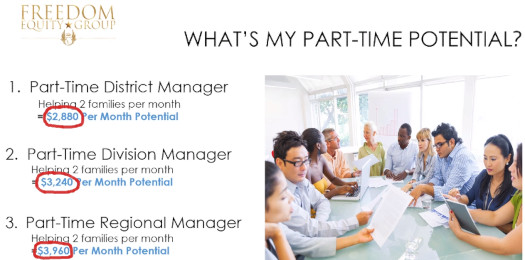 If you want a literal sense of what I'm talking about with the whole marketing funnel thing, have a listen through some of Freedom Equity Group's presentations yourself.
There's plenty of frowning upon "J.O.Bs" and other dated MLM marketing cliches.
The other side-effect of Freedom Equity Group's lack of transparency is that it feels very much like a closed group of affiliates, as opposed to a company trying to sell to the public. By that I mean I'd be surprised to learn the majority of policy holders company-wide were not currently or past Freedom Equity Group affiliates.
The tone of the marketing videos also supports this (plenty of "you get two, they get two, they get two" etc. etc.).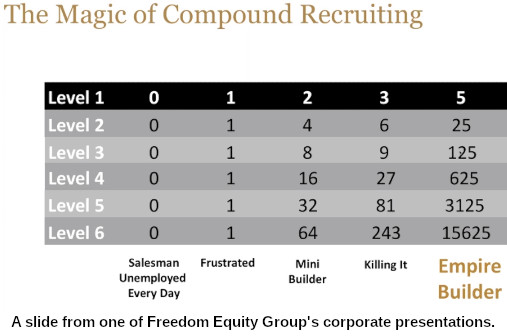 Can't say for sure because of aforementioned transparency issues, but that's the impression I was left with.
Unless getting marketing funneled through a dated "Did you know x% of American households are …" system, might be best to give Freedom Equity Group a miss. The company has a long way to go if it wants to compete in a 21st century marketplace.