Freedom Group Review: Offshore properties & income streams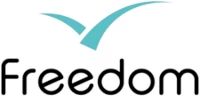 Freedom Group operates in the "hide your assets" MLM niche.
The company doesn't provide a corporate address on its website. Freedom Group's official Facebook page however, is managed from Norway and Northern Cyprus.
Freedom Group represents it operates in Northern Cyprus, Dubai and Spain.
Freedom Group's website domain was privately registered in January 2019.
The company's official FaceBook page was created the same day, so this appears to be when Freedom Group launched.
Heading up Freedom Group are eight co-founders: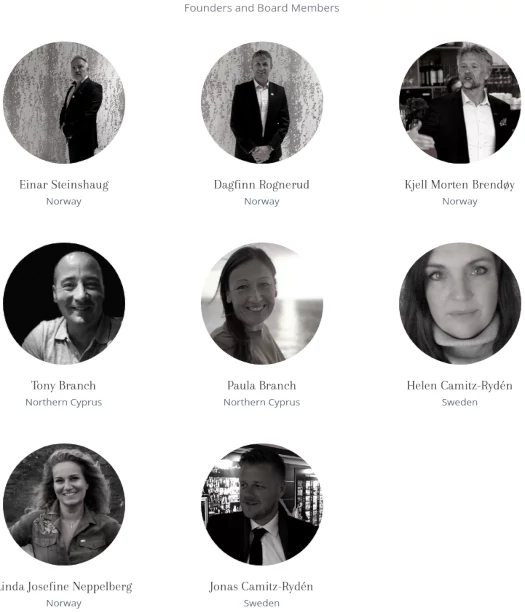 Einar Steinshaug (Norway), currently promoting Better Globe
Dagfinn Rognerud (Norway), also promoting Better Globe
Kjell Morten Brendoy (Norway)
Tony Branch (Northern Cyprus)
Paula Branch (Northern Cyprus)
Helen Camitz-Ryden (Sweden)
Linda Josefine Neppelberg (Norway) and
Jonas Camitz-Ryden (Sweden)
Other than their locations, Freedom Group provides no information on any of their co-founders.
I've filled in what I could find. Whether the remaining Freedom Group's founder's have an MLM history is unclear. This could be due to language-barriers on my part.
As to Einar Steinshaug and Dagfinn Rognerud, BehindMLM reviewed Better Globe in August 2021.
Based on its business model, we strongly suspect Better Globe operates as a pyramid scheme.
Update 10th December 2021 – Via email;
Dagfinn Rognerud is most known for his role in World Games Inc. and has also been involved with Forever Living, PM International, iWowWe, Me2Everyone, Synergy Worldwide, Global Coin Reserve, OneCoin and Darwin International.

Linda Josefine Neppelberg is married to Kjell Morten Brendøy, she has also been involved with Rain International, QubitTech and Nu Skin.
Furthermore, it appears Freedom Group is a spinoff of International Partnership Program (IPP).
From an IPP marketing brochure;
We are an innovative multinational company that provides excellent business opportunity, fantastic teamwork, strong professional support and social networking.

Our property portfolio in North Cyprus totals approximately £450 m including resale and new build, to cater for every type of buyer.

Our consultants also deal with rentals, valuations, property management, building and repairs as well as all logistical requirements from shipping, settling, administration, fights and accommodation.
Sound familiar?
IPP appears to have been rebooted as Vision Group in 2019.
Vision Group (formerly IPP The International Partnership Program) was originally created by the founder and current Chairman Stephan Menzies MRICS.
This is the same year Freedom Group launched.
IPP had strong ties to Better Globe and founder Rino Solberg: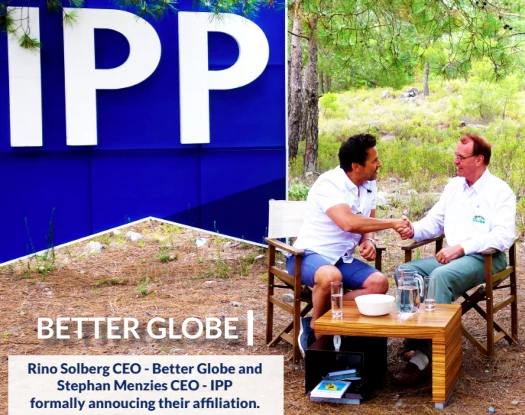 I couldn't find a concrete connection between Solberg and Freedom Group.
Given two Better Globe top earners are in charge of Freedom Group however, I'd be surprised to learn Solberg isn't a silent co-founder, if not running the company outright. /end update
Read on for a full review of Freedom Group's MLM opportunity.
Freedom Group's Products
Freedom Group markets properties in Northern Cyprus.
The company's website details several property "projects" which can be invested in: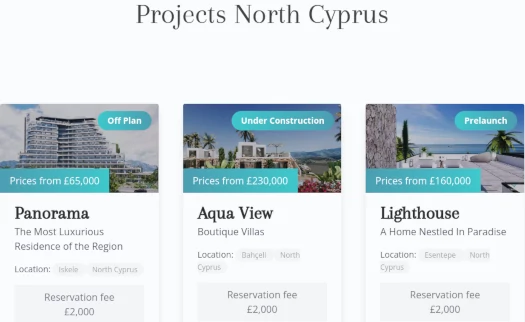 In addition to online listings, Freedom Group markets its projects via "group tours" and "inspection trips".
We invite you to spend 4 days, 5 nights for FREE in sunny, warm North Cyprus to explore the property market and investment opportunities with our trusted developers in a relaxed environment.

We offer personalised inspection trips through our trusted developers to give you the best possible opportunity to find the right property in North Cyprus, Spain and Dubai.
No properties in Spain or Dubai are currently listed on Freedom Group's website.
Freedom Group's Compensation Plan
Freedom Group pays commissions on
the sale of property;
property rentals; and
"various products that are complimentary to" property sales and rentals.
In the event an Freedom Group affiliate signs up and purchase a property, the company's compensation plan states an affiliate "cannot benefit from commission on their first purchase of property.
Note that Freedom Group charges a £250 GBP fee per property sale made.
Property sales and rentals
Freedom Group pays commissions on property sales and rentals via a unilevel compensation structure.
A unilevel compensation structure places an affiliate at the top of a unilevel team, with every personally recruited affiliate placed directly under them (level 1):

If any level 1 affiliates recruit new affiliates, they are placed on level 2 of the original affiliate's unilevel team.
If any level 2 affiliates recruit new affiliates, they are placed on level 3 and so on and so forth down a theoretical infinite number of levels.
Freedom Group caps payable unilevel commissions at ten.
Property sale and rental commissions are paid out as a percentage of collected fees as follows:
level 1 (personally recruited affiliates) – 50%
level 2 – 10%
level 3 – 5%
levels 4 to 8 – 2%
levels 9 and 10 – 1%
Note that Freedom Group don't disclose the total amount the above percentages are taken from (they are not the property sale amount or rent paid by clients).
"Various products" commissions
Freedom Group pays "a one-off commission" on the sale of "various products".
As with the products themselves, no specifics beyond that are provided.
Joining Freedom Group
Freedom Group affiliate membership is free.
If an affiliate earns £2500 GBP in residual commissions (commissions across unilevel levels 2 to 10) annually, Freedom Group charges a £350 GBP fee.
Conclusion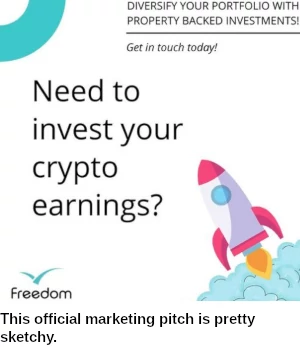 Freedom Group comes across as an MLM company catering to people wanting to hide their money in offshore investments.
You could legitimately want to buy property in Northern Cyprus, a red flag jurisdiction when it comes to MLM due-diligence, but I don't think that's the market Freedom Group are targeting.
I wouldn't at all be surprised if the the "complimentary products" Freedom Group offers, were indeed complimentary to asset shielding.
This probably explains the secrecy surrounding them:
Group B Products: Products that provide P2 with various streams of income. For further information, please contact a member of Freedom Management.

For further information on type B products and how you can increase your income in Freedom, please contact a member of Management of Freedom LLC.
It comes off as incredibly shady. The first two named founders being top earners in a suspected pyramid scheme does nothing for confidence.
My impression is Freedom Group's offering isn't aimed at "outside" retail customers. Rather sales are going to be made via word of mouth, and likely to established marketers, who will invariably sign up as affiliates.
Even if there is a little retail activity going on, selling property in hidey-hole jurisdictions is a difficult marketing pitch for your average person.
If you're not in Freedom Group and reading this, stop and have a think about how you'd market their properties – and to who?
As previously noted, Freedom Group offer free tours (presumably this only covers accommodation). That seems to be the primary marketing tactic used.
Unless you're living in Northern Cyprus, how are you as a marketer going to compete?
If we push all that aside, Freedom Group's compensation plan can work – if the majority of sales are made to retail customers.
With respect to the FTC Act, the company failing to provide product disclosures is a red flag.
Not that they likely care, because as stated Northern Cyprus is a hidey-hole jurisdiction.
The long and the short of it is secrecy and MLM don't go together. Approach with caution.
Update 10th December 2021 – In the comments below, Malthusian has brought to my attention the differentiation between Cyprus and Northern Cyprus.
I initially used both names in the review but have updated it to reflect Freedom Group operating in Northern Cyprus.
Cyprus is a red flag jurisdiction when it comes to MLM due-diligence. The company has no active MLM or MLM related securities fraud regulation.
Northern Cyprus is even worse.
Northern Cyprus, officially the Turkish Republic of Northern Cyprus, is a de facto state that comprises the northeastern portion of the island of Cyprus.

Recognised only by Turkey, Northern Cyprus is considered by all other states to be part of the Republic of Cyprus.

The Turkish Army maintains a large force in Northern Cyprus.

While its presence is supported and approved by the TRNC government, the Republic of Cyprus, the European Union as a whole, and the international community regard it as an occupation force, and its presence has been denounced in several United Nations Security Council resolutions.
Probably not somewhere you'd want to park large sums of legitimately obtained money in.
Evidently that's not Freedom Group's target demographic.