Exxa Review: World Blockchain Forum's fourth wallet Ponzi

Although executive information is provided on Exxa's website, arguably the most important ownership information isn't.
According to Exxa marketing material, SQ2 Fintech owns 25% of the company:

Anthony Lau is the CEO of SQ2 Fintech. He's also the CEO of World Blockchain Forum, which means Lau and WBF owner Sheng Zhao are tied to the company.
World Blockchain Forum has emerged as a Ponzi scheme incubator over the past year or so.

In line with each of World Blockchain Forum's existing schemes, neither Lau or Zhao publicly front Exxa. Instead Danny Pang (right) keeps up appearances as CEO.
Pang featured on BehindMLM late last year, as CEO of Axxa Global.
According to Exxa marketing, the company is a combination of SQ2 Fintech and Axxa Global.
Axxa Global's website currently has an Alexa ranking of over 5 million, suggesting outside of Exxa it has long since collapsed.
Of the three app wallet Ponzi schemes World Blockchain Forum has launched, Cloud Token and S Block are still operational.
The oldest, Plus Token, collapsed a few months ago. Chinese authorities estimate Plus Token's collapse resulted in $2.9 billion in losses.
Read on for a full review of the Exxa's MLM opportunity.
Exxa's Products
Exxa has no retailable products or services, with affiliates only able to market Exxa affiliate membership itself.
Exxa's Compensation Plan
Exxa affiliates invest in pre-generated EXXA tokens, on the promise of returns supposedly derived via a trading bot.

As above, once affiliates have invested in EXXA tokens and parked them with Exxa, advertised returns range from 3% to 9% a month.
Returns are paid in EXXA tokens. Exxa affiliates cash out their tokens via an internal exchange, thus eventually withdrawing more than they initially invested.
Note that Exxa does not public the current internal EXXA token value.
Residual Commissions
Exxa pays residual commissions via a unilevel compensation structure.
A unilevel compensation structure places an affiliate at the top of a unilevel team, with every personally recruited affiliate placed directly under them (level 1):

If any level 1 affiliates recruit new affiliates, they are placed on level 2 of the original affiliate's unilevel team.
If any level 2 affiliates recruit new affiliates, they are placed on level 3 and so on and so forth down a theoretical infinite number of levels.
Exxa caps residual commissions at twenty-one unilevel team levels.
Affiliates are paid residual commissions on returns paid to affiliates placed in their unilevel team.
How many unilevel team levels an Exxa affiliate earns residual commissions on is determined by how many affiliate investors they've personally recruited.
recruit one investing affiliate and earn 100% on level 1 (personally recruited affiliates)
recruit two investing affiliates and earn 100% on level 1 and 50% on level 2
recruit three investing affiliates and earn 100% on level 1, 50% on level 2 and 5% on levels three to fifteen
recruit sixteen investing affiliates and earn 100% on level 1, 50% on level 2 and 5% on levels three to twenty-one
Residual commissions are paid in EXXA tokens.
Community Rewards
Exxa appears to reward ranked affiliates with a percentage of their total unilevel investment volume: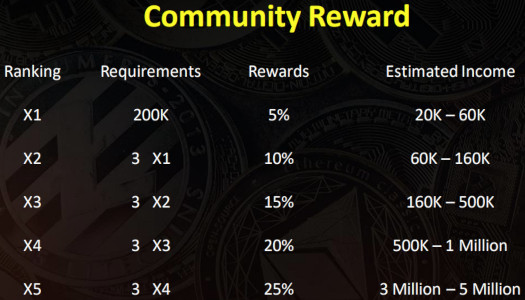 As above, rank requirements start at generating $200,000 in EXXA token investment volume. Higher ranks are obtained by recruiting others who do the same.
Higher ranks correspond with higher downline investment volume percentage payouts.
It is unclear whether Exxa's rank-based estimated income is in USD or EXXA tokens.
Joining Exxa
Exxa affiliate membership is free.
Full participation in the attached income opportunity however requires a minimum $10 investment in EXXA tokens.
Conclusion
World Blockchain Forum's fourth app wallet Ponzi scheme is more of the same.
Exxa represents it generates returns via their DEVO trading bot.
DEVO+ is our AI trading bot which trades cryptocurrencies on your behalf, unaffected by bias and emotion.

Using market indicators and complex trading algorithms, DEVO+ is programmed to trade conservatively and provides a fuss-free way to receive EXXA rewards daily.
Although the name of the bot changes, this is the same script used in every World Blockchain Forum Ponzi scheme.
From a regulatory perspective, Exxa is clearly offering a passive investment opportunity. This constitutes a securities offering.
Exxa and World Blockchain Forum represent they are based out of Singapore.
Securities in Singapore are regulated by the Monetary Authority of Singapore.
A search on MAS' website reveals neither Exxa or World Blockchain Forum are registered. This means that Exxa's MLM opportunity is operating illegally in Singapore.
Indeed, Exxa isn't registered anywhere in the world to offer securities – meaning it's operating illegally in any country it solicits investment in.
At the time of publication Alexa pegs Canada (23%), India (11%) and Russia (9%) as the top three sources of traffic to Exxa's website.
The only reason an MLM company would opt to operate illegally, is if they aren't doing what they say they are.
Which brings us to the Ponzi nature of Exxa's business model.
EXXA tokens are generated out of thin air and, other than tracking investment into the company, serve no purpose.
EXXA tokens are completely worthless, outside of whatever internal value Exxa management assign it.
Withdrawal requests returns are paid as long as new investment can cover them. Once there's a deficit between the two amounts a collapse begins, eventually resulting in Exxa pulling the plug.
This is precisely what happened with Plus token, and will eventually happen in World Blockchain Forum's other Ponzi schemes.
As with all Ponzi schemes, when Exxa inevitably collapses the majority of investors will lose money.
Additionally, that WBF continues to launch new Ponzi schemes every few months should also be setting off alarm bells.