Extreme Profit Machine Review: $10 shares & identity theft

As per the Extreme Profit Machine homepage, the company is 'developed and maintained by B Thune Networks LLC'.
A photo of Ben Thune appears above the message, with Thune presumed to be running Extreme Profit Machine.
Further research reveals the "Ben Thune" photo present on the Extreme Profit Machine website is actually that of Joseph Richards: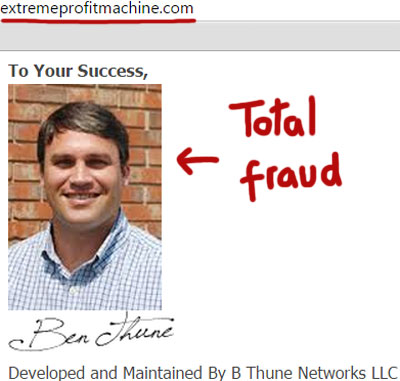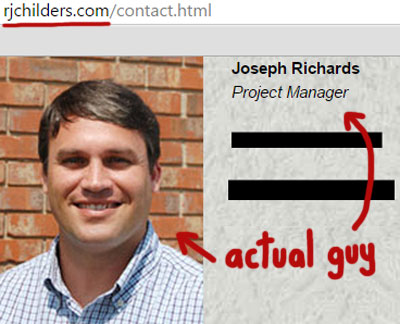 Richards is a Project Manager of RJ Childs Contracting INC., a commercial project contracting firm based out of Cartersville, Georgia.
Ben Thune and Ben Thune Networks LLC, as represented on the Extreme Profit Machine website do not exist.
The Extreme Profit Machine website domain meanwhile was registered on the 27th of September 2014, however the domain registration is set to private.
As always, if an MLM company is not openly upfront about who is running or owns it, think long and hard about joining and/or handing over any money.
The Extreme Profit Machine Product Line
Extreme Profit Machine has no retailable products or services, with affiliates only able to market Extreme Profit Machine affiliate membership itself.
The Extreme Profit Machine Compensation Plan
The Extreme Profit Machine compensation plan sees affiliates sign up and invest in $10 "shares".
Each share invested in pays out a passive ROI, with Extreme Profit Machine claiming ROIs are paid out
Referral commissions are paid on shares invested in by recruited affiliates, paid out down five levels of recruitment (unilevel):
level 1 (personally recruited affiliates) – 15%
levels 2 and 3 – 5%
levels 4 and 5 – 3%
Joining Extreme Profit Machine
Affiliate membership with Extreme Profit Machine is free, with investment in shares adding $10 in costs per share invested in.
Extreme Profit Machine advertise that any affiliates who sign up are awarded one complimentary $10 share position.
Conclusion
To really take advantage of this income stream, you will need to purchase as many premium shares as you can. This really sets your passive income on auto-pilot!
The fraud inherent within Extreme Profit Machine begins with the stealing of a photo and fictional "Ben Thune" admin.
It then continues on throughout the Extreme Profit Machine compensation plan, which is the simplest form of securities fraud.
Affiliates invest in $10 shares and are then paid ROIs out of subsequently invested funds. This qualifies Extreme Profit Machine as a Ponzi scheme.
As to the free $10 share offered to new affiliates, new funds need to enter the scheme to pay out, so these free shares are likely hamstrung in some way.
Obvious methods that come to mind are a drastically reduced daily ROI payout on free shares, or withdrawal restriction (at least $10 of a free share ROI required to be reinvested back into the company).
Regardless of what Extreme Profit Machine has put in place, he or she cannot pay out more than is paid in. And as with all Ponzi schemes, once new affiliate recruitment slows down, so too will new funds entering the scheme.
At that point the anonymous Extreme Profit Machine admin does a runner, with the majority of investors losing out.
Q: What about refunds?

A: We are not able to offer refunds to anyone.
Worse still this same admin appears to be a serial scammer, with various third-party schemes they are involved in also pitched to Extreme Profit Machine affiliates:
Incredible Member To Member Bonus Cash Opportunities and Joint Ventures!
What with "member to member" code for cash gifting in MLM underbelly circles, it's pretty obvious the opportunities pitched are going to be just as fraudulent as Extreme Profit Machine itself.