Biz Power Extreme Review: Another recruitment scam

Biz Power Extreme launched on the 2nd of January 2012 and is based in the US state of Florida.
Unlike most matrix-based MLM opportunities, Biz Power Extreme name its admin as a one Mr. Paul Skulitz.
Skulitz appears to have been a member of AutoXTen (source) and at one point was promoting the 'Mega 10 Success' business opportunity.
Both of these opportunities are matrix based and offer training tools with no retail offerings. The model used by these two companies appears to be the inspiration behind Skulitz's company Biz Power Extreme.
As late as January 4th 2012, Skulitz was promoting another MLM opportunity, Skin La-La on his personal blog. From all appearances, Biz Power Extreme appears to be a side project of Skulitz's rather than a primary business opportunity he is focusing on.
One might even be tempted to suggest that Biz Power Extreme is nothing more than a feeder program for Skulitz's Skin La-La business.
The Biz Power Extreme Product Line
Biz Power Extreme offer no retail products meaning you have to join the company and pay for membership before receiving anything from the company.
Once membership fees are paid, Biz Power Extreme members receive
templated capture pages
access to an autoresponder
weekly training
credit to place banner, text and login ads on an inhouse advertising network
a bunch of marketing guides
access to 75 products with full resale rights
'Deductr' mobile phone tax calculator software
The Biz Power Extreme Compensation Plan
The Biz Power Extreme compensation plan revolves around a 3×8 matrix. Starting with you at the top, three legs branch out from under you and each of these legs in turn branches out into three more legs – down 8 levels for a total of 9840 member positions.
As you fill up your Biz Power Extreme matrix, the first few levels will start to look something like this: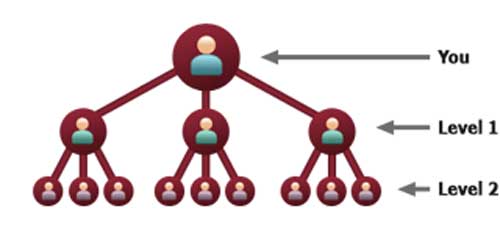 Within this 3×8 matrix structure, Biz Power Extreme pay members recruitment and matrix  commissions.
Recruitment Commissions
As a Gold Biz Power Extreme member, the company will pay you either
$5 a month for each member you bring into Biz Power Extreme on a monthly membership or
a $60 once off commission for each member you bring into Biz Power Extreme on a yearly membership
As a Diamond Biz Power Extreme member, the company will pay you either
$7.50 a month for each member you bring into Biz Power Extreme on a monthly membership or
a $90 once off commission for each member you bring into Biz Power Extreme on a yearly membership
Matrix Commissions
For each member on your matrix (either recruited directly by you or your upline/downline through spillover), Biz Power Pro will pay you a monthly commission.
These matrix commissions depend on which level of your matrix the member in question sits on:
Level 1 = $3 per member (3 members total, $9)
Level 2 = $3 per member (9 members total, $27)
Level 3 = $2 per member (27 members total, $54)
Level 4 = $2.50 per member (81 members total, $202.50)
Level 5 = $3 per member (243 members total, $729)
Level 6 = $2 per member (729 members total, $1458)
Level 7 = $1.50 per member (2187 members total, $3280)
Level 8 = $2 per member (6561 members total, $13,122)
Note that only Diamond members are able to receive payouts on the whole 8 levels of the matrix. Gold members are only paid commissions down to level 5.
Joining Biz Power Extreme
Biz Power Extreme offers two paid memberships to those wishing to join.
Gold membership costs $29.95 a month and Diamond membership is $39.95 a month.
Both memberships are available for purchase at a yearly level which is discounted at 10% ($323.46 for Gold and $431.46 for Diamond).
Conclusion
With no retail offering there are no products being sold with the Biz Power Extreme Review which means that it's membership itself to the company that is being sold.
100% of the commissions paid out by Biz Power Extreme are derived from either yearly or monthly membership fees paid by members throwing the legality of Biz Power Extreme's business model into extremely questionable doubt.
Despite these concerns however, Biz Power Extreme insist they are a legal business. From the company's FAQ page:
BPX is a legal business licensed in the State of Florida. BPX is owned and operated by Paul Skulitz of Sarasota Florida.
I'm assuming this statement is based on Biz Power Extreme's assertion that
there are no sponsorship requirements to get paid through the matrix.
With 100% of the commissions being derived from membership fees however, whilst it is true that personally a member doesn't have to recruit to get paid, the fact of the matter stands that every member inside a Biz Power Extreme matrix has been recruited by somebody.
Whether it's your upline recruiting or yourself, the point is that somebody was recruited in order for you to get paid.
So, given all this what's my final conclusion on the Biz Power Extreme MLM opportunity?
Over to you Paul Skulitz, owner of Biz Power Extreme:
(Timestamp 1:24) – If you hear of somebody telling you that you can get into a business, do absolutely nothing and make thousands of dollars, do this:

Run as fast as you can. Run as fast as you can away from them.
Those looking to join Biz Power Extreme would do well to take Skulitz advice and perhaps invest in a good pair of running shoes instead.