VSN Extreme Review: Viral Success Network reboot

VSN Extreme launched in August 2013 and is headed up by "creators" Desmond Akil Smith and Dana LeBleu. On her Facebook page, LeBleu claims to be "in a relationship with Desmond Akil Smith", so Smith and LeBleu (below right) appear to be a couple.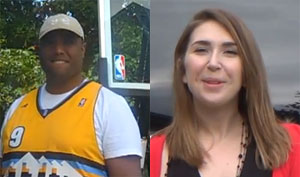 On the VSN Extreme website it is claimed that
after successfully pioneering the traffic industry for over a year, Desmond Akil Smith and Dana LeBleu have personally created massive online income streams and have built a huge following of dedicated loyal followers.

They have personally helped thousands of marketers go from "zero to wealthy" in as little as a few weeks.
Smith appears to have joined Empower Network in late 2011, with affiliates in his downline claiming he  and claims to have earned '$26k with Empower Network in just 90 days'.

Smith went on to launch the Viral Success Network in 2012, which is what VSN Extreme appears to be the latest incarnation of.
Viral Success Network cost between $49 to $200 ($100 monthly) and was attached to a single level 40% commissions affiliate opportunity.
VSN Extreme appears to be a business reboot, with Smith ditching the single-level affiliate plan for an MLM business model.
Where VSN Extreme as a company are located is unclear. On the VSN Extreme website an address in the US state of Virginia is provided for "VSN Extreme, LLC".
VSN Extreme's Terms and Conditions however state that
These Terms and Conditions shall be construed in accordance with and governed by the laws of the United States and the State of California.
Read on for a full review of the VSN Extreme MLM business opportunity.
The VSN Extreme Product Line
VSN Extreme is one of the largest lead generating system online, as well as in depth educational training products and services for online marketers.
VSN Extreme's product offering comes in three tiers:
VSN Gold ($50) – digital "training products"
VSN Platinum ($100 a month) – 'exclusive courses, trainings, and systems'
VSN Titanium (no price provided) – a "traffic package"
For some reason VSN Extreme do not provide the price of VSN Titanium on their website.
The VSN Extreme Compensation Plan
VSN Extreme's compensation plan revolves around the purchase of one of their three product tiers, with affiliates passing up sales as they make them.
VSN Extreme uses a perpetual 1-up compensation plan, requiring affiliates pass up their second, fourth and every fifth sale thereafter to the affiliate who recruited them.
In turn, any personally recruited affiliates must also pass up these sales (provided they are not passed up as per the system above).
Joining VSN Extreme
Affiliate membership to VSN Extreme is either free or $19.95 a month.
$19.95 a month affiliates pay a fee to earn commissions, with free affiliates being required to pass up at least 5 sales each month before they qualify for commissions for that month.
Conclusion
VSN Extreme's compensation plan is an obvious nod to that of Empower Network, however it is additionally problematic in that there appears to be no retail offering.
Every person who signs up for VSN Extreme is provided access to the compensation plan, either paying $19.95 to collect commissions or passing up five sales every month.
Retail customers cannot earn commissions so with free VSN Extreme membership being able to participate in the compensation plan, that excludes them from being retail customers.
Additionally, this setup also triggers a red-flag in that it's quite obviously "pay to play".
I also understand that I'm becoming an affiliate, and I can literally 'steal' the ability to re-sell this high-value VSN Extreme "Traffic Gold Mine" to my prospects and earn 100% commissions when my customers PAY ME directly, when I join the optional affiliate program for just $19.95/mo (or pass up 5 sales per month, to earn as an unpaid affiliate.
Affiliates pay $19.95 a month solely to qualify themselves to earn commissions.
As per the marketing copy above, taken from the VSN Extreme affiliate signup page (there is no separate customer signup page), affiliates pay eachother which is yet another red flag.
In paying eachother VSN Extreme itself is not selling anything, to affiliates or otherwise. Affiliates pay $19.95 a month to participate, and then gift their monthly fees to eachother.
Free affiliates can also participate once they pass up enough gifts each month.
This gifting mechanism is further re-enforced by VSN Extreme's "no refunds" refund policy:
VSN Extreme is a digital product and we offer high quality clicks to your website, so due to the high cost of delivery, as well commissions being paid to each affiliate for new members referred, we therefore have a strict no refund policy.
And if anyone is wondering how the company makes its money (other than charging everyone $19.95 to participate), typically in a perpetual pass-up scheme the company positions itself as the top of the pass-up chain. Thus as the company grows over time, more and more pass-ups are handed up to the company owner's position.
Lastly, as with Empower Network, which Desmond Akil Smith has obviously modelled VSN Extreme's compensation plan on, the company also strongly runs the risk of being full of affiliates using "the system" to promote itself.
VSN Extreme themselves use this as a marketing point to attract new affiliates:
We have many hundreds of affiliates who've originally joined to promote their own product or service, yet have since gone on to earn 6 figure per year incomes simply by reselling solely VSN Extreme.
This is yet another red flag as affiliates primarily using the system to market the system (income opportunity), guarantees that outside of the business itself, the company's products hold no retail value (putting aside the fact that they don't appear to be available at a retail level in anycase).
All in all, as with any scheme of this nature, once those at the bottom stop paying their fees those above them stop receiving their monthly gifts. They too stop paying their fees and before you know it the scheme has collapsed.