Essante Organics Review: Toxic-free products & autoship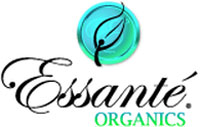 Essante Organics (pronounced "uh-san-tee") was launched in 2009 and operate in the health and wellness MLM niche.
The company is based out of the US state of Arizona, and is headed up by Founder and CEO, Michael Wenniger (below right).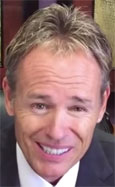 As per Wenniger's Essante Organics corporate bio;
Back in the 1980s, Michael found the direct sales industry and, with no business experience, enrolled 35 people who exploded into 75,000 people during their 3 year momentum phase.

In the 80s, Mr. Michael Wenniger earned over 14 million dollars because he said yes to direct sales and took action. Direct sales has been in his blood ever since.

In 2004 Michael Wenniger parlayed his multi-millions and reached a new found level of success with his second business, Fun Unlimited, a venture with 2 products: Power Pops, the "Eat Candy & Lose Weight" lollipop and Kid's Pops, the "Vitamins On A Stick" lollipop.

To date over 40 million Power Pops have been sold.
I did try to work out what company Wenniger made the $14 million in back in the 80s, but other than learning he launched his own opportunity in the 80s, came up blank.
Not sure why that's a big secret considering the "I made $14 million in the 80s" marketing material is everywhere.
This corporate video from Wenniger himself also provides some insight into the company (44 mins in length).
Essante Organics itself meanwhile seems to have had a good run. I didn't find any legal issues or related regulatory actions.
Read on for a full review of the Essante Organics MLM business opportunity.
The Essante Organics Product Line
Essanté Organics, the first USA based direct sales company to offer 100% certified ToxicFree commodities (daily use products) on a global scale.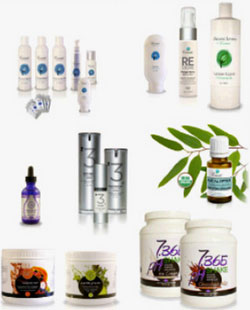 The combination of "toxic-free" and "organic" is the major driving force behind Essante Organic's product line.
A full product catalogue is available on the Essante Organics website, with the company marketing a range of products in the following categories:
nutrition and fitness
power pops & kids pops (seems to be an integration of the Fun Unlimited product line)
body & spa
home care
baby care and
therapeutic essential oils
Retail and wholesale pricing for each product is readily presented on the Essante Organics website under the menu "shop ToxicFree".
The Essante Organics Compensation Plan
The Essante Organics compensation plan is not presented on the company website (to the extent that I couldn't find it).
Compensation plan information is however hosted on the Essante Organics domain, but is seemingly only accessible via a Google search (I used the search string "compensation pdf site:essanteorganics.com").
Essante Organics Affiliate Ranks
There are three affiliate ranks within the Essante Organics compensation plan.
Along with their respective qualification criteria, they are as follows:
Silver – recruit at least two affiliates, both of which are generating a minimum 75 PV a month
Gold – recruit and maintain at least four Silver ranked affiliates
Platinum – recruit and maintain at least four Gold ranked affiliates
Note that PV stands for "Product Volume", which is sales volume generated by an affiliate's retail sales orders or own purchase of Essante Organics product.
Commission Qualification
Essante Organics have several tiers of commission qualification as follows:
0-39 PV a month = retail commissions only
40-74 PV a month = retail commissions and 5% binary commissions
75-99 PV a month = all commissions available minus the Expansion Race Bonus
100+ PV a month = all commissions available
Retail Commissions
A retail commission of 30% is paid out to Essante Organics affiliates on all retail customer orders.
Recruitment Commissions
Essante Organics affiliates are directly paid to recruit new affiliates.
How much of a commission is paid out is determined by how much a new Essante Organics affiliate pays when they sign up:
Everyday Basics Pack affiliate ($199) = $50 commission per affiliate recruited
Elite Pack affiliate ($599) = $100 commission per affiliate recruited
Express Start Bonus
The Express Start Bonus is a recruitment bonus, paid out when an Essante Organics affiliate recruits four affiliates who in turn recruit two new affiliates of their own each.
If the above Express Start Bonus qualification criteria is met within an affiliates first 30 days of joining Essante Organics, a $500 bonus is paid out.
Residual Commissions
Residual commissions in Essante Organics are paid out via a binary compensation structure.
A binary compensation structure places an affiliate at the top of a binary team, split into left and right: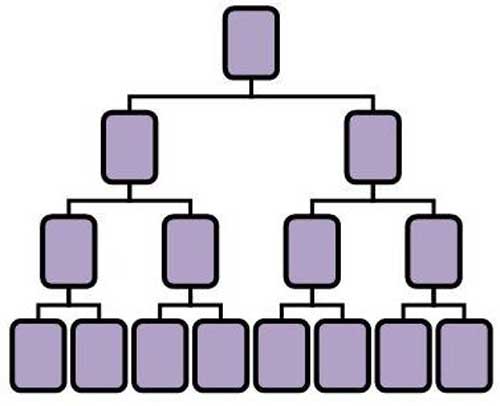 Positions within the binary team are filled via direct and indirect recruitment, with sales volume from product purchases and sales tracked and used to calculate commission payouts.
At the end of each week, an Essante Organics affiliate is paid 10% of the weaker side's sales volume.
Paid out volume is flushed from both sides of the binary, with the process repeating itself week after week.
Binary Earnings Match
Essante Organics affiliates are paid a percentage matching bonus on binary commissions earnt by personally recruited affiliates.
How much of a percentage match is paid out is determined by an affiliate's ranks:
Silver – 25% matching bonus
Gold – 50% matching bonus
Platinum – 100% matching bonus
Expansion Race Bonus
The Expansion Race is a bonus pool made up of 1% of Essante Organic's global sales volume.
To qualify for an equal share in the bonus, Essante Organics affiliates must have a downline generating at least $50,000 a month on both sides of their binary team.
Note that this is a lifetime qualification, active for the life of an Essante Organics affiliate account.
I also note that shares in the Expansion Race pool are only open "the first 50 Essante Organics affiliates" who qualify in any given country.
Given that this bonus is still present in the Essante Organics compensation plan material however, I'm assuming the quota of fifty affiliates has not yet been reached in all countries Essante Organics operate in.
Joining Essante Organics
Affiliate membership with Essante Organics is tied to the purchase of an affiliate pack:
Everyday Basics Pack – $199
Elite Pack – $499
The primary difference between these affiliate packs is products included in the pack and rank qualification.
The Everyday Basics Pack qualifies an Essante Organics affiliate at the Silver rank for 30 days. The Elite pack qualifies an affiliate at the Silver rank for 60 days.
Conclusion
There's no question that Essante Organics has a robust product line that is readily retailable.
If I were to write about all of Essante Organic's offered products, there's enough material for a separate article entirely.
The products themselves appear to be legitimate, targeting consumers who are after toxic free organic lines.
As to the compensation plan, to their credit the Essante Organics business model is straight-forward and easy to comprehend. It avoids the overly complex pitfalls a lot of established MLM opportunities have in their plans, being easily explainable to a prospective affiliate.
That said it would be nice for the plan itself to be readily presented on the Essante Organics website. A link in the "company" or "business suite" menus would easily remedy that.
Getting into the nuts and bolts of the compensation plan, a few compliance red flags come to mind.
First and foremost is the commission paid out on the affiliate packs.
Retail customers aren't going to purchase these packs, meaning this is a defacto recruitment commission. When combined with the recommended 75 PV a month autoship, this lends itself to chain recruitment.
The way autoship is marketed and integrated into the Essante Organics compensation plan was also a point of concern.
As per their own corporate marketing material, here's how Essante Organics recommend affiliates do when they sign up:

Purchase an affiliate pack and immediately sign up for a minimum 75 PV a month autoship order.
The binary commissions example in the Essante Organics compensation plan material also only takes into account recruited affiliates on autoship.
Why is all of this an issue?
It detracts away from retail sales and potentially opens the door for Essante Organics affiliates to focus on paying their monthly autoship and then solely focusing on recruiting others who do the same.
Retail sales qualifiers in the compensation plan (both in terms of commission qualification and rank advancement) would alleviate this issue, yet are conspicuously absent.
Which is a shame, as in researching Essante Organics I got a sense that, at least on a corporate level, you've got a company here that truly believe the products they are selling are both marketable and viable.
Take for example Founder and CEO Michael Wenniger's YouTube channel, through which he takes a hands-on approach to marketing Essante Organic's products.
And there's plenty more videos like that on the channel, with Wenniger's approach to marketing Essante products hopefully reflected in affiliate training and support.
That this is let down by a focus on affiliate qualifying for commissions via autoship at the possible expense of retail is thus disappointing.
I'll also make note of potential "pay to play" issues, with both affiliate packs commission qualifying an affiliate based on nothing else than their payment of affiliate fees.
Commission qualification in MLM should always be based on sales performance, rather than how much an affiliate spends when they sign up.
All of that said, it is entirely possible to qualify for commissions in Essante Organics via retail sales. To that end potential affiliates are advised to check with their potential upline as to what their monthly retail PV is (note that this is not an affiliate's own purchase of product).
If the upline is qualifying for commissions with a 75-100 PV monthly autoship order, is earning commissions mostly from affiliates who are doing the same and suggests you immediately sign up for autoship if you join – then you might very well be looking at a product-based pyramid scheme in action.
Do your due diligence and proceed accordingly. There's potential in Essante Organics but the compensation plan does leave itself open to autoship recruitment abuse.