EmpiresX Review: 1% a day BTC & ETH Ponzi scheme

EmpiresX provides no information on its website about who owns or runs the company.
EmpiresX's website domain ("empiresx.com") was privately registered on December 1st, 2019.
Despite being set to English, certain elements on EmpiresX's website still show up in Portuguese:
This suggests whoever is running EmpiresX is fluent in Portuguese.
Further research reveals EmpiresX marketing material crediting Emerson Pires and Flávio Gonçalves as co-founders of the company.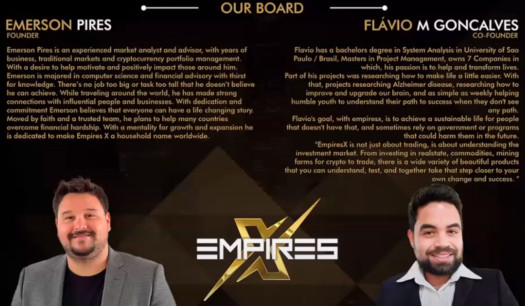 According to his LinkedIn profile Emerson Pires is based out of Florida in the US.
BehindMLM first came across Emerson Pires in our comments section. Back in 2018 Pires showed up to defend the Mining Capital Coin Ponzi scheme.
Apperently everyone is misguided and have not done their research correctly.

Instead of speaking about any mlm company in the market why not do actual investigation such as actually speaking to owners and getting the full truth and proof of a a company before jumping into conclusions. Please read your own reviews behindmlm.
As an early investor, Pires likely made money. Mining Capital Coin collapsed by the end of 2018.
Possibly due to language barriers, I was unable to establish Pires' involvement in any other MLM opportunities.
Flavio Goncalves is purportedly based out of Brazil. Same issue with language-barriers.
Update 5th June 2021 – BehindMLM reader Semjon has tied Flavio Goncalves to the Brazilian MLM software company Technology2u.
It seems Technology2u ran out of scams to sell their services to so, with the help of Emerson Pires, decided to start their own.
For more information refer to comment #1 below. /end update
Read on for a full review of EmpiresX's MLM opportunity.
EmpiresX's Products
EmpiresX has no retailable products or services, with affiliates only able to market EmpiresX affiliate membership itself.
EmpiresX's Compensation Plan
EmpiresX affiliates invest $200 or more in bitcoin or ethereum, on the promise of an advertised "up to 1%" daily ROI.
Affiliates invest $200 and receive up to 0.6% a day
Investors invest $400 and receive up to 1% a day
These investment tiers should not be confused with "affiliate investors" below, used to refer to EmpiresX affiliates who have invested.
Note EmpiresX charges a 20% withdrawal fee made on withdrawals within an affiliate's first month.
EmpiresX Affiliate Ranks
There are seven affiliate ranks within EmpiresX's compensation plan.
Along with their respective qualification criteria, they are as follows:
Rank 1 – invest $500 and recruit at least one EmpiresX affiliate investor
Rank 2 – invest $1000 and recruit at least two EmpiresX affiliate investors
Rank 3 – invest $1500 and recruit at least three EmpiresX affiliate investors
Rank 4 – invest $2000 and recruit at least four EmpiresX affiliate investors
Rank 5 – invest $3000 and recruit at least five EmpiresX affiliate investors
Rank 6 – invest $4000 and recruit at least six EmpiresX affiliate investors
Rank 7 – invest $5000 and recruit at least seven EmpiresX affiliate investors
Referral Commissions
EmpiresX pays referral commissions via a unilevel compensation structure.
A unilevel compensation structure places an affiliate at the top of a unilevel team, with every personally recruited affiliate placed directly under them (level 1):

If any level 1 affiliates recruit new affiliates, they are placed on level 2 of the original affiliate's unilevel team.
If any level 2 affiliates recruit new affiliates, they are placed on level 3 and so on and so forth down a theoretical infinite number of levels.
EmpiresX caps payable unilevel team levels at nineteen.
Referral commissions are paid out as a percentage of funds invested across these nineteen levels as follows:
level 1 (personally recruited affiliates) – 5%
level 2 – 4%
level 3 – 3%
level 4 – 2%
levels 5 to 19 – 1%
Career Bonus
Using a second set of affiliate ranks, EmpiresX rewards affiliates for encouraging others to invest.
Bronze Trader (generate $16,000 in unilevel team investment volume) – receive a "ledger"
Silver Trader (generate $48,000 in unilevel team investment volume) – receive a "smart watch"
Gold Trader (generate $64,000 in unilevel team investment volume) – receive an iPad
Sapphire Trader (generate $480,000 in unilevel team investment volume) – receive a "travel voucher"
Emerald Trader (generate $1,600,000 in unilevel team investment volume) – receive a Rolex watch
Emerald X Trader (generate $3,200,000 in unilevel team investment volume) – receive a "compact car"
Ruby Trader (generate $11,200,000 in unilevel team investment volume) – receive a "luxury sedan"
Ruby X Trader (generate $16,000,000 in unilevel team investment volume) – receive a "luxury crossover"
Diamond Trader (generate $48,000,000 in unilevel team investment volume) – receive an "exotic car"
Double Diamond Trader (generate $80,000,000 in unilevel team investment volume) – receive "sports cars"
Joining EmpiresX
EmpiresX affiliate membership is tied to an initial $200 or $400 investment.
The difference between these two investment tiers is income potential.
Note that EmpiresX solicits investment in bitcoin and ethereum.
EmpiresX Conclusion
EmpiresX represents it generates external revenue via "software".
With our software, your return is guaranteed, yielding up to 30% profit per month.
Supposedly EmpiresX's trading activities are overseen by the "master trader" Joshua Greg.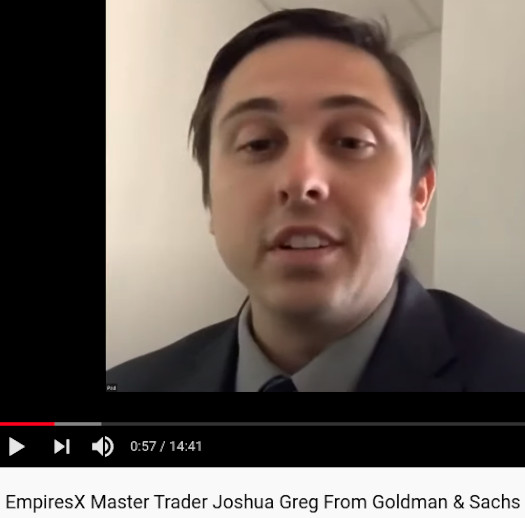 As above, Greg is being credited as either working at or working for Goldman Sachs.
Outside of EmpiresX Greg doesn't have a digital footprint. This is a red flag, suggesting a bogus name is being used.
What we do know is the individual playing Joshua Greg has an American accent. Whether he's in the US or offshore though is unclear.
As part of their marketing efforts, EmpiresX provides affiliates with trading reports in their backoffice.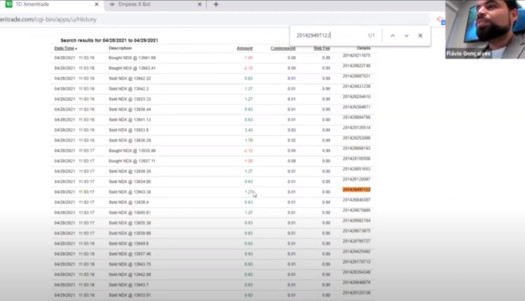 Two important points need to be stressed:
This is not evidence of EmpiresX actually using external revenue to pay withdrawals.
Social media marketing is not a substitute for registering with financial regulators and providing audited financial reports.
By their own admission, EmpiresX is running a passive investment MLM opportunity:
Sign up, purchase the plan, add funds and put the robot to work. Then just sit back and watch the profit be deposited in your account.
This constitutes a securities offering, requiring EmpiresX and its executives to register with financial regulators.
In the US that's the SEC, in Brazil it's the Securities Commission.
A quick check of the SEC's Edgar database reveals neither EmpiresX, Emerson Pires and Flávio Gonçalves are registered.
EmpiresX fail to provide evidence they have registered with Brazil's Securities Commission, or a financial regulator in any other jurisdiction.
This means that at a minimum, EmpiresX is committing securities fraud.
MLM companies commit securities fraud when they aren't doing what they claim to be. With respect to EmpiresX, this is generating external revenue to pay withdrawals via trading.
The only verifiable source of revenue entering EmpiresX is new investment.
Using new investment to pay a daily return makes EmpiresX a Ponzi scheme.
As with all MLM Ponzi schemes, once affiliate recruitment dries up so too will new investment.
This will starve EmpiresX of ROI revenue, eventually prompting a collapse.
The math behind MLM Ponzi schemes guarantees that when they collapse, the majority of participants lose money.
Update 1st December 2021 – Following non-payment of withdrawals for a month and a half, BehindMLM has called EmpiresX's collapse.
Update 19th January 2022 – EmpiresX has announced it is shutting down.
Update 7th 2022 – The SEC has sued Emerson Pires, alleging at least $8 million in damages.
The lawsuit pertains to Mining Capital Coin, a Ponzi scheme Pires co-founded in late 2017.