CoopCrowd Review: David T. Rosen's 2019 gifting scheme

CoopCrowd provides no information on its website about who owns or runs the business.
CoopCrowd's website domain ("coopcrowd.com") was first registered in 2011. The domain registration was last updated in January 2019.
David Rosen is listed as the owner of the domain. Through the Wayback Machine I was able to verify that CoopCrowd's domain was for sale in 2018.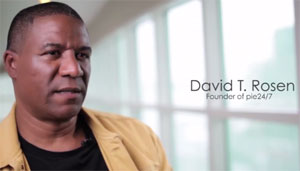 This suggests that Rosen (right) acquired the domain on or around January 2019.
David T. Rosen first popped up on BehindMLM's radar in 2015, as founder of the PIE 24/7 pyramid scheme.
In early 2018 Rosen launched Cooperative Crowdfunding, a matrix-based gifting scheme. This was followed by 50/50 Crowdfunding in late 2018.
On or around mid 2019 Rosen appears to have rebooted Cooperative Crowdfunding as CoopCrowd.
Read on for a full review of CoopCrowd's MLM opportunity.
CoopCrowd's Products
CoopCrowd has no retailable products or services, with affiliates only able to market CoopCrowd affiliate membership itself.
CoopCrowd's Compensation Plan
CoopCrowd affiliates make recurring payments. These payments are gifted to other CoopCrowd affiliates.
In turn the payments also qualify the affiliates to receive gifting payments from other CoopCrowd affiliates.
CoopCrowd tracks gifting payments via a 3×10 matrix.
A 3×10 matrix places an affiliate at the top of a matrix, with three positions directly under them: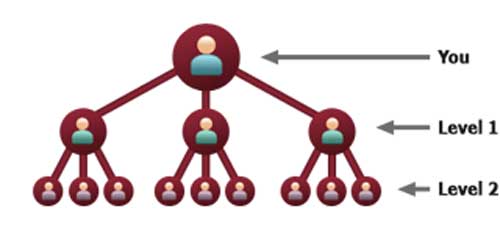 These three positions form the first level of the matrix. The second level of the matrix is generated by splitting each of these first three positions into another three positions each.
Levels three to ten of the matrix are generated in the same manner, with each new level housing three times as many positions as the previous level.
Positions in the matrix are filled via direct and indirect recruitment of CoopCrowd affiliates.
Payments made by affiliates placed in the matrix are gifted as follows:
payments made on level 1 pay 10%
payments made on levels 2 to 4 pay 5%
payments made on level 5 pay 2.5%
payments made on level 6 pay 5%
payments made on levels 7 and 8 pay 2.5%
payments made on level 9 pay 5%
payments made on level 10 pay 7.5%
Joining CoopCrowd
CoopCrowd affiliate membership is tied to fee payments made monthly, every eighty-four days or annually.
$28 every 28 days
$84 every 84 days
$365 every 365 days
Regardless of which payment method is used, an unspecified admin fee also applies.
Conclusion
Under the guise of giving and receiving donations, CoopCrowd is David Rosen's latest gifting scheme.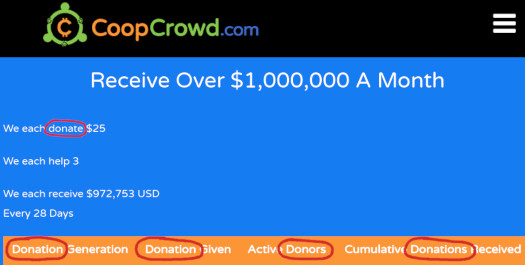 What distinguishes legitimate donations from CoopCrowd's gifting payments, is that legitimate donations don't qualify you to receive donations from other donors.
That's gifting. And it's illegal the world over.
Furthermore, a quick search reveals CoopCrowd might be a reboot of a similarly named gifting scheme Rosen launched in 2017.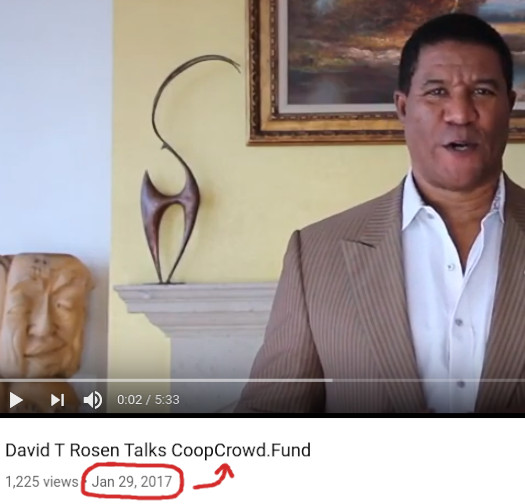 It appears launching gifting scams is an annual thing for Rosen.
The reality of gifting schemes is those who run them and those who get in early (admin friends), walk away with most of the money.
In CoopCrowd this occurs due to matrix placement. Rosen and friends place themselves at the top of the company-wide matrix, and thus receive a slice of all gifting payments.
And that's on top of the undisclosed admin fees Rosen pockets too.
As with all gifting schemes, in order for Rosen and friends to make this money, everyone else has to lose it.
Once recruitment dies off kaboom. Game over and the majority of CoopCrowd affiliates lose money.
See you next year?
Update 13th March 2022 – For his 2022 scam, David Rosen has rebooted CoopCrowd with cryptocurrency.