Cooperative Crowdfunding Review: 3×10 matrix cash gifting

Cooperative Crowdfunding provide no information on their website about who owns or runs the company.
Blog posts on the Cooperative Crowdfunding website are authored by "David T. Rosen".
Further research reveals Cooperative Crowdfunding affiliates naming Rosen as founder of the company.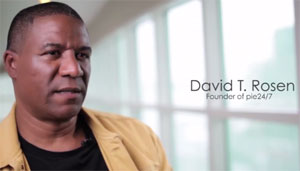 Rosen (right) is also listed as the owner of the Cooperative Crowdfunding website domain, through an address in Ontario, Canada.
Rosen first popped up on BehindMLM's radar in 2015, as founder of PIE 24/7.
PIE 24/7 was basically a "pay a monthly fee and recruit other affiliates who do the same" scheme.
By early 2016 it appears PIE 24/7 collapsed, with one affiliate claiming they hadn't been paid for 7 months as of April.
Read on for a full review of the Cooperative Crowdfunding MLM opportunity.
Cooperative Crowdfunding Products
Cooperative Crowdfunding has no retailable products or services, with affiliates only able to market Cooperative Crowdfunding affiliate membership itself.
The Cooperative Crowdfunding Compensation Plan
Cooperative Crowdfunding affiliates gift €25 EUR to each other each month.
New Cooperative Crowdfunding affiliates gift €25 EUR to existing affiliates.
This payment in turn qualifies them to receive 25% of €25 EUR gifted by affiliates they personally recruit.
50% of the €25 EUR gifted in each month is paid out residually via a 3×10 matrix.
A 3×10 matrix places a Cooperative Crowdfunding affiliate at the top of a matrix, with three positions directly under them: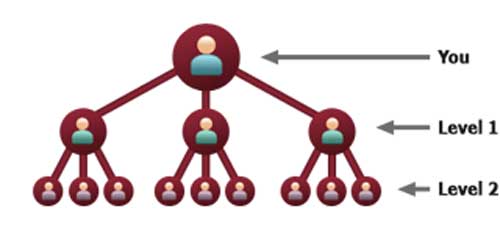 These three positions form the first level of the matrix. The second level of the matrix is generated by splitting these first three positions into another three positions each (9 positions).
Levels three to ten of the matrix are generated in the same manner, with each new level housing three times as many positions as the previous level.
Positions in the matrix are filled via direct and indirect recruitment of new Cooperative Crowdfunding affiliates.
Each affiliate pays  €25 EUR a month and 50% of that is paid out via the matrix.
How much of the 50% is paid out is determined by what level of the matrix the affiliate gifting €25 EUR falls on:
level 1 – 10%
levels 2 to 4 – 5%
level 5 – 2.5%
level 6 – 5%
levels 7 and 8 – 2.5%
level 9 – 5%
level 10 – 7.5%
The remaining 25% of each €25 EUR gifted in is set aside for "bonuses".
Specific details of how these bonuses are paid out are not provided.
Joining Cooperative Crowdfunding
Cooperative Crowdfunding affiliate membership is tied to a €25 EUR gifting payment every 28 days.
In order to continue receiving gifting payments, all affiliates must also pay an additional €10 EUR every 6 months.
Conclusion
Under the guise of describing itself as a "subscription based crowdfunding donation system", Cooperative Crowdfunding operates as an illegal cash gifting scheme.
You sign up, gift €25 EUR every 25 days and receive gifting payments from other Cooperative Crowdfunding affiliates doing the same.
Once affiliate recruitment dries up, those at the bottom stop paying their €25 EUR a month.
This sees those above them cease paying their monthly gifting payment and once this trickles far up along the company matrix, an irreversible collapse is triggered.
Matrix-based gifting schemes primarily benefit those running them, which in this case is David Rosen.
Rosen has the Cooperative Crowdfunding affiliate IDs 1001, 1002 and 1005 (1000 or 1001 is the admin account).
Through one or more pre-loaded admin positions, David Rosen will receive the majority of funds deposited by Cooperative Crowdfunding affiliates.
This occurs because Rosen's positions fill first and extract the most money out of the system.
A few early adopters, such as Suzy Duggans (1003), receive a fair share of deposited funds.
Basic math however guarantees that when a cash gifting scheme inevitably collapses, the majority of participants lose money.
Whereas PIE 24/7 was ambiguous as to the possibility of retail sales, cash gifting schemes like Cooperative Crowdfunding are illegal the world over.
Here's how Rosen himself describes the business model in a Cooperative Crowdfunding marketing video:
Coop Crowdfund is a system that allows you to quickly get the money you need, for virtually any purpose, in three simple, doable steps.

Here's the three steps:

Now Step 1 is to register, just $35.

Step 2, invite three or more of your friends to join for just $35.

And Step 3, have each of your friends invite three or more of their friends join for just $35.
Considering Rosen claims to have "discovered network marketing" back in 1987, he's one company owner that really should know better.