CoopBusiness Review: David Rosen's 2023 pyramid scheme

CoopBusiness fails to provide ownership or executive information on its website.
CoopBusiness' website domain ("coopbusiness.com"), was first registered in 2005.
The private registration was last updated on November 11th, 2022.
CoopBusiness' website went live in early 2023, suggesting the domain was acquired in late 2022.
Over on CoopBusiness' official YouTube channel, we find marketing videos in which David T. Rosen identifies himself as CoopBusiness' founder.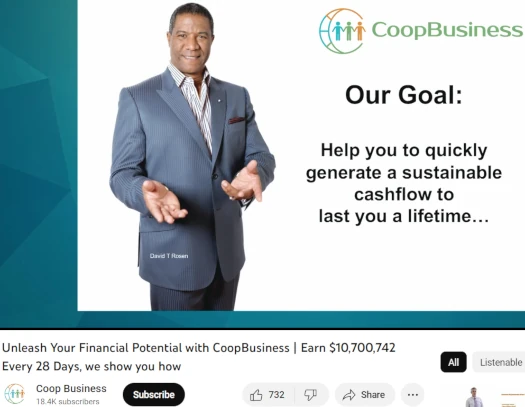 Rosen, a Canadian resident, first popped up on BehindMLM's radar in 2015, as founder of the PIE 24/7 pyramid scheme.
In early 2018 Rosen launched Cooperative Crowdfunding, a matrix-based gifting scheme. This was followed by 50/50 Crowdfunding in late 2018.
In late 2019 Rosen rebooted 50/50 Crowdfunding as CoopCrowd.
After the first iteration of CoopCrowd collapsed, Rosen launched Coop5050 in late 2020.
Coop5050 began to collapse in late 2021, prompting Rosen to announce a CoopCrowd reboot.
CoopCrowd 2022 launched in early 2022.
CoopCrowd 2022's official FaceBook page was abandoned in July 2022. This is around the time the pyramid scheme collapsed.
Today SimilarWeb tracks no traffic to CoopCrowd 2022's website.
CoopBusiness appears to be the 2023 iteration of Rosen's annual launch of pyramid schemes.
Read on for a full review of of CoopBusiness' MLM opportunity.
CoopBusiness' Products
CoopBusiness has no retailable products or services.
Affiliates are only able to market CoopBusiness affiliate membership itself.
CoopBusiness' Compensation Plan
CoopBusiness affiliates pay $38 and then $28 every 28 days. There is also a second $280 every 28 days tier.
Commissions are paid when they recruit others who pay affiliate membership fees.
CoopBusiness pays recruitment commissions via a 3×10 matrix.
A 3×10 matrix places an affiliate at the top of a matrix, with three positions directly under them: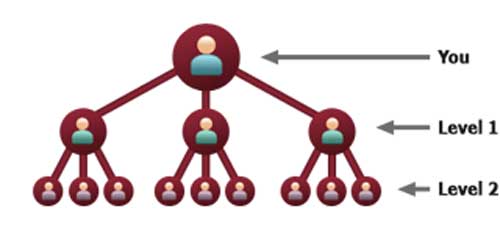 These three positions form the first level of the matrix. The second level of the matrix is generated by splitting each of these first three positions into another three positions each.
Levels three to ten of the matrix are generated in the same manner, with each new level housing three times as many positions as the previous level.
CoopBusiness pays recruitment commissions as affiliates are directly and indirectly recruited into the matrix.
There are two matrices, one corresponding with the cheaper $28 every 28 days fee and the other with the $280 every 28 days fee.
Note CoopBusiness does not provide specific commission rates.
Joining CoopBusiness
CoopBusiness originally launched with a $99 and then $28 a month cost.
In May 2023 this was dropped to $38 and then $28 a month.
CoopBusiness
CoopBusiness is pretty much a continuation of the crypto fraud David Rosen transitioned into with CoopCrowd 2022.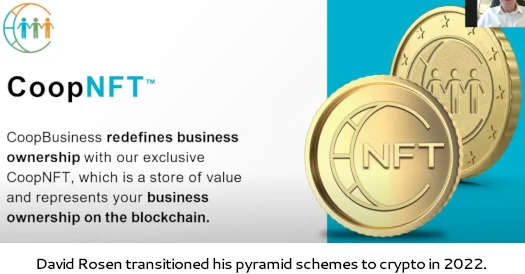 Up until now Rosen has been pretty transparent about the pyramid scheme commissions his various schemes pay out.
In CoopBusiness however, disclosure of specific commission rates are eschewed in favor of $10 million dollars a month marketing nonsense.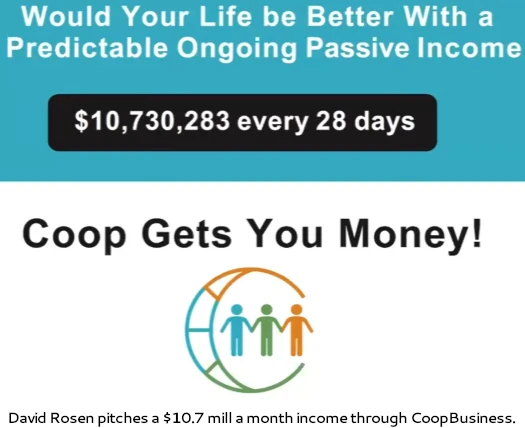 Beyond that, CoopBusiness is the same pyramid scheme Rosen has been running under different names for over a decade.
Each successive pyramid scheme seems to get shorter and shorter, with CoopBusiness no exception.
As of June 2023, SimilarWeb tracked negligible traffic to CoopBusiness' website.
As with all pyramid schemes, once affiliate recruitment dries up so too will recruitment commissions.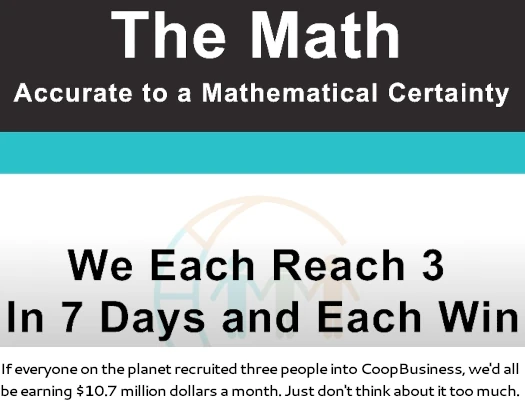 As opposed to the faulty math CoopBusiness uses in its marketing, actual math guarantees the majority of participants in a pyramid scheme will lose money.