BTC Flood Review: 2×4 matrix bitcoin cash gifting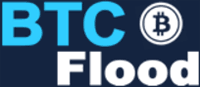 There is no information on the BTC Flood website indicating who owns or runs the business.
The BTC Flood website domain ("btcflood.com") was privately registered on October 10th, 2016.
The official BTC Flood Facebook group lists two admins, Zahid Hussain and Meenakshi Somani.
Zahid Hussain promotes BTC Flood on his personal Facebook page using the referral code "btcfloodadmin" and appears to be the owner of the site.
In late 2016 Hussain was promoting AmazeBTC and ZarFund, both bitcoin cash gifting schemes.
He was also an affiliate with CommHubb, a collapsed Ponzi pyramid hybrid.
Read on for a full review of the BTC Flood MLM opportunity.
The BTC Flood Product Line
BTC Flood has no retailable products or services, with affiliates only able to market BTC Flood affiliate membership itself.
The BTC Flood Compensation Plan
The BTC Flood compensation plan sees affiliates gift bitcoin to each other via a 2×4 matrix.
A 2×4 matrix places an affiliate at the top of a matrix, with two positions directly under them:

These two positions form the first level of the matrix. The second level of the matrix is generated by splitting each of the first two positions into another two positions each (4 positions).
Levels three and four of the matrix are generated in the same manner, housing 8 and 16 positions respectively.
Each level of the BTC Flood matrix operates as an independent cash gifting tier.
A BTC Flood affiliate signs up and gift 0.04 BTC to the affiliate who recruited them. This payment qualifies the affiliate to receive 0.04 BTC from two affiliates recruited into the first level of their matrix.
The other three matrix levels operate in the same manner, the only difference being the amount gifted:
level 1 – gift 0.04 BTC to the affiliate who recruited you and receive 0.04 BTC from two subsequently recruited affiliates
level 2 – gift 0.06 BTC and receive 0.06 BTC from four affiliates
level 3 – gift 0.2 BTC and receive 0.02 BTC from eight affiliates
level 4 – gift 1 BTC and receive 1 BTC from sixteen affiliates
Note that level 4 turns into a monthly gifting subscription once an affiliate has receive 4 BTC in gifting payments.
Joining BTC Flood
BTC Flood affiliate membership is tied to a 0.04 BTC gifting payment to the affiliate who recruited you.
Full participation in the BTC Flood income opportunity costs 1.3 BTC (1 BTC a month after 4 BTC has been received).
Conclusion
After making a little money or more likely losing it in ZarFund and AmazeBTC, Zahid Hussain has cottoned on that it's far more profitable to run a cash gifting scam than it is to participate in one.
This is due to pre-loaded positions, through which Hussain receives the majority of funds deposited into BTC Flood.
Meenakshi Somani and some of Hussain's other friends receive what's left, with the majority of affiliates taking a loss when BTC Flood inevitably collapses.