AmazeBTC Review: 2×5 matrix cash gifting scheme

There is no information on the AmazeBTC website indicating who owns or runs the company.
AmazeBTC is a network based platform managed by the MegaBTCSolutions, an Elite, Successful and Experienced group of administrators.
So elite, successful and experienced, that no actual information is disclosed.
The AmazeBTC website domain was registered on October 6th 2016, however the domain registration is set to private.
The official AmazeBTC Facebook group lists one admin, Iresh Marsov. This appears to be a bogus profile, created only recently on November 1st.
At the time of publication Alexa estimate that Spain is the largest source of traffic to the AmazeBTC website (35%). This suggests that whoever is actually running AmazeBTC is probably also based out of Spain.
As always, if an MLM company is not openly upfront about who is running or owns it, think long and hard about joining and/or handing over any money.
The AmazeBTC Product Line
AmazeBTC has no retailable products or services, with affiliates only able to market AmazeBTC affiliate membership itself.
The AmazeBTC Compensation Plan
The AmazeBTC compensation plan sees affiliates gift bitcoin to eachother via a 2×5 matrix.
A 2×5 matrix places an affiliate at the top of a matrix, with two positions directly under them: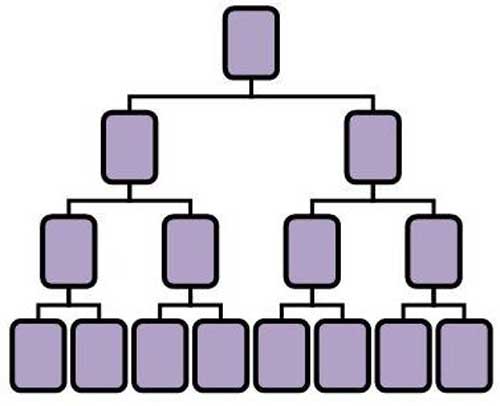 These two positions form the first level of the matrix. The second level of the matrix is generated by splitting each of the two positions into another two positions each (4 positions).
Levels three to five of the matrix are generated in the same manner, with a complete 2×5 matrix housing sixty-two positions.
An AmazeBTC affiliate signs up and then gifts 0.055 BTC to the affiliate who recruited them. This payment qualifies them to receive 0.055 BTC from two subsequently recruited affiliates, who are placed on the first level of their matrix.
Subsequent payments between AmazeBTC affiliates are as follows:
level 1 – gift 0.055 BTC to the affiliate who recruited you and receive 0.055 BTC from two affiliates
level 2 – gift 0.1 BTC and receive 0.1 BTC from four affiliates
level 3 – gift 0.3 BTC and receive 0.3 BTC from eight affiliates
level 4 – gift 2 BTC and receive 2 BTC from sixteen affiliates
level 5 – gift 16 BTC and receive 16 BTC from thirty-two affiliates
Joining AmazeBTC
AmazeBTC affiliate membership is tied to a 0.055 BTC gifting payment to the affiliate who recruited you.
Full participation in the AmazeBTC compensation plan costs 18.455 BTC (currently $13,760 USD).
Conclusion
AmazeBTC is an online peer to peer donation system built for the welfare of the community.
Whether it's referred to as "peer to peer", "member to member" or any similar scam tropes, affiliates paying affiliates in MLM is cash gifting.
In AmazeBTC nothing is marketed to or sold to retail customers, with all payments within the system made between participants.
These payments are certainly not donations, as they are made with the expectation of receiving funds from subsequent participants.
As with all cash gifting schemes, once recruitment of new participants dies down so too will gifting payments within the scheme.
This will see AmazeBTC's matrices stall and leave the majority of affiliates out of pocket.
The anonymous admin running AmazeBTC keeps all funds attached to stalled matrix positions, in addition to funds collected via preloaded positions.
As if that wasn't bad enough, AmazeBTC's use of bitcoin makes fund recovery for victims next to impossible.