Bitcoin Earning School Review: 3×4 matrix bitcoin cash gifting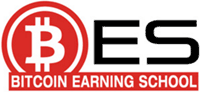 Bitcoin Earning School name two CEOs on their website, Mikey Robertson and Morris Melara. Of the two, Robertson is credited as the sole owner of the company.
Michael Robertson is based out of Queensland, Australia and appears to be knee-deep in MLM underbelly fraud.
Scams Robertson has been promoting over the last few months include Elite Earners Club (weekly ROI Ponzi), Trade Coin Club, My Paying Crypto Ads (HYIP Ponzi), ZarFund, LaraWithMe and Easy 1Up.
Prior to scamming people, Robertson appears to have fancied himself as a gaming streamer. Video view counts over 2015 to 2016 suggest that didn't work out.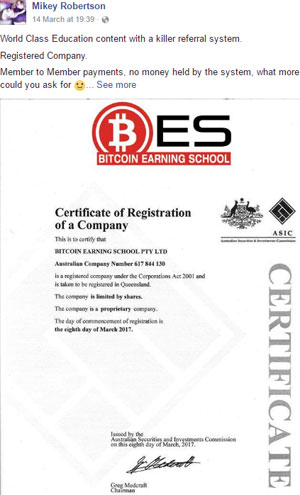 Drew Burton of My24HourIncome notoriety might also be involved in Bitcoin Earning School on some level. In a 17th March Facebook post, Robertson thanked Burton personally for "recording a (Bitcoin Earning School) webinar". Footage of the webinar reveals Burton hosted it.
My24HourIncome recently suspended affiliate withdrawals. Why Burton is busy promoting other opportunities when his own Ponzi scheme has all but collapsed is unclear.
Worth noting is a 14th March Facebook post showing a Bitcoin Earning School ASIC registration certificate.
A search on the ASIC website reveals neither Bitcoin Earning School as a company name or the shown ACN (617844130) are actually registered.
Read on for a full review of the Bitcoin Earning School MLM opportunity.
Bitcoin Earning School Products
Bitcoin Earning School has no retailable products or services, with affiliates only able to market Bitcoin Earning School affiliate membership itself.
Bitcoin Earning School affiliate membership provides access to "learning content and services".
The Bitcoin Earning School Compensation Plan
Bitcoin Earning School affiliates gift bitcoin to each other via a 3×4 matrix.
A 3×4 matrix places a Bitcoin Earning School affiliate at the top of a matrix, with three positions directly under them: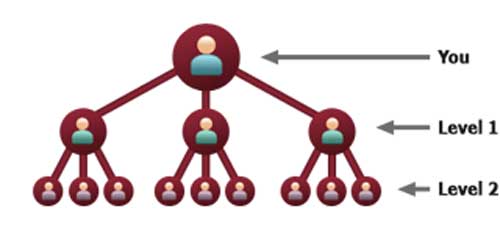 These three positions form the first level of the matrix. The second level of the matrix is generated by splitting these first three positions into another three positions each (9 positions).
Levels three and four of the matrix are generated in the same manner, housing 27 and 81 positions respectively.
A Bitcoin Earning School affiliate begins by signing up and gifting 0.04 BTC to the affiliate who recruited them.
This payment in turn qualifies the affiliate to receive 0.04 BTC from three affiliates recruited into the first level of their matrix.
The other three Bitcoin Earning School matrix levels operate in the same manner, the only difference being the amounts gifted and to who.
level 1 – gift 0.04 BTC to the affiliate who recruited you and receive 0.04 BTC from three subsequently recruited affiliates
level 2 – gift 0.1 BTC to your second upline and receive 0.1 BTC from nine affiliates
level 3 – gift 0.4 BTC to your third upline and receive 0.4 BTC from twenty-seven affiliates
level 4 – gift 1.5 BTC to your fourth upline and receive 1.5 BTC from eighty-one affiliates
A second upline is the affiliate who recruited the affiliate who recruited you. A third upline is the affiliate who recruited your second upline and so on and so forth.
Note that payment amounts on each Bitcoin Earning School are as follows:
level 1 – 45 days
level 2 – 50 days
level 3 – 55 days
level 4 – 60 days
A Bitcoin Earning School affiliate must make recurring payments to continue to receive gifting payments from affiliates in their matrix.
Finally, a 0.04 BTC commission is paid out per Bitcoin Earning School affiliate personally recruited.
Joining Bitcoin Earning School
Bitcoin Earning School affiliate membership is 0.07 BTC plus a 0.04 BTC gifting payment.
Full participation in the Bitcoin Earning School income opportunity costs 0.07 BTC one-time plus 2.04 BTC on a recurring subscription.
Conclusion
Bitcoin Earning School isn't different from any of the other bitcoin gifting schemes doing the rounds at the moment, save for the fact it appears to be particularly stacked with preloaded positions.
A number of MLM underbelly admins appear to be onboard with Bitcoin Earning School, meaning a large amount of matrices are going to have to be filled before regular affiliates see any money.
As with all matrix gifting schemes, initially gifted funds tied to recruitment flow up into the earliest placed matrix positions. These preloaded positions are held by Mikey Robertson, Morris Melara, Drew Burton and whoever else they cut downline deals with.
Once their matrices are filled across all four levels, regular affiliate matrices start filling up. At any given time the majority of Bitcoin Earning School affiliates will have only a few positions in their matrix filled, with the majority ultimately failing to recoup losses when recruitment collapses.
Are there any refunds?

There are no refunds.
This has played out across each of the gifting scams Mikey Robertson has participated in, with mathematics guaranteeing Bitcoin Earning School won't be any different.