Banners App Review: FutureNet Ponzi wants access to your phone

Banners App provides no information on their website about who owns or runs the business.
The Banners App website domain ("bannersapp.com") was registered on July 3rd, 2018.
Rafal Szymanski is listed as the owner, through an address in Lviv, Ukraine.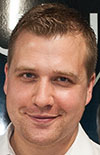 On Facebook Szymanski (right) credits himself as co-founder and CEO of Banners App.
He is also heavily involved in the FutureNet, serving as "Chairman of the foundation council at FutureNet Foundation".
FutureNet launched four years ago as a six-tier matrix Ponzi cycler.
In 2016 the company launched FutureAdPro, an adcredit Ponzi scheme.
In line with what much of the MLM underbelly was doing, in early 2017 news of a FutureNet altcoin surfaced.
Up until June 2018, FuturoCoin operated as internally traded Ponzi points within FutureNet.
Public trading began on or around June 8th at around $14.
Last month FutureAdPro collapsed, prompting FutureNet to only pay ROIs in pre-generated FuturoCoin.
The FutureAdPro FuturoCoin exit-scam has pumped the value of FuturoCoin from just under $6 to its current value of $12.
Banners App appears to have been launched in the wake of FutureAdPro's collapse.
Read on for a full review of the Banners App MLM opportunity.
Banners App Products
Banners App has no retailable products or services, with affiliates only able to market Banners App affiliate membership itself.
The Banners App Compensation Plan
The Banners App compensation plan sees affiliates install an advertising app on their phone.
Commissions are generated when users of the Banners App app interact with shown ads.
Specific commission amounts are not provided on the Banners App website.
Referral commissions on generated commissions are paid out via a unilevel compensation structure.
A unilevel compensation structure places an affiliate at the top of a unilevel team, with every personally recruited affiliate placed directly under them (level 1):

If any level 1 affiliates recruit new affiliates, they are placed on level 2 of the original affiliate's unilevel team.
If any level 2 affiliates recruit new affiliates, they are placed on level 3 and so on and so forth down a theoretical infinite number of levels.
Banners App caps payable unilevel team levels at five.
Referral commissions are paid out across these five levels as follows:
level 1 (personally recruited affiliates) – 8%
level 2 – 4%
levels 3 to 5 – 1%
Joining Banners App
Banners App affiliate membership is free.
Conclusion
In addition to FutureAdPro being used to pump FuturoCoin, it appears Banners App was launched for the same purpose.
You only need a few minutes to withdraw your earnings for the banner ads in FTO!
FutureNet are sitting on a ton of pre-generated FTO, which they're dumping on affiliates any way they can.
Instead of being paid actual money, Banners App affiliates are left to sucker new FTO bagholders through public trading.
Meanwhile on the backend, FutureNet keeps actual revenue generated through Banners App advertising.
Banners App don't disclose what ad network they're using but it appears to be a CPC/CPA network.
Users of the app set how often they want to see ads per ten unlocks. Interaction with shown banner ads generates revenue, which FutureNet keeps for themselves.
Having been pegged to the collapsed FutureAdPro Ponzi and now Banners App, FTO is basically a house of cards.
When new bagholders run out (no new FutureAdPro investors or Banners App affiliates), interest in FTO will wane.
There's no public interest in FTO outside of FutureNet itself, so that will trigger a collapse.
What you're left with is a race to the bottom between FutureNet affiliates, all trying to dump FTO onto each other as the value approaches $0.
That said, Banners App probably isn't the last attempt to pump FTO's value we'll see from FutureNet.
Not as long as there's new gullible bagholders to milk dry…