Banners Viewer Review: $21,250 cloud storage? Cmon.

There is no information on the Banners Viewer website indicating who owns or runs the business.
The Banners Viewer website domain ("bannersviewer.us") was registered on October 22nd 2013, however the domain is registered only to the company itself.
An address in Boca Raton, Florida is provided, however a Google search reveals this to be a residential location. Whether or not Banners Viewer actually do any business out of the address they list in the domain registration is unclear.
Further research reveals corporate marketing videos that name an "Edward A. Cocchiola" as Banners Viewer's CEO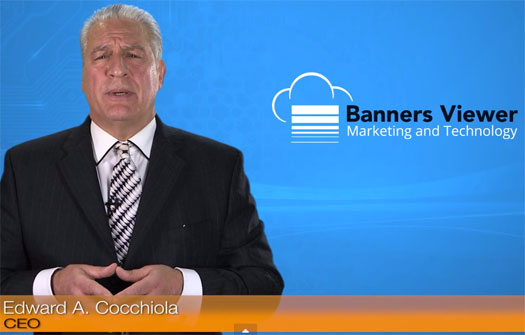 Why this information is not provided on the Banners Viewer website is a mystery.
Despite being credited with "many years experience in the business world and network marketing" by Banners Viewer affiliates on social media, Cocchiola's MLM history appears to be non-existent.
I was unable to find Cocchiola's name attached to a prior MLM opportunity as either an affiliate or corporate. To this end it would appear Banners Viewer is Cocciola's first MLM venture as an executive.
It's worth noting that in the company's Florida business registration (listed as "Banners Viewer LLC"), an authorised member (AMBR) by the name "BANNERSVIEWER S.A." appears.
The address provided for this entity is in Panama, a widely recognized tax-haven. What the story is there I can't say.
Read on for a full review of the Banners Viewer MLM business opportunity.
The Banners Viewer Product Line
The Banners Viewer website lists two products for sale: "Box Viewer" and "Web Banners".
Box Viewer
Box Viewer is an online storage service, available in three storage sizes:
8GB – free
1 TB – $80 a year
15 TB – $800 a year
Web Banners
Web Banners appear to be advertising credits, sold per views:
40 views – $40
80 views – $80
800 views – $800
No specifics on Banners Viewer's advertising network is provided.
Note that Banners Viewer's products do not appear to be available at a retail level. Clicking "buy now" redirects visitors to the affiliate signup page (and demands an affiliate referral code).
The Banners Viewer Compensation Plan
The Banners Viewer compensation plan revolves around affiliates signing up ($100) and then investing in one of four "packages":
Banners Basic – $150
Banners Station Business – $425
Banners Station Enterprise – $2,125
Banners Station Plus – $21,250
Weekly ROI
Investment in the packages above (excluding Banners Basic) qualifies an affiliate for a weekly "banners visualization" ROI:
Banners Station Business – $25
Banners Station Enterprise – $125
Banners Station Plus – $1250
Note that affiliates are required to watch company supplied ads before they receive their ROI. All Banners ViewerROIs are annual (payable for 52 weeks).
There is a requirement for affiliates to sell at least on Web Banner and Box Viewer product a month, which I saw advertised by Banners Viewer affiliates as an additional cost to affiliate of $35 a month (nobody seems interested in selling the products).
Finally, a 2.5% referral commissions is also available on ROI payments made to personally recruited affiliates. A further 2% is paid down six levels of recruitment.
Recruitment Commissions
In addition to referral commissions on investments, Banners Viewer also pay out recruitment commissions.
How much of a commission is paid out depends on how much a new Banners Viewer affiliate invests:
Banners Basic – $20
Banners Station Business – $40
Banners Station Enterprise – $200
Banners Station Plus – $2000
Binary Commissions
Residual commissions in Banners Viewer are paid out using a binary compensation structure.
A binary compensation structure places an affiliate at the top of two binary teams (left and right).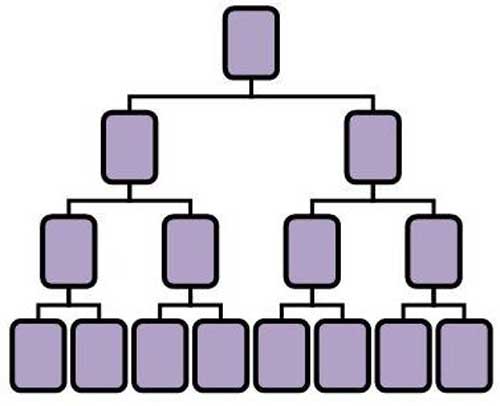 These teams are filled with recruited affiliates, either recruited directly or indirectly via the recruiting efforts of an affiliate's up and downlines.
Commissions are paid out according to accumulated points in each binary team, with investment packages each having a point value assigned to them:
Banners Basic – 100
Banners Station Plus – 200
Banners Station Enterprise – 1000
Banners Station Plus – 10,000
Points are tallied up daily on each side, with an affiliate paid 15% of the point total of their weaker leg.
Matched points are flushed on both sides of the binary, with the process then repeating itself daily.
Box Viewer Commission
Banners Viewer pay out a 2% commission on the sale of Box Viewers, regardless of who pays for the service.
2% is available down 5 levels of recruitment, with how many levels an affiliate is paid out on depending on how many Box Viewer services they have purchased or sold that month. 1 purchase or sale unlocks one level of recruitment, with five sales or purchases being the maximum required to unlock 2% on all five recruitment levels.
Bonus Pool
If a Banners Viewer affiliate generates 100,000 points on either side of their binary during any 23 consecutive day period in a month, they qualify for a share in 2% of the company's revenue for that month.
Rank Achievement Bonus
Rank promotion in Banners Viewer is tied to getting affiliates to invest in packages to generate a certain number of points on both sides of their binary.
As an affiliate hits certain accumulated point milestones, Banners Viewer rewards them as follows:
80,000 points on both side = Mont Blanc pen
320,000 points on both sides = a trip for 2 to Miami, Florida to see the Banners Viewer HQ and meet the CEO
2,000,000 points on both sides = a "Mercedes Tour"
10,000,000 points on both sides = a "Maserati Gran Tourism"
25,000,000 points on both sides = a "Lamborghini Gallardo Superllegera or a Ferrari 458 Italia"
Joining Banners Viewer
Basic affiliate membership in Banners Viewer is $100.
Package investment is likely to be a mandatory additional cost for most if not all Banners Viewer affiliates, raising affiliate membership to between $250 to $21,350.
Conclusion
There are some gaping holes in the compensation plan Banners Viewer present on their website, and after going over the whole plan why this is so became quite obvious.
Banners Viewer is little more than your standard advertising based Ponzi scheme.
Affiliates pay $100 to join and then invest in one of four packages costing $150 to $21,250.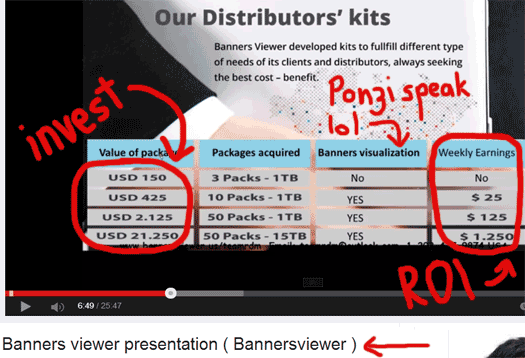 The more they invest, they more they earn, with all ROIs paid out of new investor money.
Banners Viewer do attempt to portray some sembelence of retail activity, or at least availability, but the fact of the matter is money flowing into the company is from affiliates.
The $21,250 Banners Station Plus investment level for example, comes with 50 Box Viewer Professional services. The idea touted here is that the affiliate goes on to resell the provided services.
The reality is that they never actually own those services, and would be able to make the sales without their $21,250 investment (it's a virtual product, there is no "stock").
Instead, Banners Viewer take their $21,250 and use it to pay out existing investors.
Pretty much every other commission built around the core Ponzi scheme revolves around incentivizing affiliate investment and their investment in one of the packages.
Revealingly, it was only a few months ago that Banners Viewer renamed their investment packages from "Banners Family" to "Banners Station".
Why is this significant?
Anyone familiar with the TelexFree Ponzi scheme will know they called their premium investment offering AdCental Family.
Why is this significant?
If we look at the languages offered on the Banners Viewer website, we see that they are English, Portuguese and Spanish – the same primary demographics TelexFree targeted.
Anticipating investment from South America, in a widely used corporate marketing video, CEO Edward A. Cocchiola gives a "special thankyou" to South American Ponzi investors.
Put all of that together and you've got yet another TelexFree reload scam targeting South America, Portugal and Portuguese and Spanish-speaking communities in the US.
As with all Ponzi schemes, once affiliates stop investing in Banners Station packages, Banners Viewer will run out of funds to pay existing investors.
When that happens, kaboom. Your money disappears in Panama or whatever other offshore tax haven Banners Viewer are hiding away their investor's money in.
Update 2nd September 2014 – After changing their name to "Y-Banners", it appears that Banners Viewer has  closed up shop.
The company has filed for "voluntary dissolution" with the Florida Department of state and suspended all business operations.