Zeus' Chariots: Zeus' Bounty adds NFT game to pyramid
In a sign Zeus' Bounty recruitment has plateaued, owner Tim Bentley is pitching Zeus' Chariots.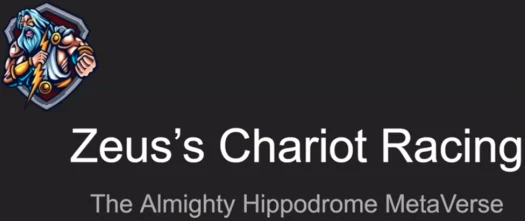 Zeus' Chariots is a planned NFT racing game, built around ZeusCoin.
Bentley's dystopian vision for Zeus' Chariots, sees addicted children playing like "crackheads" for grocery money.
Our source-material today is a Zeus' Chariots webinar, held for Zeus' Bounty affiliates on or around February 4th.

Quotes are from Tim Bentley (right) unless otherwise specified.
Zeus' Chariots is an NFT game launched alongside Zeus' Bounty.
They are in the same genre, right? In the same theme.

They will feed off one another but Zeus' Bounty the smart-contract is really serious …

Zeus' Chariots is fun.
With respect to "feeding off each other", Zeus' Bounty affiliates are being positioned into Zeus' Chariots before anyone else.
In the other direction 5% of fees collected by Zeus' Chariots will be redirected into Zeus' Bounty.
Being a game, gameplay is everything. At time of publication no gameplay for Zeus' Chariots exists.
What we do know is the game is purportedly being developed by Strider Games, a Ukrainian NFT game factory.
Despite being founded in 2018, Strider Games doesn't appear to have released an NFT game.
Strider Games' website features one game, Elemental Crystals, slated for release in Q4 2022.
Bentley pitches Zeus' Chariots as a VR chariot racing game, through which players can win ZeusCoin.
For some reason Bentley thinks this hasn't been done before.
We're gonna do this and it's gonna create a cult following for what we're doing. Because nobody's doing it.

Most of these people are just producing something, that's already been done, kinda make a bunch of income, they don't have any long-term equitable reason for the game. And they kind of fizzle and die out …

We wrote up something totally new. Nobody's done this before.

We don't have any anecdotal evidence that this is gonna work. We can't go to the last person that did this and go, "Hey man how'd you do this? What could we do better?"

Because nobody's ever done this before.
I had a quick look around and to date there have already been two chariot race VR games released; "Rome Circus Maximus: Chariot Race VR" in late 2017 and "Historical Games: Chariot Racing" in late 2020.
Both games look utterly terrible, both from a visual and gameplay perspective.
So uh, what's different with Zeus' Chariots?
While the two game above are most definitely trash tier, presumably there's still an element of skill involved to win.
Here's where Zeus' Chariots facade as a game falls apart.
Our race is going to be very fair. We're going to have controlled RNG technology. K?

There are going to be slight advantages for people in the races …

But overall this is fair technology. Everybody will have a chance to win, and it's basically predetermined algorithmically.
Zeus' Chariots is a glorified slot machine.
Obviously this isn't targeted at actual gamers.
The only missing piece is gamers. You guys know any gamers?
This is who Bentley sees playing Zeus' Chariots:
You're a total addict, a crackhead … who can't take that goggle off your head and go to the store and get some food.

You just race.

You're just a fiend. You know how it is.

You have kids, or you are a kid. Your kids are addicted.

We're gonna feed them …

Hey if they're gonna be playing game, at least let them earn some damn money.

They can buy the groceries. You're gonna have to go and get the money out of their hands, because they're not leaving.

They're addicted.
To understand where Bentley is coming from you need to understand what NFT gaming is.
Bentley compares Zeus' Chariots to Axie Infinity, a Vietnamese crypto game launched in 2018.
The game uses a "pay-to-earn" model (also called "pay-to-play-to-earn" model) where after participants pay the starting costs, they can earn an Ethereum-based in-game cryptocurrency called "Smooth Love Potion" (SLP) by playing.

As of September 2021, the majority of players were based in the Philippines.

Axie Infinity allows users to cash-out their SLP tokens every fourteen days.

This model has been described as a form of gambling and as an unstable market that is overly reliant on the inflow of new players.

In June 2021, during a pandemic lockdown, CNBC reported that some people in the Philippines were playing the game as their main source of income, though earning rates from playing fell below the minimum wage of the Philippines in September 2021.
Axie Infinity is a crypto Ponzi scheme wrapped up as a game, played by desperate people in a third-world country for below minimum wage.
You can go look up the associated AXL and SLP tokens. Both pumped during the Philippine rush of players last year. And both have since dumped.
To be clear I'm not comparing Axie Infinity to Zeus' Chariots. This problem is inherent in all NFT games.
Back in the 2000s World of Warcraft spawned gold farmers. Scammers hired slave labor in third world countries to "farm" the games for gold.
The scammers paid the slave labor players peanuts. These "players" often worked in rented offices, working shifts to farm gold around the clock.
Scammers sold farmed gold to players, typically in first world western countries.
This was against TOS and efforts were made to curb the practice. I don't know if this is still a thing but my point is this nonsense has been around for decades (it predates World of Warcraft in other forms).
NFT games are the same business model. All they've done is replace the database used to track player currency balances with the blockchain.
And instead of being an undesirable addition to a game, gold farming is the game.
You saw on the slide earlier (that) Axie Infinity had 677,000 players K?

Zeus' Chariots has the potential to be ten times more exciting, addicting, rewarding, and we should easily surpass those numbers.

We should be able to surpass those numbers by a lot. K?

We have very cool elements in the game that, at the end of the day, are gonna be releasing dopamine in people's minds. In their brains. In their lives.

Dopamine releases when you're in that virtual reality world, racing that chariot. Dopamine release when you win a hundred dollars.

Exciting. People come back for that.
Where is the actual gaming in all of this? There isn't any.
It's just a cash grab.
Again, I'm not singling out Zeus' Chariots here. NFT gaming is an old grift in new packaging.
In Zeus' Chariots, "gold" is replaced by ZeusCoin.
Players purchase or rent an NFT (back in the day you paid a subscription to create an account), which serves as an access fee.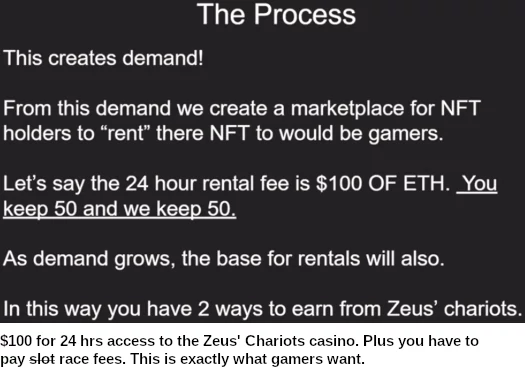 Bentley thinks people are going to pay $100 to rent a Zeus' Chariots NFT for 24 hours.
Once you're in, you then pay a fee to enter races. An AI bot determines whether you win or not. And that's the "game".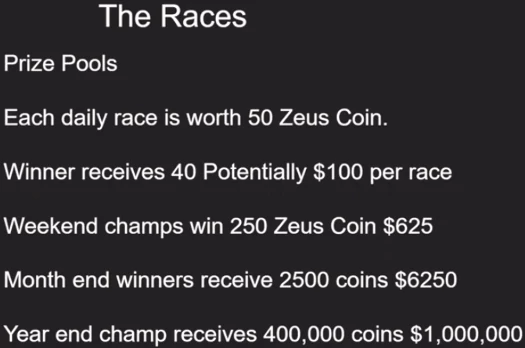 Race winnings are paid in ZeusCoin, which you cash out. This will see ZeusCoin dump, so Bentley urges people not to do it.
You want your races to be worth more? Don't sell our coin.

Go over and stake it instead … and earn even more.
"Staking" is the practice of investing a coin on the promise of passive returns. So it seems there's additional securities fraud layer to Zeus' Chariots.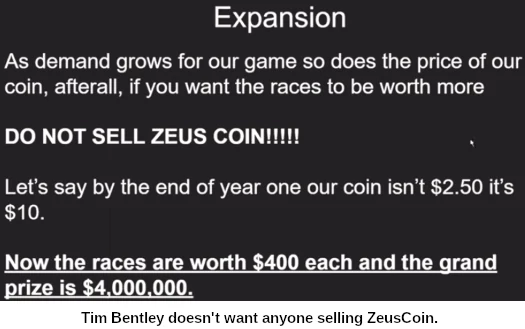 Speaking of securities fraud, Bentley is currently selling 250 Zeus' Chariots "founders positions" as NFTs.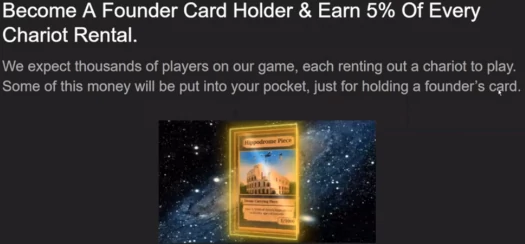 These NFTs are being sold for 0.4 ETH. Plus gas fees Bentley states this comes to about $1250.
Purchasers of founder NFTs can opt to receive a Zeus' Chariots game NFT, or 4000 ZeusCoins.

Oh and everyone who pays for a founder NFT gets a share of 5% of company-wide profits.
Bentley frames signing up as a Zeus' Chariots founder as putting "in $1000 and possibly mak(ing) $200,000 in a year".
Neither Zeus' Chariots or Tim Bentley, a resident of Colorado, are registered with the SEC.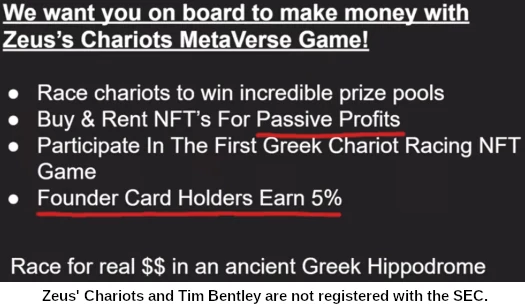 At time of publication the US makes up the overwhelming majority of traffic to Zeus' Bounty's website. It follows that Zeus' Chariots will also be primarily promoted to US residents.
Bentley plans to release Zeus' Chariots sometime between May and August.
Update 19th August 2022 – Predictably, Zeus' Chariots has not launched.
Bentley appears to have abandoned the game. He's now funnelling Zeus' Bounty affiliates into a gambling scheme he's calling the Simple Dutch System.