Monspace Ponzi reboots as MetaSpaceX "play to earn" grift

MetaSpaceX has one of those god awful to navigate flash style websites from the 2000s.
With a bit of trial and error navigation, we eventually learn Jessy Lai (Lai Chai Shuang) is behind the company.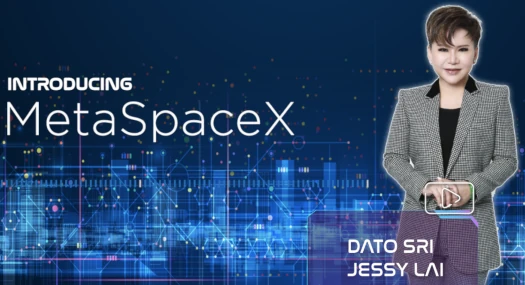 Lai started her scamming career as a top promoter of Zhang Jian's Yun Shu Mao (YSLM) pyramid scheme.
After YSLM collapsed, generating an estimated $233 million in losses, Lai went on to launch Monspace in 2016.
Monspace was a virtual shares Ponzi scheme that primarily targeted China and Malaysia. There was also an "MSCoins" crypto component to the scam.
Monspace collapsed in 2017. In July 2018 Malaysian authorities froze RM5.867 million tied to Monspace ($1,269,776 USD).
In May 2019 Malaysian authorities arrested Lai and several accomplices.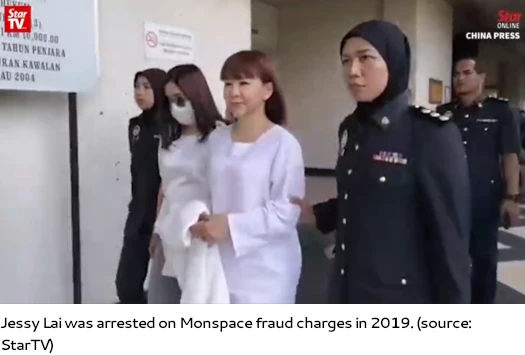 Lai was charged with violations of Malaysia's Direct Sales and Anti-Pyramid Scheme Acts. She faced a $120,462 to $1.2 million fine or five years in prison.
Lai pled not guilty to the charges. In August 2019 Lai was arrested again, this time on Monspace related money laundering charges.
As far as I can tell Malaysian authorities failed to secure a prison sentence for Lai.
Instead Malaysia's Anti-Corruption Commission seized RM1.5 million from Lai in 2021 (~$324,640 USD). This appears to be the resolution of both the pyramid and money laundering cases.
Emphasizing how much of a slap on the wrist Lai's penalty was, in June 2019 Lai sued a Malaysian MP for claiming "she was running an illegal business and had cheated Chinese investors."
Lai claimed, as opposed to Monspace collapsing and generating widespread losses, that the MP's statements
had pressured the authorities, including the police, Bank Negara Malaysia and the Domestic Trade and Consumer Affairs Ministry, to take action against her.
Despite the MP's statements being factual, the Malaysian High Court awarded Lai RM2 million in damages in March 2023 (~$432,000 USD). That's around $100,000 more than she was fined for money laundering.
With a bit more trial and error navigation on MetaSpaceX's website, we can further confirm it's a Monspace reboot.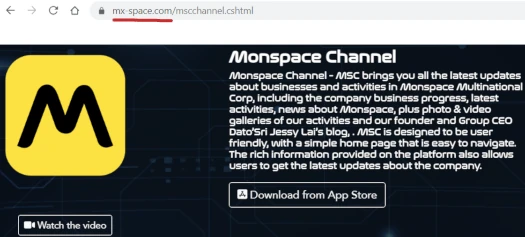 MetaSpaceX's website domain ("mx-space.com"), was privately registered on March 23rd, 2022.
The company also operates "metaspacex.co", which has more of a traditional website layout. MetaSpaceX's .CO domain was registered on February 27th, 2023.
MetaSpaceX's official FaceBook page was created in April 2022.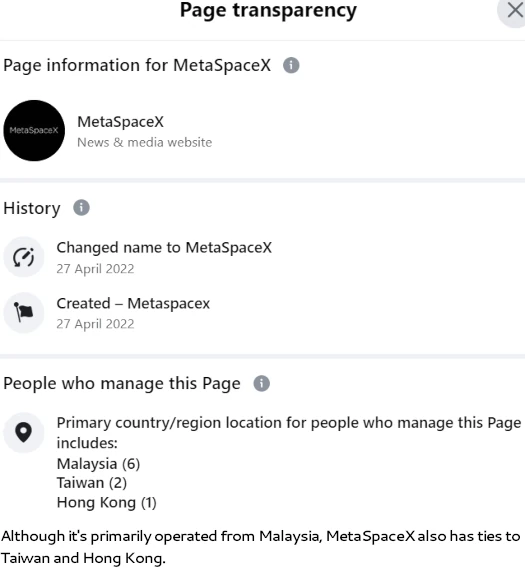 This coincides with MetaSpaceX launching in late April 2022.
Looking at MetaSpaceX's early marketing, we see it was a simple metaverse grift:
MetaSpaceX is the world's first prosperous world that combines physical construction and metaverse.

It integrates finance, entertainment, leisure, medical care, media, planting and breeding, as well as culture, education, training, tourism, aviation and international exhibitions.
While some of that stuff is detailed on MetaSpaceX's website, overall as a concept MetaSpaceX's metaverse grift failed.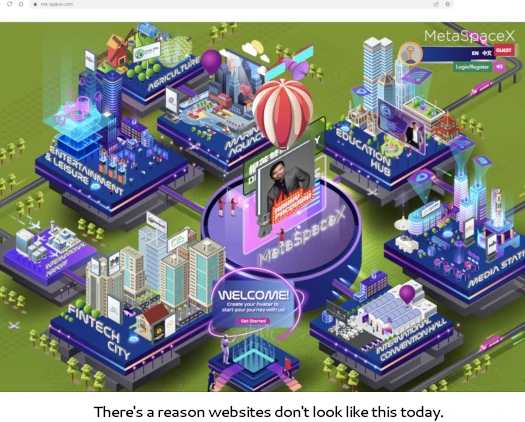 This isn't surprising. If we poke around MetaSpaceX's god awful flash website, we find:
MSL Farm Tech – Malaysian travel agency that claims to service China, has nothing to do with MetaSpaceX
Durian Valley – a video of a "Monspace durian plantation" that has nothing to do with MetaSpaceX
Mezza9 – a FaceBook group that sells tickets to social events in Malaysia, has nothing to do with MetaSpaceX
MX Mall – details hidden behind a MetaSpaceX paywall, sounds like a reboot of MonSpace's ecommerce Ponzi ruse
Asia Momentum Media – Chinese media streaming app, has nothing to do with MetaSpaceX
MonJess – online clothing store, has nothing to do with MetaSpaceX
MSVG  Vision Exchange – access restricted (presumably to MetaSpaceX investors)
BitcoinUpBit – Chinese crypto exchange that collapsed on May 1st, 2023
Monspace Credit Union & Trust – website not accessible
Nexus Trade – dodgy Chinese trading platform run through an Australian shell company and ASIC license (Nexus Trade has nothing to do with Australia so this confirms it's a scam)
Nexus Smart Chain – website not accessible
Nspace – crypto spam blog, has nothing to do with MetaSpaceX
Neptune Token (NPT) – Neptune token staking Ponzi scheme pitching a 600% ROI over three years
World Conference on Exercise Medicine – some random event that has nothing to do with MetaSpaceX
SpaceX – Elon Musk's company that has nothing to do with MetaSpaceX
links to marketing videos of Luo Zheng Feng and Wilson Lin (link to Lin's website doesn't work), has nothing to do with MetaSpaceX
I suspect everything was window dressing for the Neptune token staking Ponzi. That seems to have collapsed, and so in May 2023 what was left of MetaSpaceX was rebooted as a "play to earn" game.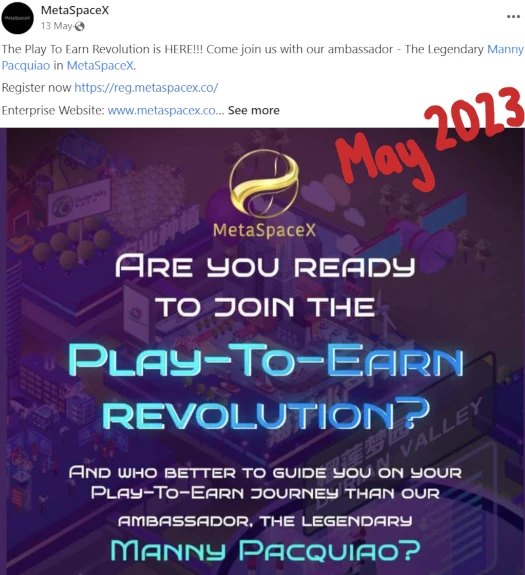 MetaSpaceX's "play to earn" game grift is fronted by Manny Pacquiao, a well-known retired boxer from the Philippines. This coincides with MetaSpaceX heavily marketing their "play to earn" game at the Philippines.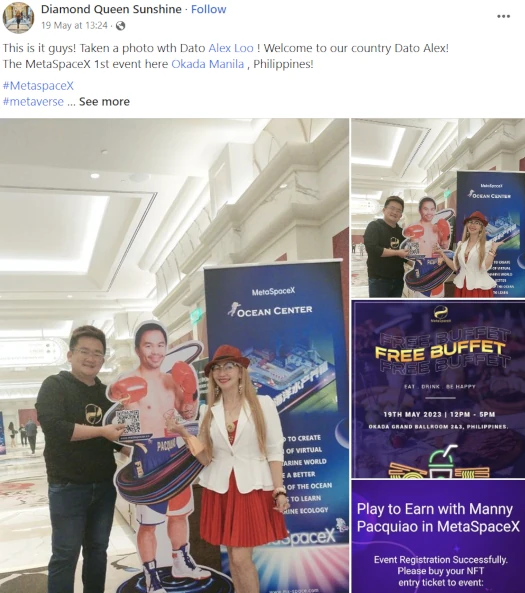 Absent in MetaSpaceX's marketing is any details on their game. For that we have to head over to MetaSpaceX's website.
There we learn MetaSpaceX players "cultivate crops, tend to fields, irrigate crops, harvest crops, raise fish (and) run a ranch".
In other words, work.
But why the Philippines and Manny Pacquiao?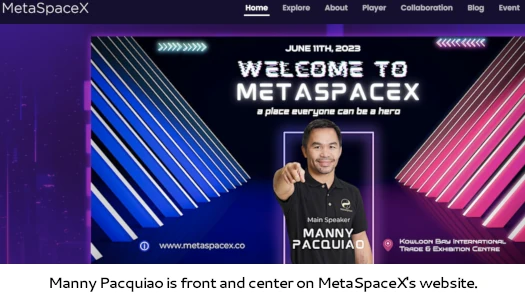 To answer that we need look no further than Axie Infinity.
Axie Infinity is a "play to earn" game developed by Sky Mavis and built around AXS token. The game itself was a cheap Pokemon ripoff that incorporated NFTs.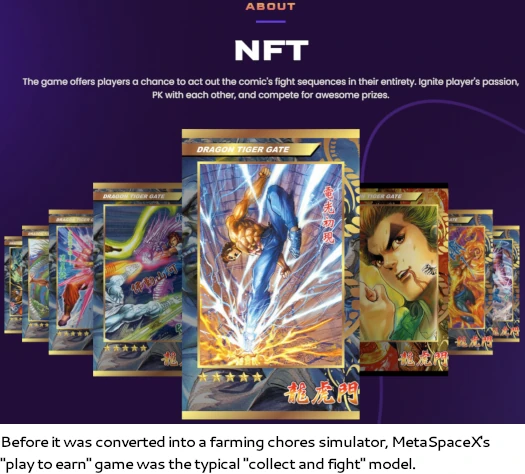 Players payed a fee to start the game, "played" the game (which by all accounts is terrible), earned more AXS token and cashed out.
As an investment vehicle, Axie Infinity basically created a slave labor market in the Philippines and other countries.
In the Philippines, the prohibitive cost of entry led to both individuals and gaming guilds renting out assets to allow new players meet the minimum requirements.

These new players, known as "scholars", are often required to meet a quota of in-game earning to continue using the rented assets, and must pay the owners a commission. These commissions vary greatly but can be as high as 75%.

As of June 2021, some people in the Philippines had begun to treat the game as their main source of income, although earning rates from playing Axie Infinity fell below the national minimum wage by September 2021.

In September 2021, most Axie Infinity players were from the Philippines.
Axie Infinity collapsed in February 2022 through a "we got hacked!" exit-scam.
In the lead up to the exit-scam, AXS pumped to $160 USD. Today AXS trades at ~$5.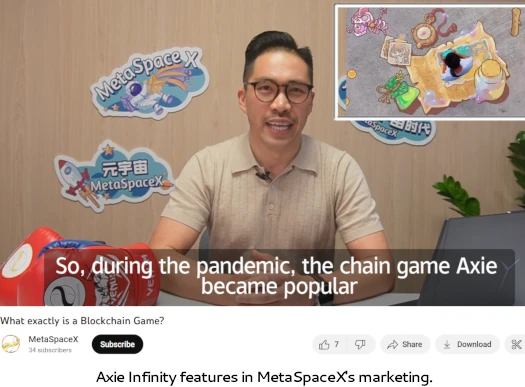 As a point of interest, and this ties into Monspace and MetaSpaceX committing securities fraud, on June 5th the SEC defined trading of Axie Infinity's AXS token as a security in their Binance fraud lawsuit.
Since the Binance Platforms launched, Defendants have made available for trading on them crypto assets that are offered and sold as investment contracts, and thus as securities.

This includes, but is not limited to, BNB, BUSD, and the units of each of the crypto asset securities further described below—with trading symbols SOL, ADA, MATIC, FIL, ATOM, SAND, MANA, ALGO, AXS, and COTI.

Axie Infinity Shards ("AXS") are ethereum tokens that are native to the Axie Infinity ("Axie") game, a blockchain game that allows players to interact in a virtual world through digital pets called "Axies."
In a nutshell, Jessy Lai hopes to turn MetaSpaceX into her own crypto serfdom. And she's hoping Manny Pacquiao's involvement will deliver the Philippine players slaves she needs.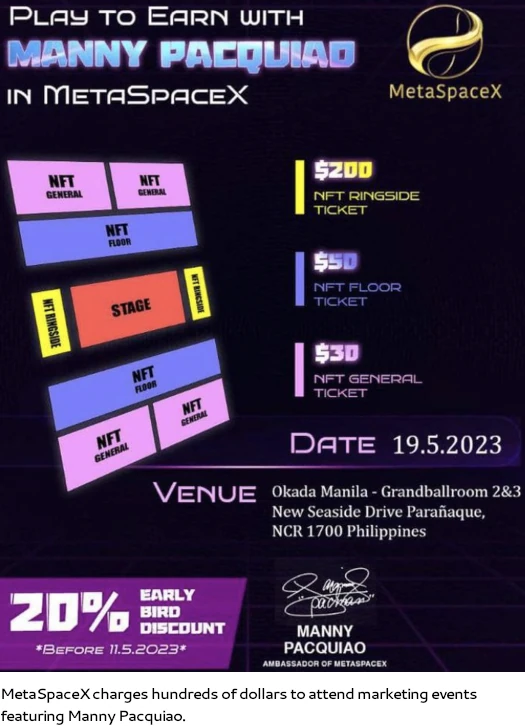 MetaSpaceX players invest tether, that's converted to "MXC points", players toil away at farming, something something MSPC, players hope to withdraw more than they initially invested.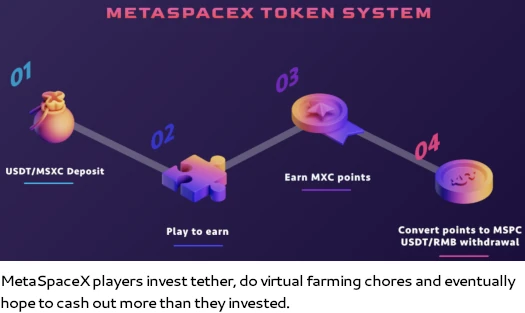 Money issues or not, shame on Manny Pacquiao for using his influence within the Philippines to market an obvious scam.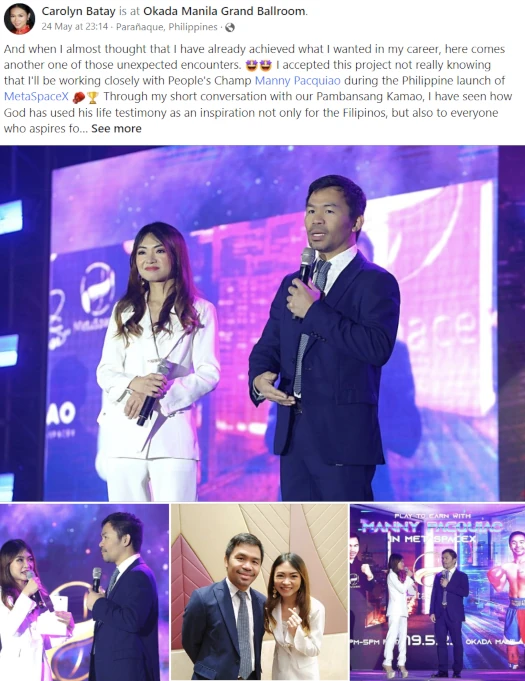 The only revenue MetaSpaceX generates is new investment from its players. When withdrawals inevitable outstrip new tether investments, MXC will tank – same as Axie Infinity's AXS.
Whether this happens organically or through a staged exit-scam, the outcome for the majority of investor players is the same – they lose money.
If there's an MLM component to MetaSpaceX it's well hidden. That's why this is more of an update to the Monspace MLM Ponzi scheme as opposed to a full MetaSpaceX review.
It's a shame Malaysian authorities weren't able to secure prison time for Lai when they had the chance. That failure sees Lai still grifting consumers through various schemes.
Over in the Philippines Malaysian authorities issued Monspace securities fraud warnings in 2017, 2019 and 2020 (via Munics Bank).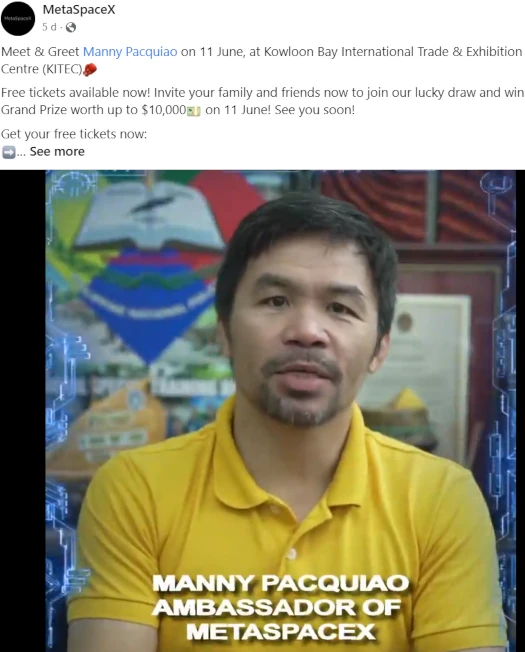 Hopefully Manny Pacquiao's involvement will mean if MetaSpaceX takes off in the Philippines, the SEC won't be too far behind.