Dawn Wright Olivares & stepson receive jail time (Zeek Rewards)

Up until the scheme's last few months or so, Dawn Wright-Olivares was second-in-command at Zeek Rewards.
After the SEC shut down Zeek for being a $850 million dollar Ponzi scheme in 2012, Wright-Olivares (now known as Dawn de Brantes, alias Viola Wright), plead guilty to securities fraud evasion and tax evasion in December, 2013.
Wright-Olivares' stepson Daniel Olivares, Zeek Rewards' Senior Technology Officer, also plead guilty to securities fraud conspiracy.
Earlier this month it was announced that both Wright-Olivares and her stepson would be sentenced on September 13th.

On September 11th Wright-Olivares (as Dawn de Brantes) made the following plea on Facebook:
Hello friends and family. I humbly come before all of you and ask for your support, prayers, light and love for my family and I. We are asking for favor, protection, grace, mercy and strength in this moment… and through the next 3 days.

Please see us coming home together happy and whole on Wednesday.
Those dreams were shattered yesterday, after both Wright-Olivares and her stepson received prison sentences.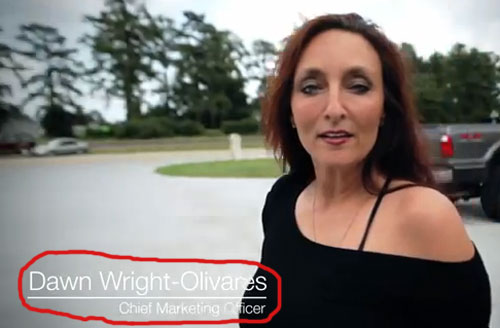 Judge Cogburn sentenced Dawn Wright-Olivares (right) to seven and a half years in prison. Daniel Olivares was sentenced to two years.
Upon release both Wright-Olivares and her stepson will be subject to three years of court supervision.
Restitution has also been ordered, however the exact amount has yet to be determined. Bear in mind that's on top of the $600 million awarded to the Zeek Rewards Receivership.
The final chapter yet to be closed is the sentencing of Paul Burks, the mastermind behind Zeek Rewards.
Burks went to trial and lost back in July. His sentencing hearing has yet to be scheduled.
I'd like to think upon receiving news of Dawn's sentence, Burks, lurking in a dark room somewhere, might finally realize Zeek Rewards cost him what remains of his life.
Was it worth it for a few short years at the top?